22 Best productivity apps for Mac
Making the most of the time you spend on your Mac is important — but, maintaining focus and high productivity levels is always a challenge (especially when you discover Mac's hidden built-in games and other wonders this system has to offer).
So, here are the 22 best productivity apps for Mac to help you focus on your work more and procrastinate less.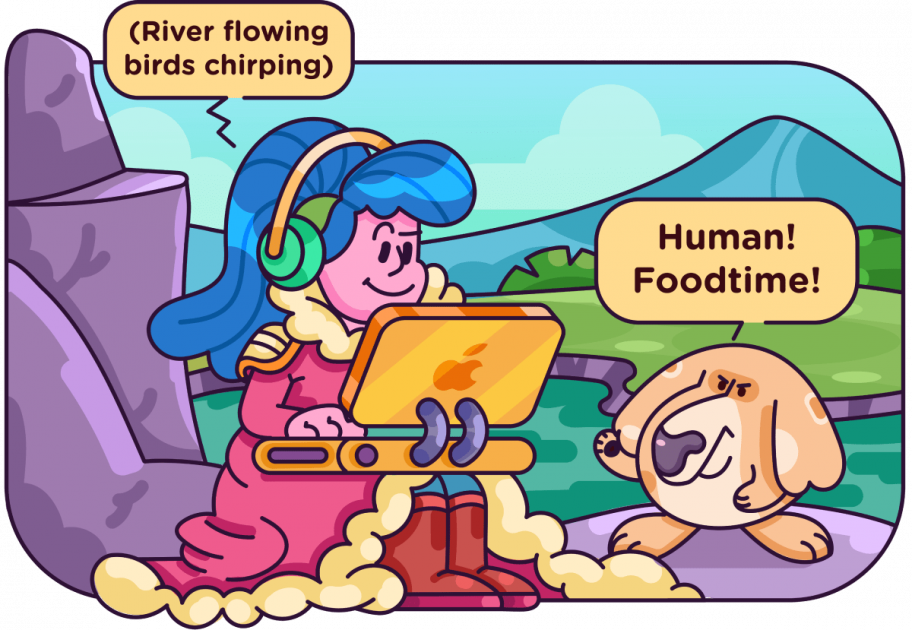 Clockify — time tracker and timesheet app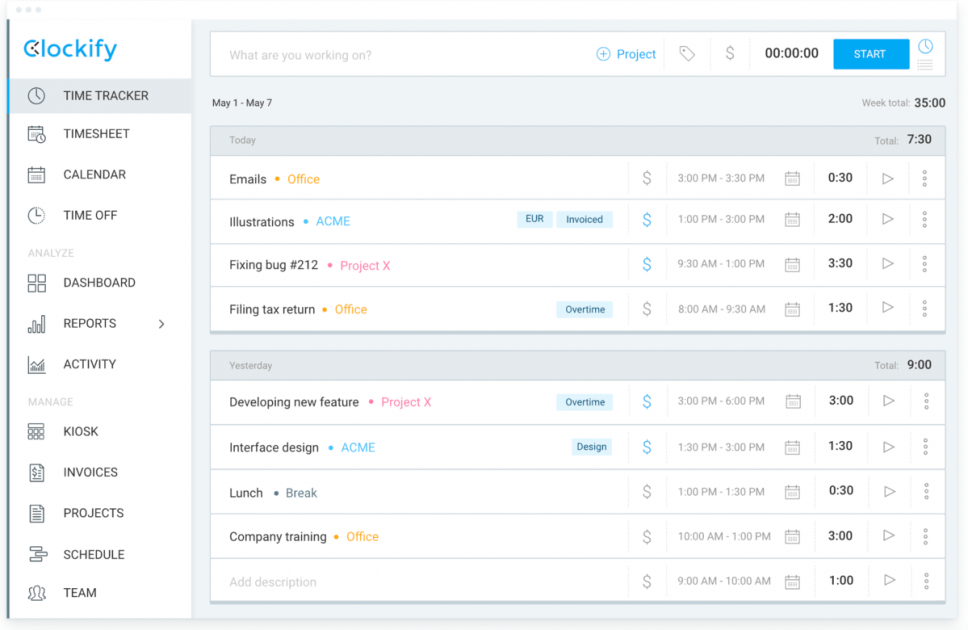 The first on our list of the best productivity apps is a tool that will help you keep an eye on your work tasks and find out how you spend your time at work.
What's Clockify about?
Clockify is a free time tracker and timesheet app that lets you track time while working on tasks or manually log the time you've spent on tasks. It's perfect if you need an easy way to track billable hours for payroll or track how productive you really are at work.
Clockify for Mac lets you track the time you spend on your activities directly from your desktop, and you can associate your time entries with the right projects, tasks, tags, and billability status, for easier management.
Key features of Clockify
Once you start tracking your time with Clockify, you can log in to your Clockify web account to:
Run reports based on the time you've tracked,
Manage your projects, and
Have your tracked billable hours calculated automatically, based on your selected hourly rate.
The highlights of the Mac app include idle time detection and the chance to implement the famed Pomodoro technique. You start the Pomodoro timer when you start working on a task — after the time period you've set yourself passes, you get a notification reminding you to take a short break from work, to recharge.
Pumble — collaboration and communication app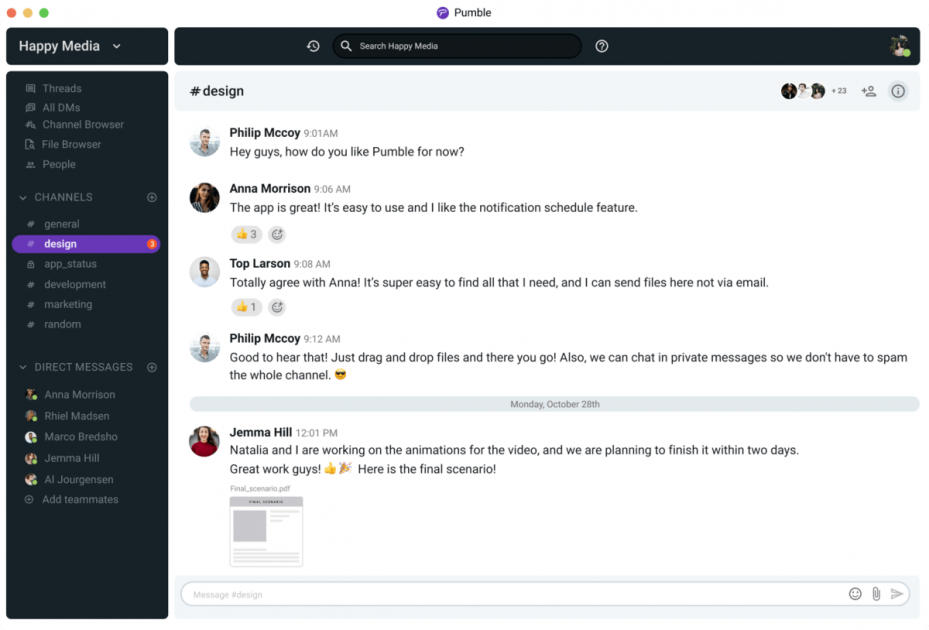 Communicating with your team members in real time is crucial, especially when working remotely. As you can imagine, emails won't do the trick when you need an instant response from your colleagues — which is why you should opt for a business messaging app, such as Pumble.
What's Pumble about?
Pumble is a free business communication app that helps you collaborate with your colleagues via:
Direct messages,
Channels, or
Threads.
With Pumble, you can also share files with your coworkers, search for files or messages to find the necessary information, and keep track of all the files in the file browser.
Key features of Pumble
This productivity app for Mac provides users with features such as:
Message formatting — which comes in handy when you want to highlight particular parts of messages.
Voice and video one-on-one calls — so that you can discuss any urgent matter with your colleagues more effectively.
Do Not Disturb mode — this option is perfect when you need to stay focused on work and don't want anyone to interrupt you.
Pumble also lets you collaborate with people outside your company — thanks to its Guest access option.
Moreover, you can customize your sidebar in Pumble, so you don't have to scroll down to find the channels you're using the most.
Finally, Pumble offers unlimited chat history and an unlimited number of users — which is especially useful for larger teams that work remotely.
Plaky — project management tool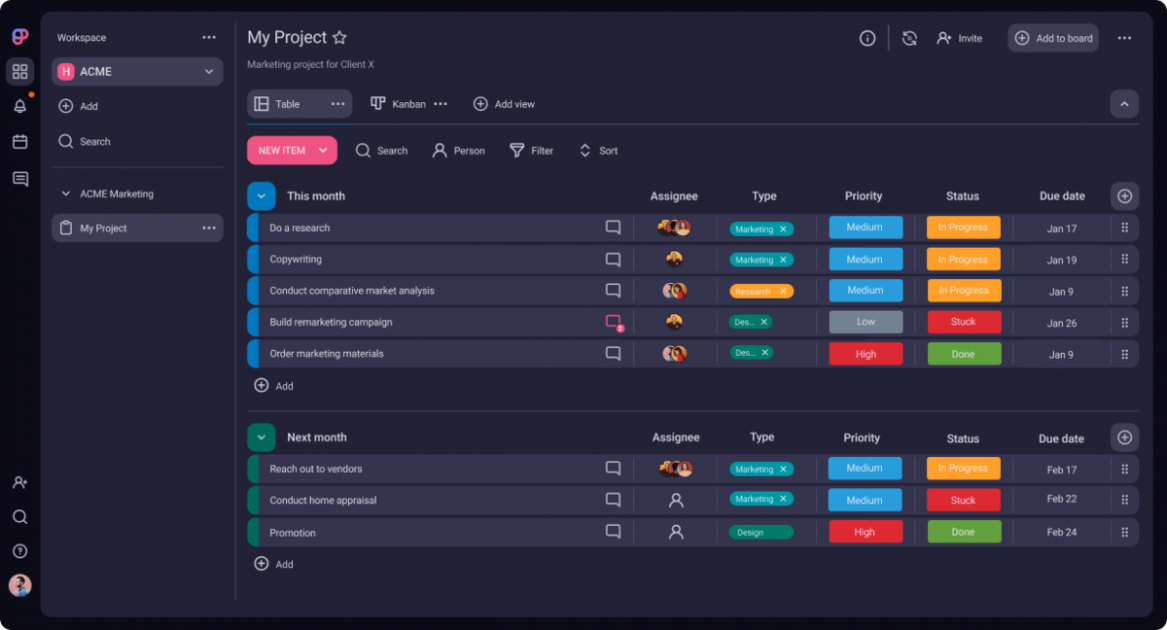 How to stay on top of your tasks and make sure you finish them before the deadline?
You can use a pen and paper for that, but there's an easier way to track your own assignments and see what others are working on at the moment — with a project management tool such as Plaky.
What's Plaky about?
Plaky is a free project and task management app that helps you stay productive when working on your Mac. With Plaky, you can organize your projects and processes, thus improving your own and your team's productivity.
Moreover, Plaky lets you add an unlimited number of users and an unlimited number of projects for free.
Key features of Plaky
This productivity app for Mac provides you with the following features:
Task management — you can keep all your tasks in one place, create custom columns to categorize your tasks, color-code them when needed, and assign tasks to your team members.
Team collaboration — you can invite your teammates to Plaky workspace, leave comments on tasks that need someone's attention, and also get notifications when someone mentions you in the comments.
Progress tracking — you can track the progress of your assignments and filter them by priority, due date, or status.
Plaky allows you to customize your workspace so that it fits your needs — you can set permissions and make your workspace open or closed. In addition, you choose who can edit and control the board, by defining roles.
MindNode — visual brainstorming app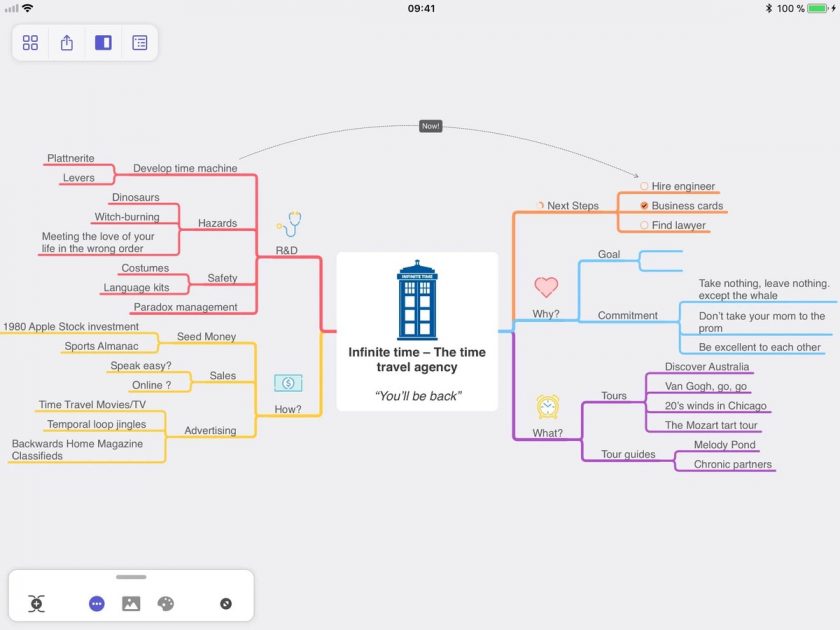 The next on our list of Mac apps for productivity is the one that puts brainstorming sessions on a whole new level — the MindNode app.
What's MindNode about?
MindNode is a great app to help you segregate your brainstorming thoughts into a comprehensive view — one where all related thoughts are grouped.
With this app, you'll be able to keep track of all the ideas that come to your mind, organize them by using categories, and even block out distractions.
Key features of MindNode
When you open the app, here are the steps you can take to capture your ideas:
Simply create the topic you want to brainstorm ideas for (e.g. "Core Travel App features"), and
Start adding ideas (e.g. "City Sites Overview", "Hotel List", "Restaurant Guide", etc.).
The more branches you add to the original topic, the more your tree will grow, and the more inspired you'll get — later on, you'll be able to:
Rearrange branches,
Delete them,
Add sub-branches, and otherwise manage your thoughts and ideas.
Some of the newest features of this app are emoji stickers, organizing thoughts by using a compact layout, and synching your outlines with other devices, such as the iPad and iPhone.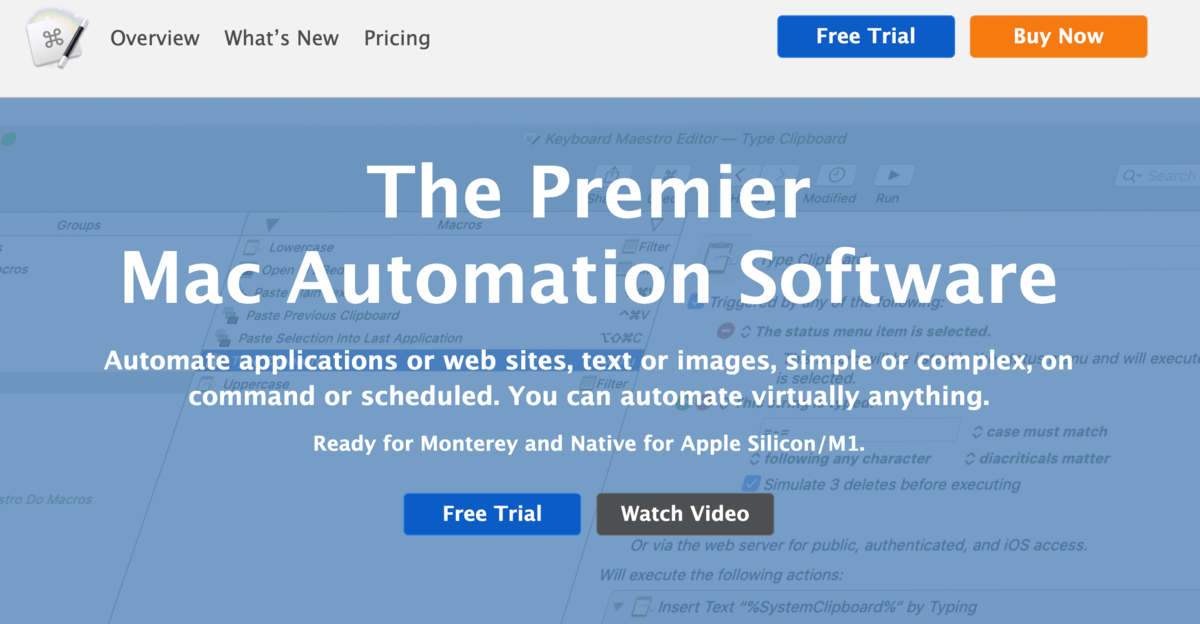 Instead of wasting your precious time performing repetitive tasks, you can use an app such as Keyboard Maestro to automate any number of tasks. Thus, you'll have more time to focus on priority assignments.
What's Keyboard Maestro about?
Keyboard Maestro is a closed-source automation app meant to help you perform a variety of tasks, such as:
Launching and quitting apps, as well as
Switching from app to app via keyboard shortcuts.
The main purpose of this app is to help you record, set, design, and activate your custom keyboard shortcuts ("macros"), to make navigating your Mac easier.
Key features of Keyboard Maestro
You'll also be able to use various additional features:
The Clipboard Switcher — allows you to manage an unlimited number of clipboards.
The Clipboard History Switcher — lets you manage your clipboard history.
The Application Switcher — allows you to easily navigate across various apps.
The Window Switcher — helps you easily navigate across various windows.
In essence, just like AutoHotkey saves time for Windows users, Keyboard Maestro helps Mac users save time by automating a lot of repetitive processes.
Krisp — noise canceling app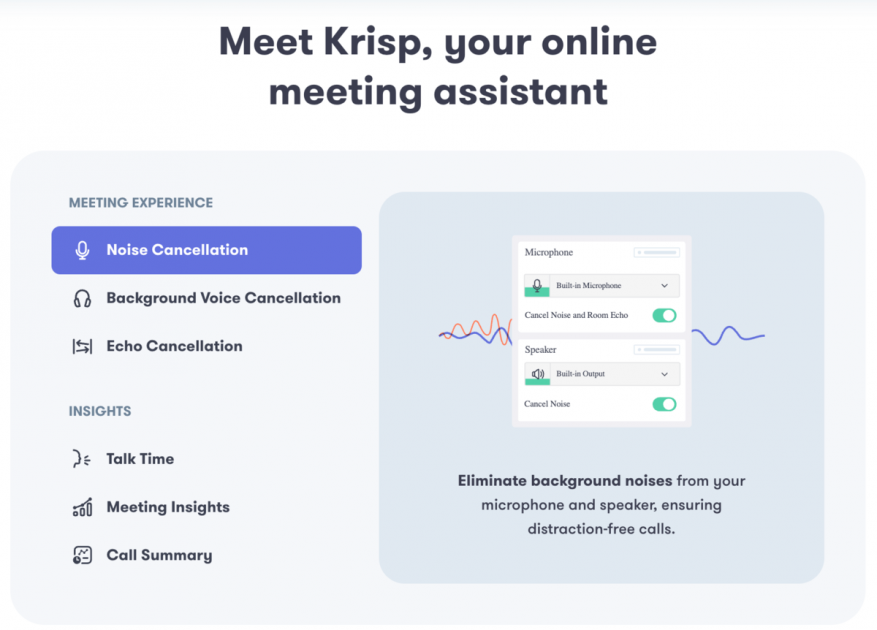 Dogs barking, babies crying, and a coffee machine making too much noise ⁠— these sounds can be quite distracting when you're attending a virtual meeting.
Krisp is an app that helps you block such distractions and focus solely on meetings.
What's Krisp about?
This Mac tool allows you to eliminate noise on your end, but also the background noise coming from other speakers.
Moreover, Krisp provides users with echo cancellation, which allows you to eliminate noise and room echo.
Key features of Krisp
The most practical features of Krisp are:
Talk time — you can find out how much time you spend speaking during meetings.
Meeting insights — here, you can see the overview of your meetings, the total time you attended meetings, and the total Talk time.
Virtual backgrounds — you can change your meeting background, so that you prevent any visual distractions coming from your end.
In addition, Krisp integrates with 800+ communication tools.
F.lux — screen adjuster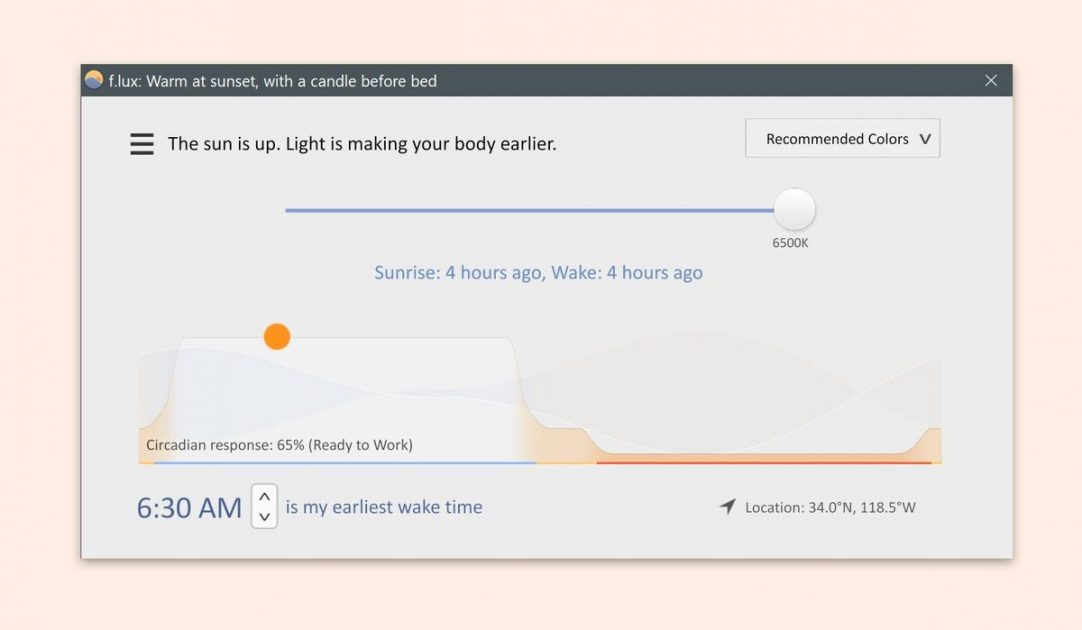 Burning the midnight oil to finish an important project?
When working at night, your eyes can get tired from looking at the bright screen. So, if you absolutely need to put in extra hours of work, make sure to adjust the brightness of your screen by using a screen adjuster app such as f.lux.
What's f.lux about?
F.lux is an app that adapts the color of your screen according to the time of the day. In the morning, the screen will be lighter, and in the evening, your Mac will be as bright as the indoor lights.
Key features of f.lux
Once you install f.lux on your Mac, you need to enter your location and your usual wake time.
Here are some of the best features of f.lux:
Daytime, Sunset, and Bedtime parameters — according to the settings, f.lux will change screen colors, so they fit your room lighting.
Sleep in on weekends — you can choose this feature if you need brighter light on Friday and Saturday nights.
Expanded daytime settings — you can choose warmer daytime settings if you'd like to match office lighting.
Bear — note-taking app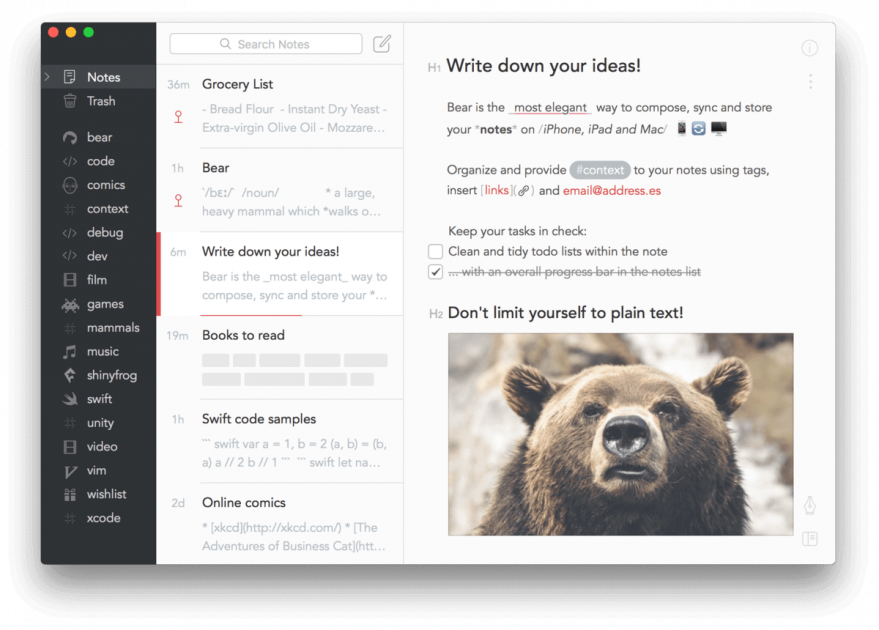 No matter if you need to capture brief notes or write long essays — Bear has got you covered. This note-taking tool will help you craft any writing form, and then convert your writing into PDF or Word documents.
What's Bear about?
Bear is the go-to app for taking notes, making to-do lists, and writing longer pieces of content, like essays.
So, even when you're swamped with work, you can easily capture all your ideas using this app, then carry on with your tasks.
Thus, you'll maintain your productivity, too.
Key features of Bear
Bear with me, because this Mac app has many features worth your attention:
Focus mode — you can focus only on one note at a time and even go full screen to ensure deep work.
Tags — you can create a nested tag system. For instance, your parent tag can be #Client1, and child tags can be #Project1 and #Project2.
Shortcuts — you can also use the option to automate some tasks with Bear. For example, if you want the app to automatically open notes you need when you arrive at a certain location. So, every morning you come to work, the app automatically opens a to-do list for the day.
With this app, you can also add attachments and export your notes in several formats.
1Password — password manager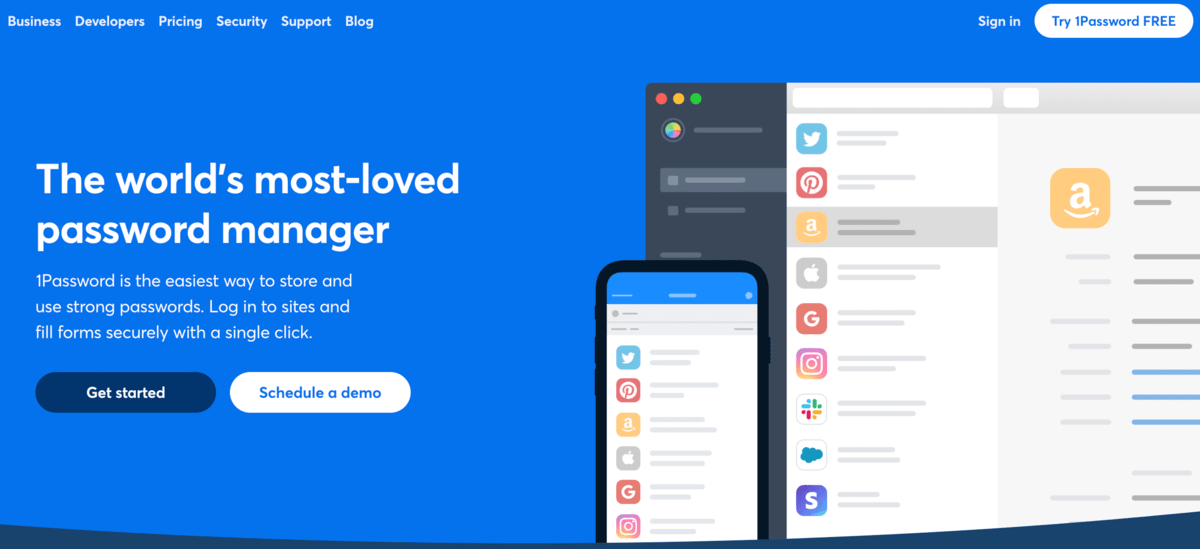 When talking about the best mac apps for productivity, it's vital to mention some tools focused on your password safety. That's why the next app on our list is 1Password.
What's 1Password about?
1Password is an app that helps you protect all the passwords you keep on your Mac. The app only requires you to memorize one master password — your Account password.
This way, you'll have all your passwords safe and sound, and you'll be able to focus on your work.
Key features of 1Password
Here are some key features that this tool offers:
Storage — this is where you'll be able to keep an eye on all your passwords.
Watchtower — all along this app's watchtower, you can check your overall password strength and review compromised websites and vulnerable passwords.
Secret key — apart from your Account password, your Secret key is another level of security. Only you know this key.
Furthermore, 1Password ensures that all your passwords are synced across all your devices.
Scribe — documentation, and screenshots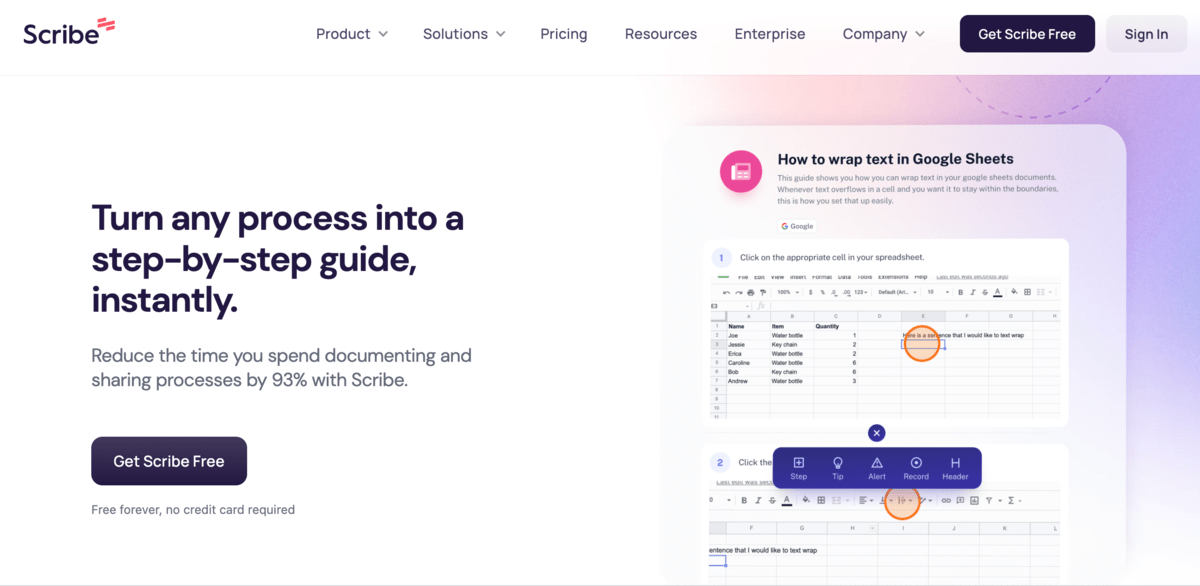 Need to show your colleagues how to use a particular tool? One of the most effective ways to do this is to record this activity and send them the link.
And Scribe is the app that can help you do so.
What's Scribe about?
Scribe is the best way to document and share any digital process.
Simply download the Mac application (you can also get the browser extension). Then click "record" and go through the process you want to share.
Key features of Scribe
This Mac app for productivity will not only improve your effectiveness, but also save you precious time at work — with Scribe, you can:
Instantly turn your actions into a step-by-step guide, complete with text and screenshots. Then, you can share your best practices with anyone, anywhere.
Make SOPs, onboard clients, and train employees. With Scribe, you have a fast, easy, and secure way to show how the work is done.
Customize and share your Scribes via a link, or email, or embed them into any CMS.
Another great thing about Scribe is that you can integrate the app with many other tools.
Backblaze — backup and storage service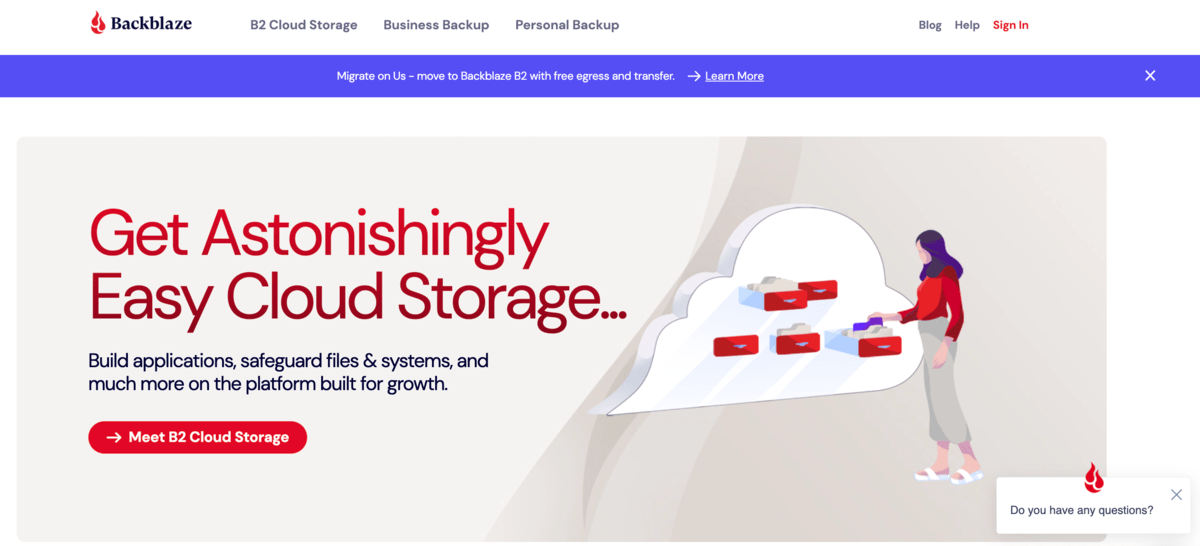 Another valuable tool on our list of productivity apps for Mac is the one focused on backup and storage. This software will make sure you don't lose any valuable files or folders on your Mac by backing them up.
What's Backblaze about?
Backblaze is the ultimate online backup service — perfect if you want to make sure you don't lose important documents due to a system crash or a malfunction in your antivirus program.
Whatever you need to store — be it personal data, such as family photos, or business data, such as your project archive, you'll be able to securely store it online with the right plan (Personal Backup plan or Business Backup plan).
If you're a developer, you'll also be able to build a custom storage unit (B2 Cloud Storage plan) and have it fit your specific needs.
Key features of Backblaze
Backblaze's highlight feature comes from its Personal Backup plan — if your Mac gets lost or stolen, you'll be in a position to locate it, and have the hardware (with all your precious stored data) shipped directly to you.
The Business Backup plan is more suited for companies, as it contains features like server backup and computer backup.
Dewo — meeting scheduler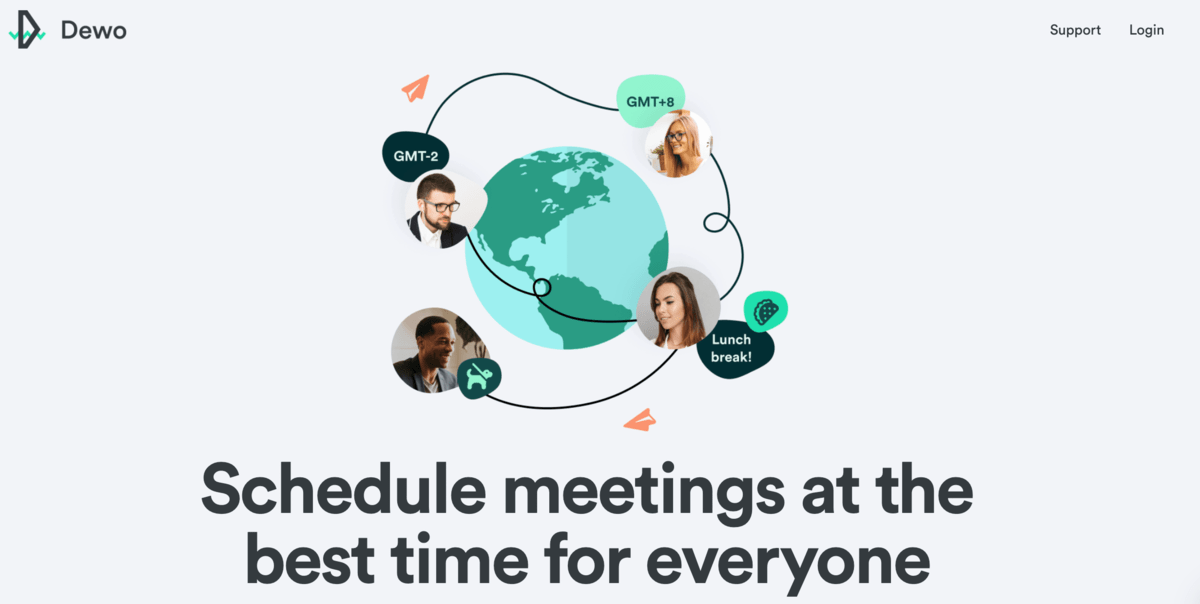 Working in a remote team oftentimes means working with people across the globe. As you can imagine, scheduling meetings that fit everyone's working time can seem like an impossible task. So, you should consider using a meeting scheduling app such as Dewo.
What's Dewo about?
Dewo is an app that allows you to find the time that works best for all team members.
To schedule meetings with Dewo, you need to:
Add your contacts, and
Offer them multiple time frames so that people can choose the one that works for them.
This way, you and your colleagues will avoid having to attend meetings too early in the morning or too late at night. Thus, everyone can join important meetings.
Moreover, you'll have a clear overview of your uninterrupted hours during the week, and you'll be able to stay productive for a longer period.
💡 Clockify Pro Tip
Wondering how time zones can affect your productivity? Find out from our blog post on this subject:
Key features of Dewo
Apart from scheduling meetings with ease, Dewo lets you:
Give your contacts an option to add suggestions when it comes to scheduling meetings, and
Reschedule your video calls.
Another valuable feature this tool offers is the Do Not Disturb mode, which you can sync across devices, to ensure uninterrupted time.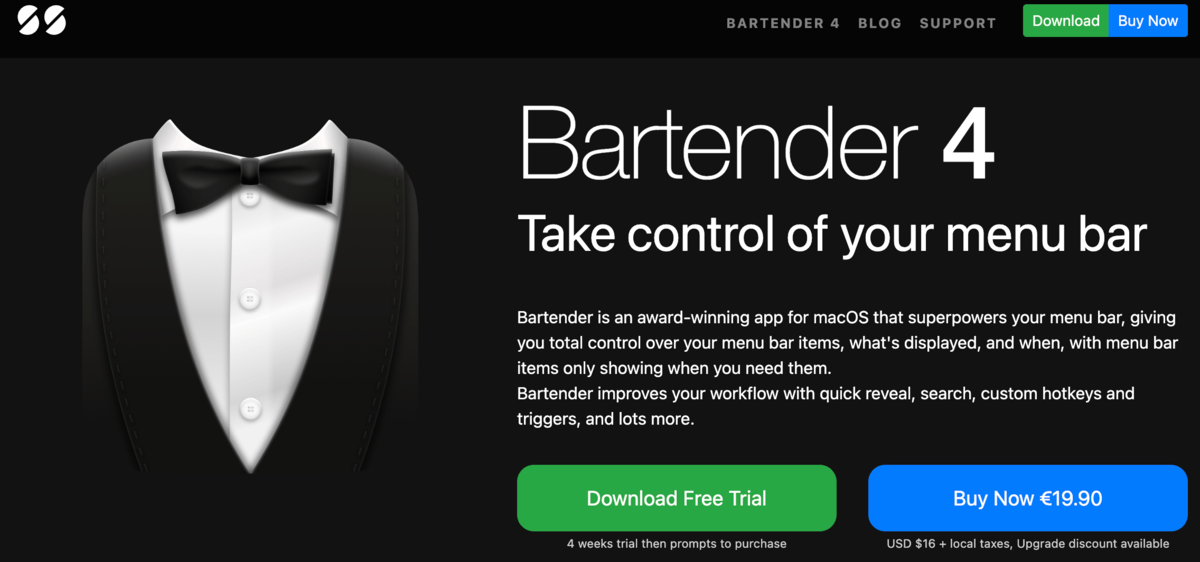 Bartender is an effective declutter app (currently in its fourth version) — you'll no longer have to browse through the seemingly endless list of browser tabs to find what's really important.
What's Bartender about?
This app helps you organize, rearrange, or simply hide a large number of browser tabs or apps you open during the day — in the aptly named Bartender Bar.
When you wish to view hidden items again, you can do that easily by using the right keyboard shortcut.
Key features of Bartender
Some of the most practical features of Bartender are:
Menu bar item spacing — you can modify the space between menu bar items, by opting for normal, small, or no spacing.
Triggers — the app shows you when you're not connected to a WiFi network or when your battery power is decreasing.
Additionally, this productivity app for Mac allows you to add hotkeys and use Menu bar spacers.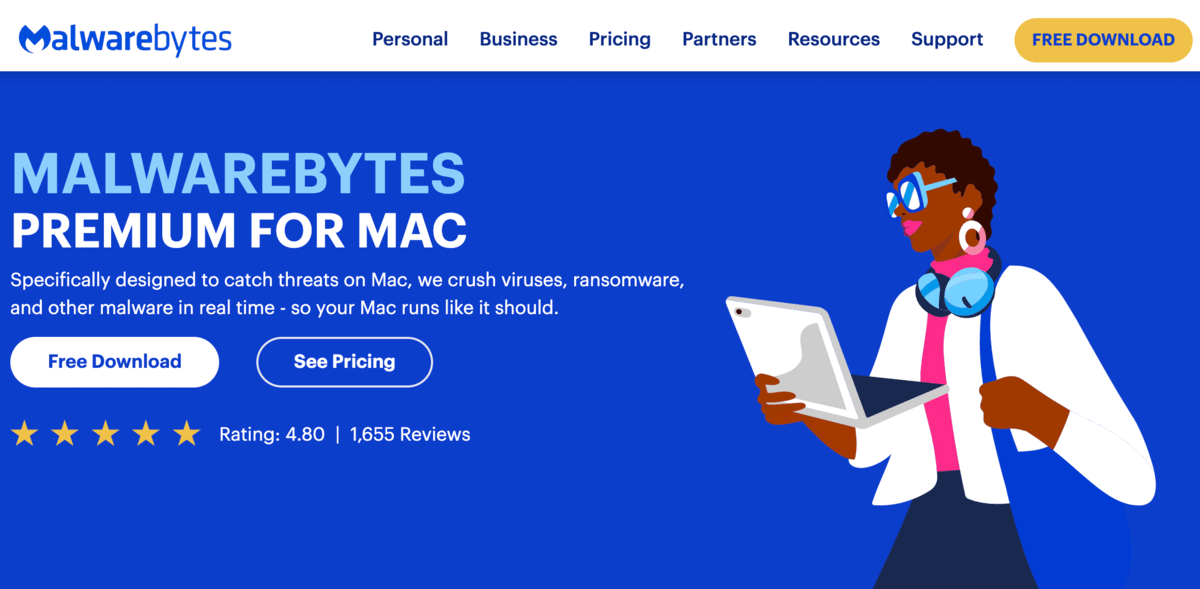 Another one on our list of Mac apps for productivity is MalwareBytes — an antivirus tool.
What's MalwareBytes about?
Whether you use your Mac for work or free time, you should consider protecting your computer with a cybersecurity app, such as this one.
MalwareBytes comes in two plans:
Personal, and
Business plan.
Depending on your needs, you'll notice that these plans offer various additional options — for instance, in the Personal plan, you can choose between three options, one of which contains a Privacy VPN.
Key features of MalwareBytes
Here are some useful features that MalwareBytes offers:
Securing your laptop from hackers and cyber threats,
Scanning your Mac quickly,
Protecting your laptop from fake websites, and
Cleaning up an already infected computer.
Finally, you can customize your protection, so it fits the needs of your computer usage.
Alfred — automation app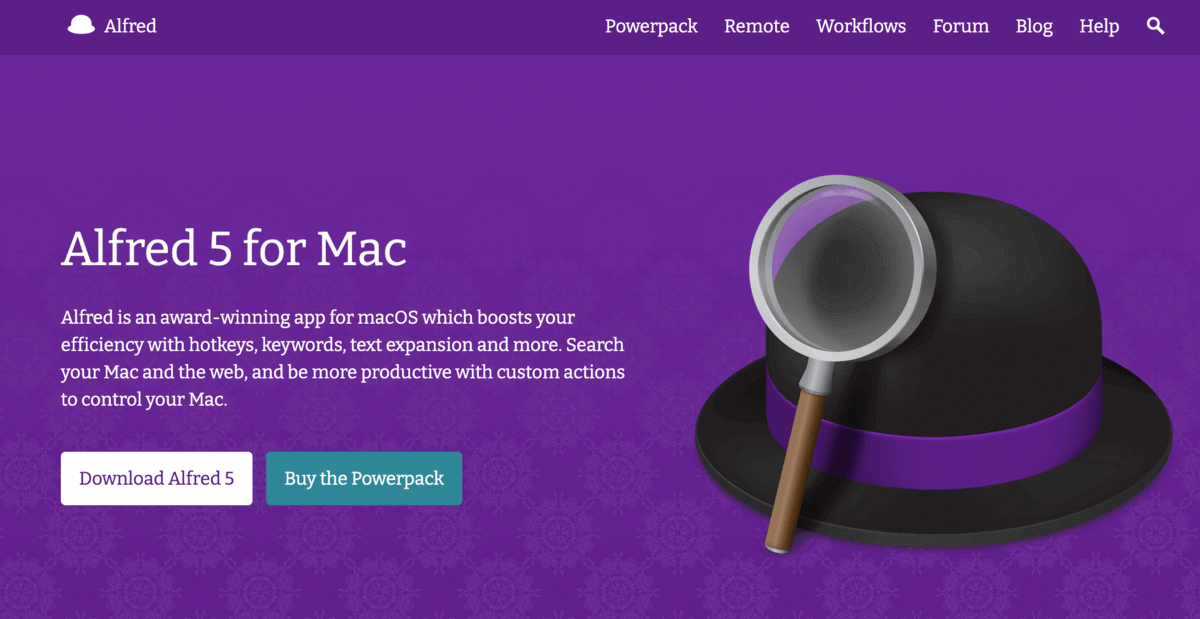 How can you save time to engage in deep work? One of the ways is to use Mac shortcuts, which you can set up by using an automation app, like Alfred.
What's Alfred about?
Alfred is an automation app you can use to find apps and files, create workflows, and set hotkeys.
Having an option to make custom workflows helps you automate your repetitive tasks, and leaves you more time for tackling complex assignments. Thus, your productivity will improve, too.
Key features of Alfred
Now, let's see what the highlights of this tool are:
Clipboard History — whenever you copy text, images, or files in Clipboard, Alfred will memorize them. Then, you can easily find any file you need by searching in Alfred.
Snippets — this option is similar to a text expander, and it's especially useful for creating templates. For example, you can make a snippet for any repetitive email you send to clients. Next, once you start typing an email in your email account, you just need to trigger a command and input your email template from Alfred.
Moreover, this tool can integrate with 1Password, so you can search for any password you need in the 1Password section in Alfred.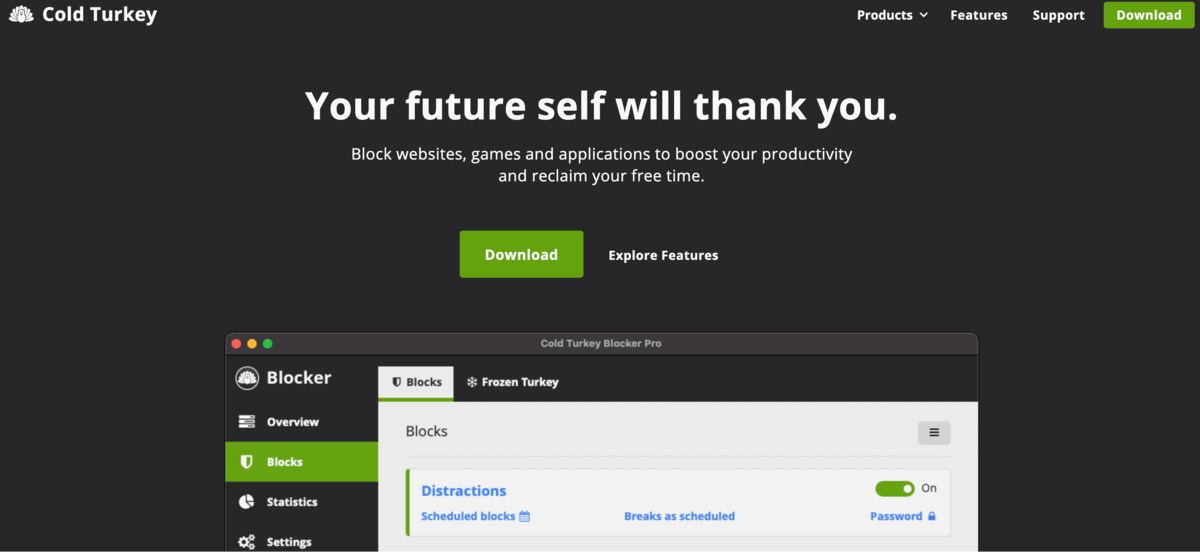 How often do you get distracted by your mobile phone or social media accounts?
To put a stop to this, you can simply use a website blocker to prevent you from wasting your time when working.
What's Cold Turkey about?
Cold Turkey is a focus app that helps you block out time-consuming digital systems that distract you from your work — and, given that we waste about 3 years of our lives on Social Media alone (not to mention other workplace distractions), you probably need it.
As its name suggests, Cold Turkey helps you go cold turkey on your Mac — it lets you block:
Websites,
Apps,
The Internet, or
Even your computer.
Key features of Cold Turkey
Here are some ways you can use Cold Turkey:
Block websites — you can either block domains, specific URLs, or even the entire Internet.
Schedule blocks — if you know you'll be having a busy day at work, schedule blocks of time when particular sites will be unavailable for you.
Take a break — you can let yourself unwind by unlocking the "Distractions" section for several minutes.
Hopefully, blocking websites will help you stay focused on work and finish your assignments more effectively.
Dropzone — organizing app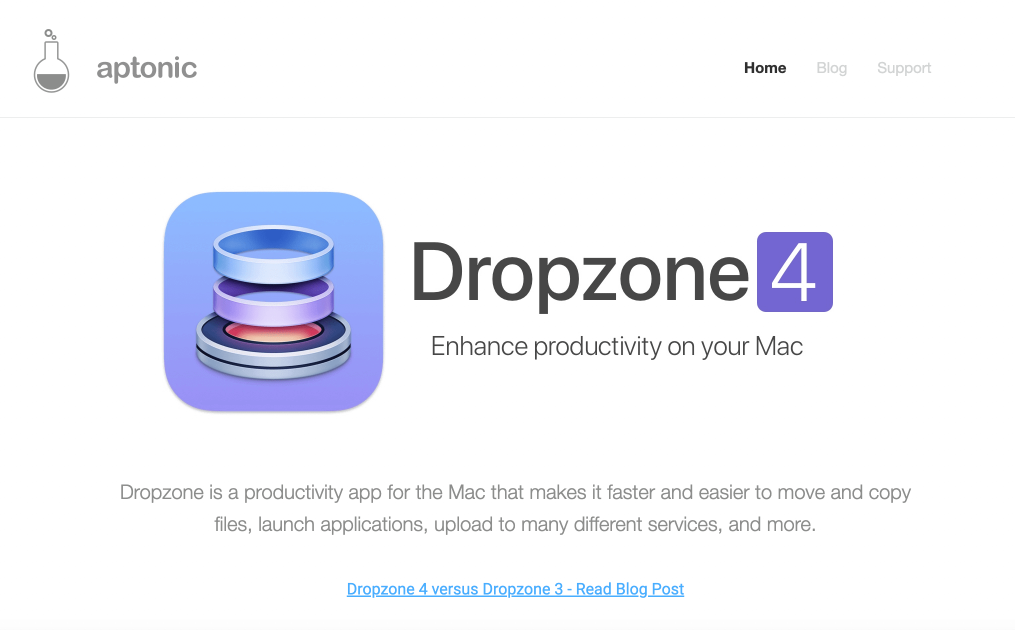 The next one on our productivity apps list is Dropzone — an organizing tool for Mac.
What's Dropzone about?
Dropzone is perfect if you want to save and access file uploads in a few clicks. This open-source library operates on a simple drag & drop system that lets you easily upload and manage your priority documents from one place.
This app is meant for Mac users who prefer a no-fuss approach to storing current priority documents, so the default interface is as simple as possible.
Key features of Dropzone
The highlights of this app include the option to combine files into groups, then transfer them to any app you want.
Moreover, you can use Dropzone to extend its features, by downloading new actions, such as:
Zip files,
YouTube Downloader,
Image Search, and many more.
Magnet — window manager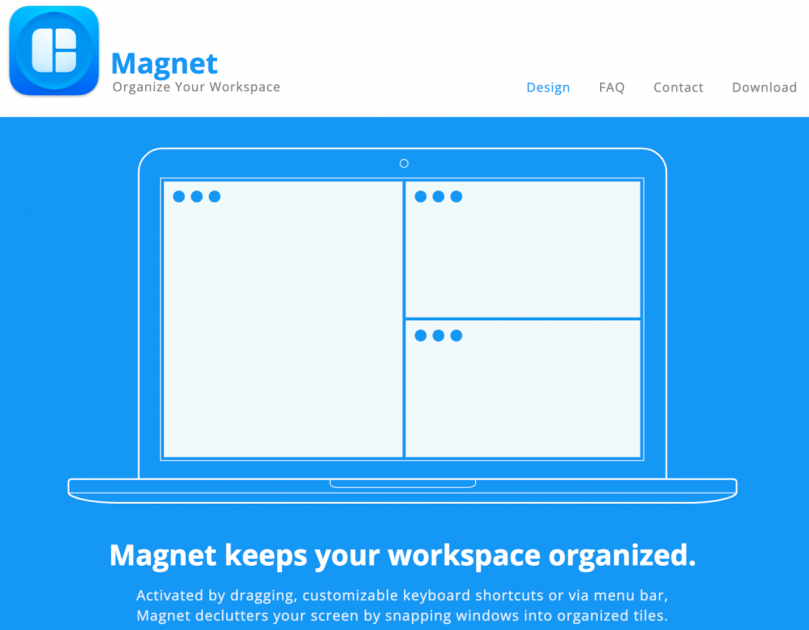 Another productivity app for Mac on our list is Magnet — a window manager for your computer.
What's Magnet about?
If you need to keep multiple windows open at the same time, while paying equal attention to all of them, Magnet can help you.
This tool lets you organize your windows as you wish — horizontally, vertically, or by splitting the screen into four quadrants.
Key features of Magnet
How can Magnet help you stay organized and productive?
You can customize the way your windows align on the screen. This app is especially useful when you need to compare two or more documents or copy and paste data from one document to another.
Airtable — collaboration service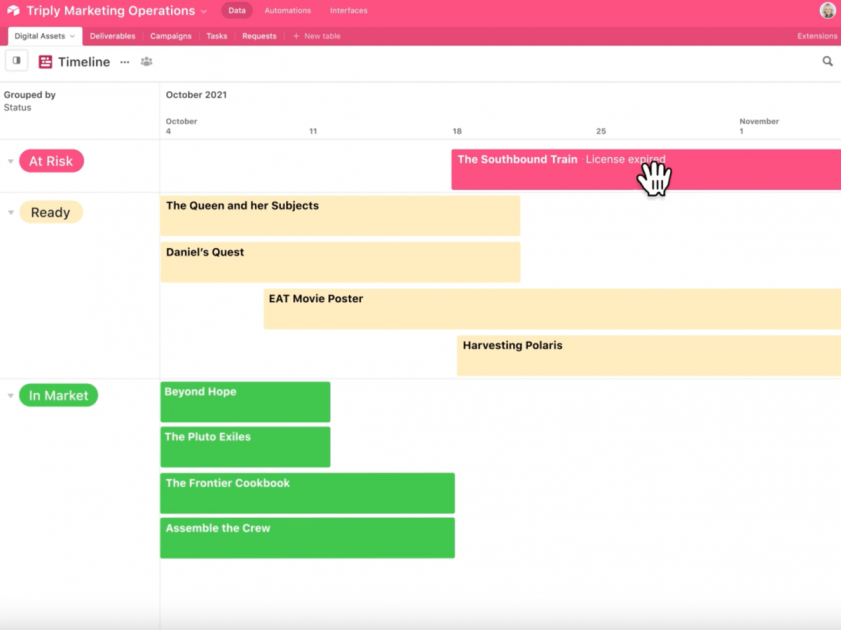 Airtable is one of the most efficient collaboration tools that allows you to organize your tasks with ease.
What's Airtable about?
Airtable is a cloud collaboration service that has the form of a spreadsheet — simply select your preferred project template and then customize your team's workflow from there.
The available project templates include:
Content Calendar,
Inventory Tracking,
Event Planning,
Blog Editorial Calendar,
Product Launch Calendar, and many others.
Key features of Airtable
This productivity app for Mac offers features such as:
Interface Designer — you can create a custom interface to fit your job's needs. You can add visual elements like Timeline, Chart, Number, or Grid, depending on the type of tasks you perform.
Views — you can choose from a variety of views, such as Kanban, Gantt, Calendar, Gallery view, and many others. For example, with the Calendar view, you'll be able to see all the crucial dates across the month, then share the details with your coworkers.
Automations — with this feature, you can add a trigger and the actions that will follow the said trigger. For instance, when a particular document gets approved, you can add that as a trigger, and the following action can be "sending an email to your manager".
Moreover, Airtable allows you to integrate your account with tools like Google Workspace, Facebook, and many other apps.
Serene — an app for better focus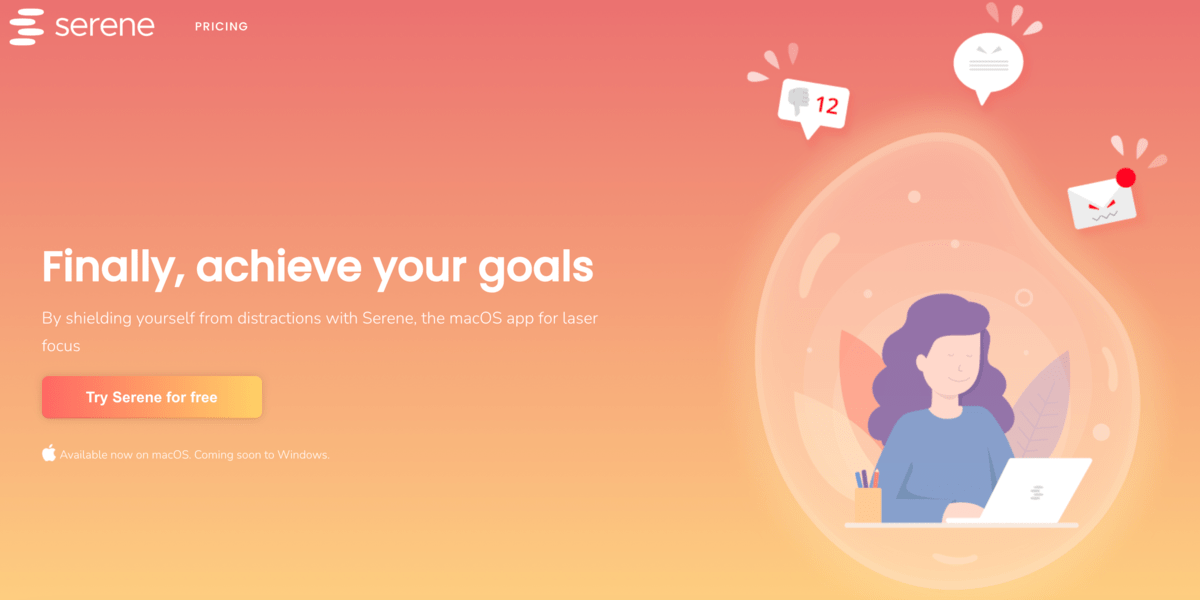 Serene is the all-in-one productivity tool for macOS. This app was built to make deep work easier to attain.
What's Serene about?
If you're struggling with staying focused at work, Serene will help you. This app provides users with three techniques:
Splitting your day into focused sessions of work with regular breaks,
Blocking distractions once you enter Serene sessions, and
Organizing each day with a plan.
Key features of Serene
Here are some of the most important features of Serene:
Day planner — this feature helps you plan your day by setting one goal for the day and breaking it down into smaller intervals of deep work, along with brief breaks.
Phone Silencer — this option can block notifications on your phone, so that you won't be disturbed by phone calls or text messages when working.
App Blocker — you can add apps that distract you and prevent you from working.
Furthermore, Serene allows you to track your productivity by looking at your insights and setting a reminder to plan your working sessions.
Hazel — organization tool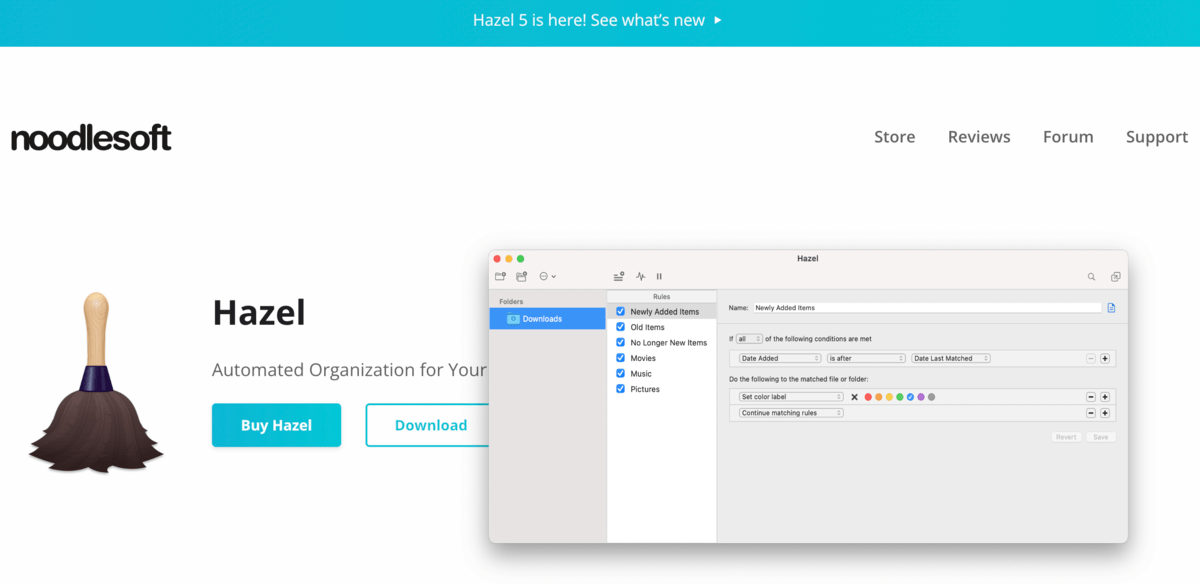 Do you need help with arranging your files and folders on Mac, so that you can easily find what you need, when you need it? Then consider trying the next app on our list — Hazel.
What's Hazel about?
Hazel is a tool that lets you automatically organize your files and folders by setting particular criteria.
The app allows you to create rules and add rules details for any folder you'd like to organize according to your own needs.
Key features of Hazel
With Hazel, you'll be able to use various features, such as:
Create a rule to send all the files you don't need — such as old files — to one folder, and the app will automatically do that once you activate the rule. For instance, if you don't need your old Excel files, you just have to add the .xlsx extension to the conditions that need to be met, so the app can store such files in the same folder.
Automatically remove your screenshots — for example, you can set a rule in Hazel to delete all the screenshots older than one day or simply move them to one folder.
In general, Hazel lets you create any custom workflow you want. Thus, setting these automatic rules will help you have more time to focus solely on your work tasks.
Notion — organizing app and task tracker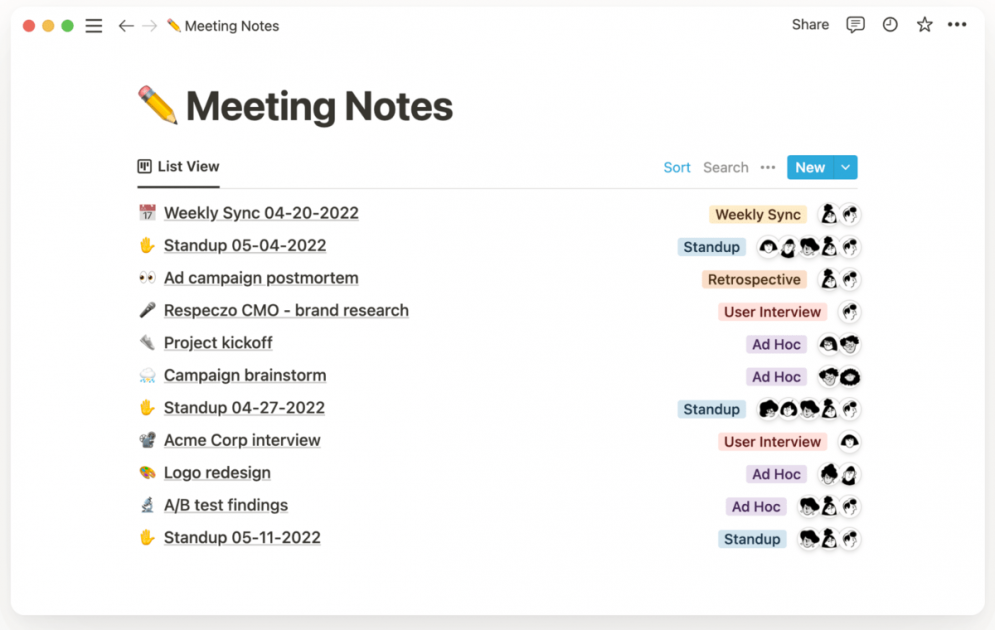 Notion is another organizing app on our list — but what makes it stand out is that this tool offers amazing templates for capturing your to-do lists and notes.
What's Notion about?
Notion is an organizing tool that helps you:
Write down to-do lists,
Track your tasks, and
Save important websites.
With this app, you'll be able to keep track of all your thoughts and ideas, get organized, and track your tasks.
Key features of Notion
If you're working remotely, Notion can help you collaborate better with your colleagues and retain your productivity.
Here are the features you can use with Notion:
You can create documents and share them with team members. In addition, you can mention teammates, leave comments, and get notifications about tasks that matter.
You can use layers to organize your folders and subfolders, and then have an overview of your folders in the sidebar.
Notion also offers a web extension, which comes in handy when you want to save some links in one place and check them later.
Final thoughts: Achieve a better Mac workflow through productivity tools
Staying productive and avoiding any distractions that may pop up along the way can be difficult. Luckily, there are many Mac apps on the market that can help you maintain your productivity for longer periods.
In this blog post, we covered the tools that have proven invaluable when it comes to effectiveness. The most common categories that these apps include are:
Collaboration and communication,
Managing tasks and projects,
Automation,
Organization,
Backup and storage, and other fields.
So, next time you find yourself struggling with productivity, make sure to use this article as your guide to achieving a better workflow. And once you regain your productivity, you'll be able to complete all your tasks on time. 
✉️ What about you? What productivity apps do you use for Mac? Have you tried any of the apps we listed in this article? Let us know at blogfeedback@clockify.me and we may include your answers in this or future posts. And, if you find this article helpful, feel free to share it with someone who's struggling with staying productive.