Projects are useful for grouping and categorizing time entries that belong to the same type of work. Projects make it easier to analyze data, generate more useful reports, and see where and how you spend time.
Each project typically belongs to some client, but you can create a project without a client (e.g. internal company stuff).
Keep in mind that a client can have many projects, but a project can belong to only one client.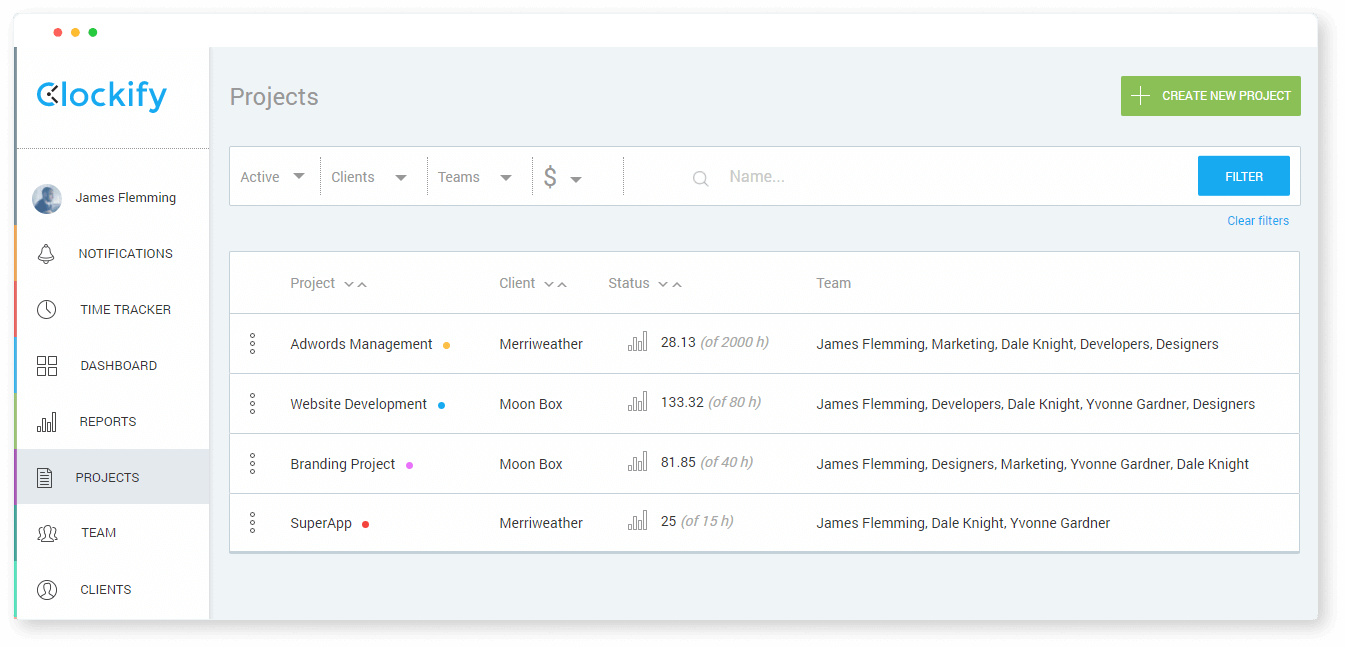 Creating a project #
To create a project:
Add a client (go to Clients, enter client name, and click Add)
Go to Projects and click "+ Create new project"
Name the project
Select client (you can also create a new client here, by typing a name and clicking "Create client")
Choose a project color
Choose visibility (public or private)
Click "Create project"
Once you've created a project, you can select it when tracking time. If you've set the project as private (visible only to a certain user group), then only people who are on the project will be able to select it when tracking time.
Archiving projects #
Once you complete a project, you can archive it, so it's no longer visible when tracking time.
To archive a project:
Go to the Projects page
Click three dots next to project you want to archive
Select Archive

To see archived projects, click the Active filter at the top of the page and change it to Archived.

To restore an archived project, click three dots next to it and select Restore.
When you archive a project:
All its data is still available
Project's time entries will still be shown in reports
Archived projects won't appear in reports as filters
Archived project won't be available when tracking time (but you can still continue tracking time on them)
Archived projects won't appear on Projects page (unless you select Archived in the filter)
Filtering and sorting projects #
When you have a lot of projects, it can be difficult finding what you need. That's when filters come in handy.
You can filter projects by client, users who are part of it, billability, and name.
You can sort projects alphabetically by clicking Project˅˄ on the header of the project table.
Favorite projects #
Mark your most used projects as favorites so they appear at the top in the time tracker.
Before projects appear at the top of the list in the time tracker, you have to enable Favorite Projects in your workspace settings.
Each project has a star next to it. Click on it to add it to favorites, and again to remove it.
Favorite projects are user specific. When you mark some project as a favorite, this doesn't affect other users. Each user can have his or her own set of favorite projects.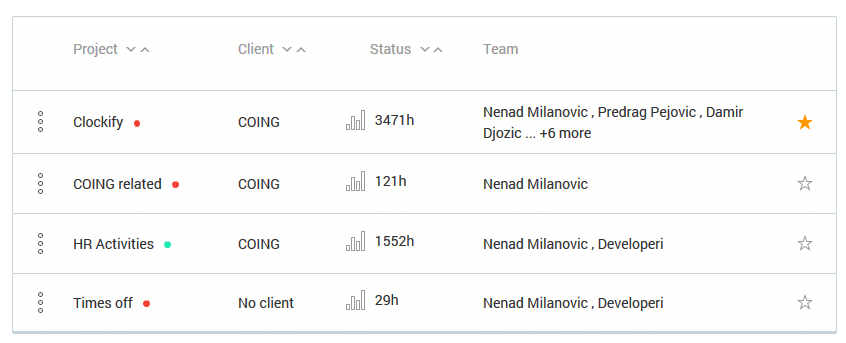 Once you mark some project as a favorite, it will appear at the top in the time tracker. You can also mark projects as a favorite there, by clicking on the star.

Creating projects from a template #
If you have a lot of similar projects, it's a good idea to set up a template so you don't have to create the same project over and over.
Projects you create with an existing template will have settings such as Billable Rates, Estimates, Tasks and Team already applied.
Project templates is an extra feature, which you can enable once you upgrade your account.