38 Best apps for time management in 2021
We all know the importance of proper time management – if you manage your time flawlessly, you'll be able to perform high-quality work, but in less time. And time management tools represent the technology that can help you achieve this.
They include work hours trackers, communication platforms, project and task organizers, scheduling software, team management systems, calendar apps, and mind mapping tools, among other essentials.
So, here are the best 38 time management apps in 2021, in no particular order, meant to help you make the most of your time, at any time.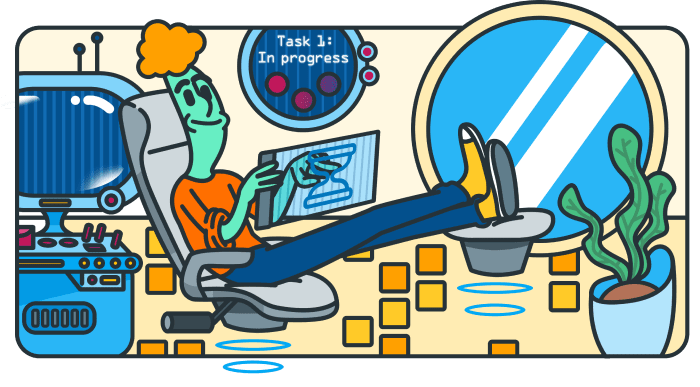 Clockify – work hours tracker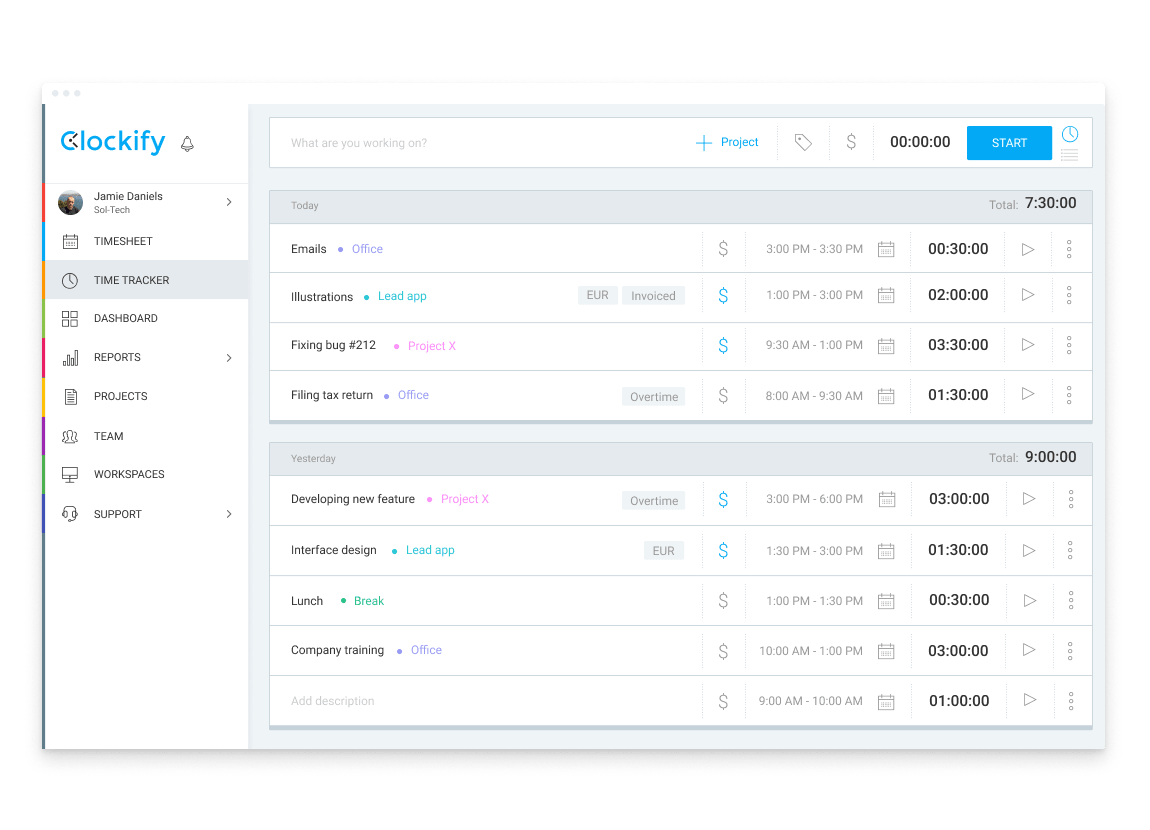 Clockify is the ultimate tool meant to improve your time management – this time tracker and time management app enables you to track the time you spend on various activities, providing you with data meant to improve your work routine.
The Clockify time management software helps you track work hours, before calculating your billable hours and payroll. You'll also be able to assess whether you always spend your time at work on productive activities, or not.
Once you create an account, you can choose how you want to track time, on the Time Tracker page:
Timer mode: just start the timer once you start working on an activity, and stop it as soon as you're done.
Manual mode: enter the time you've spent working on an activity manually. Alternatively, you can enter time manually in the Timesheet view.
After you've logged all your time, you can generate Reports (Summary, Detailed or Weekly) indicating how productive you are with your work within a specific time period (week, month or year), and how much you need to invoice your clients.
Availability: Web, Firefox, Chrome, Android, iOS, macOS, Windows, Linux
Pumble – communication platform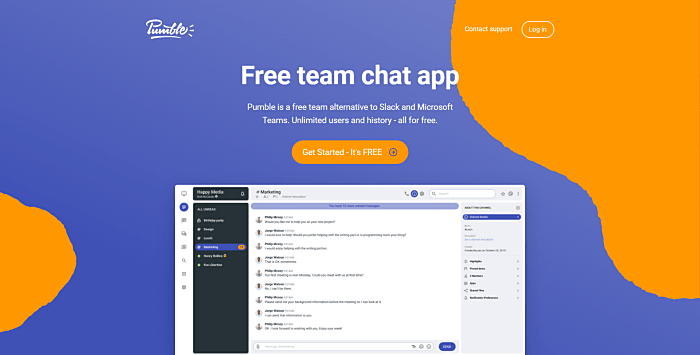 Pumble is a free team communication tool. Even with its free version, it already offers a wide range of features that can compete with some of the most established apps out there.
You'll be able to:
Message your coworkers
Conduct free video and voice calls (feature coming soon)
Take part in conversations with one person or an entire group
Dedicated rooms for collaboration and grouping up
Fully searchable chat history
Use it free of charge as a consumer
In addition, you'll be able to share images, videos, maps, and many other formats meant to clarify your thoughts in a conversation. Pumble is a great alternative for Slack because it is much more cost efficient for business teams.
Availability: Web, Android, iOS, Windows, Mac, Linux
Remember the Milk – task manager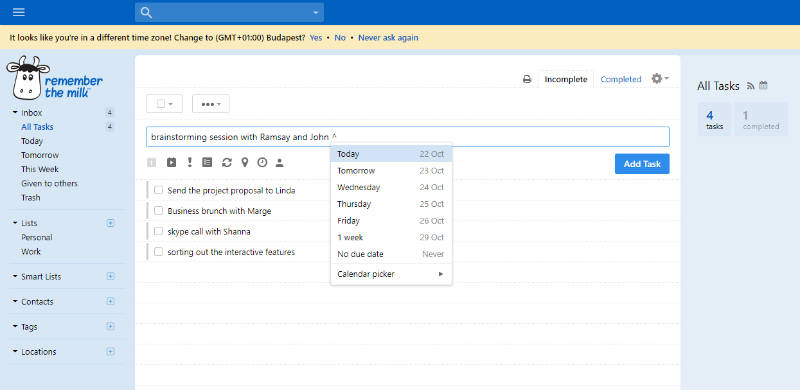 Remember the Milk is the perfect task manager among time management tools, one meant to help you remember (and be encouraged to tackle) items in your to-do list.
This simple virtual assistant allows you to:
add tasks
associate tasks with sub-tasks
define due dates for everything you need to do today, tomorrow, this week, or any other time
The system distinguishes between personal and business tasks, but you can also take your to-do list game further. Smart lists are created based on special criteria you've previously defined – they're updated automatically, once something about your tasks changes.
The number of platforms where Remember the Milk is available is another astonishing feature.
Availability: Web, Chrome, Firefox, Safari, Mac, Windows, Linux, iOS, Android, Blackberry, Apple Watch
ProofHub – Work management & team collaboration platform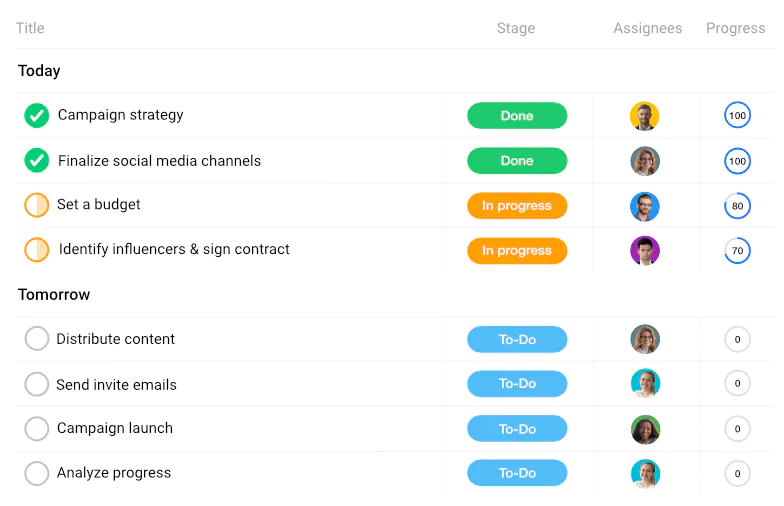 ProofHub is an all-in-one work management and team collaboration solution for teams of all sizes. This easy-to-use and intuitive SaaS-based software solution offers an inbuilt, accurate time tracking application as one of its powerful features.
This time tracking feature enables users to improve their time management skills as they have complete time data at their fingertips. They can find out how much time they spent on what tasks, what are the billable hours of projects, and if other users of the team are tracking their time or not.
The efficient time tracker allows you to:
Add multiple timesheets to record your time data and use them for payroll, client billing, estimation, tracking, and even time management
Set time estimates for tasks to define how much time it should take to complete a particular task
Figure out if a particular task took longer than expected to be completed
Track time spent on tasks either manually or using timers
Create custom time reports of people and projects
Availability: Android, iOS, Web
Clara – meeting scheduler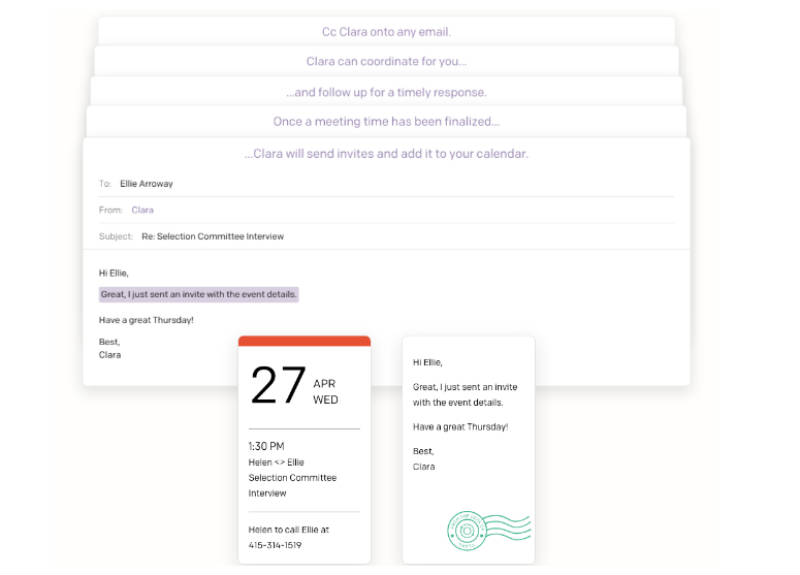 Clara is an AI email time management software meant to streamline your meetings, by helping you schedule and coordinate them.
You'll be able to set up meetings easily by automating the process of arranging a meeting through email. Once you install Clara, each time you need to finalize agreements for a meeting, it will find a solution that fits well with everyone's schedule. It will also send out follow-ups and invites to attendees, before noting in everything in your calendar.
Considering that this time management software tackles all your meeting-related email correspondence automatically, you'll be able to:
enjoy a decluttered inbox
focus on daily activities that really matter, instead of wasting a lot of your day on scheduling
Availability: Web
Forest – focus app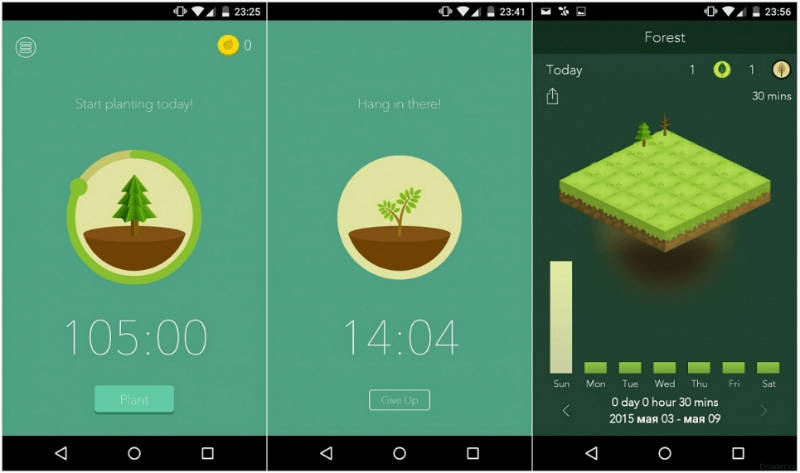 Forest is the ultimate focus app that helps you save time, by encouraging you to pursue your tasks and avoid procrastinating on your phone.
The gist is simple:
you blacklist websites you want to avoid.
when you want to focus on a task, you plant a virtual seed – within the next 30 minutes, the seed grows into a virtual tree, but only if you stay focused on the task
If you falter on your task, and check a website you've previously blacklisted, your tree withers and dies instantly
If you manage to stay focused on all your tasks within their 30-minute time-frames, you cultivate an entire forest
As an added bonus, if you spend the virtual coins you earn in the tool, the Forest team contacts their partners, Trees for The Future, and arranges for a real tree to be planted somewhere.
Availability: Android, iOS, Chrome, Firefox
RescueTime – automatic productivity tracker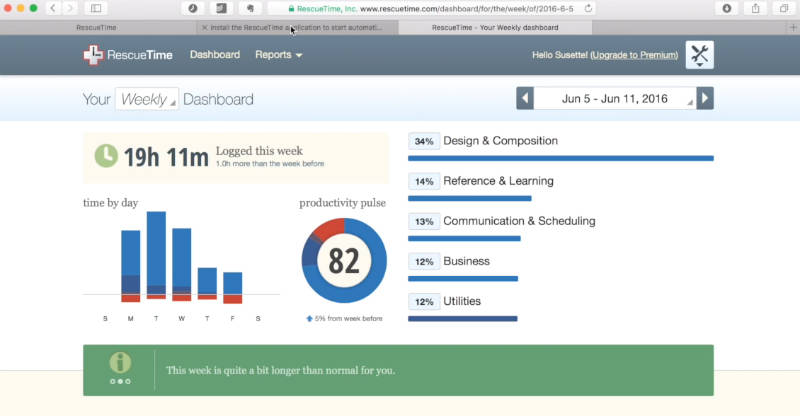 While Clockify is a straightforward work hours tracker, RescueTime plays out more like an automatic productivity tracker. It automatically measures the amount of time you spend on various software or websites and then stores this data to an easily accessible cloud.
Once you install it, you'll get accurate data on how long you procrastinate on various time-consuming websites – the app immediately starts recording time as soon as you switch from one website to another.
You can also set up alarms that notify you when you've already spent to much time on a blacklisted website – for example, you can set the alarm up so that it notifies you when the 2 hours you've designated as the daily upper limit for Facebook, expire.
Availability: Web, Android, iOS, macOS, Windows, Chrome, Firefox, Linux
My Noise – noise generator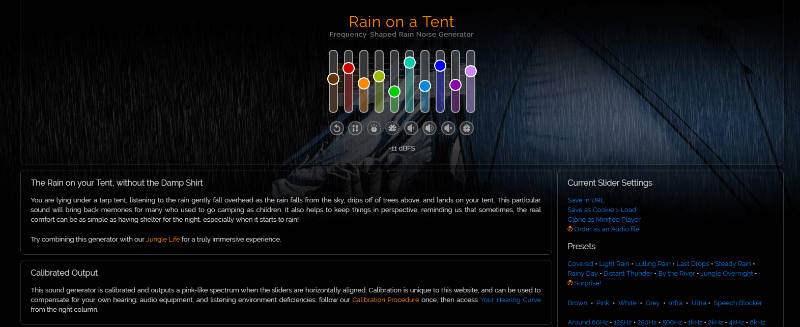 MyNoise is an effective noise generator that offers a large number of sounds meant to help you stay focused on your work.
You can choose your preferred group of sounds, and then adjust the volume for the individual sounds within that group.
The selection ranges from the usual to the unexpected:
Rain on a tent offers the soothing sounds of rain falling above your tent. And, you're prompted to combine this group of sounds with the "Jungle" selection, for a maximum immersive effect.
Examination hall offers you the unexpectedly relaxing sounds of a University hall during an exam: you can listen to distant coughing, pen clicking, writing, and faint footsteps of your supervisor. What better way to make you concentrate on a task at hand than to look back to the days when you had no choice but to finish your paper before the time is up?
These are just 2 of the many options you can choose from – the tool also offers regular interesting updates.
Availability: Web, iOS, Android
Kiwake – unconventional alarm clock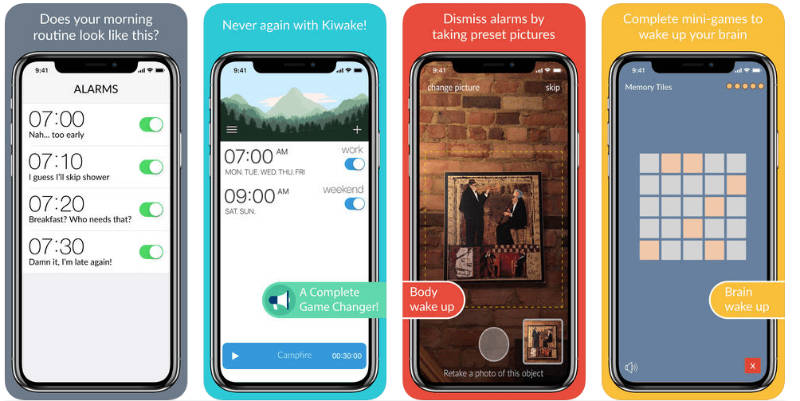 Kiwake is an interesting twist to the old alarm clock formula – you have to prove you've left your bed, and there is no snoozing option at all.
Once the first alarm goes off, you're prompted to get up and take a picture of a specific object located far from your bed.
Then, you have to complete a quick mini-game, in order to wake up your mind.
In the end, you're prompted to go over your schedule for the day and review your main goals.
Once you've completed all these steps, the alarm shuts down.
Luckily, Kiwake doesn't require you to jump upright straight away – if you set up a cooldown timer, you'll be allowed to stretch first. But, for no longer than 3 minutes.
Availability: iOS, Android
Nimbus Note – note manager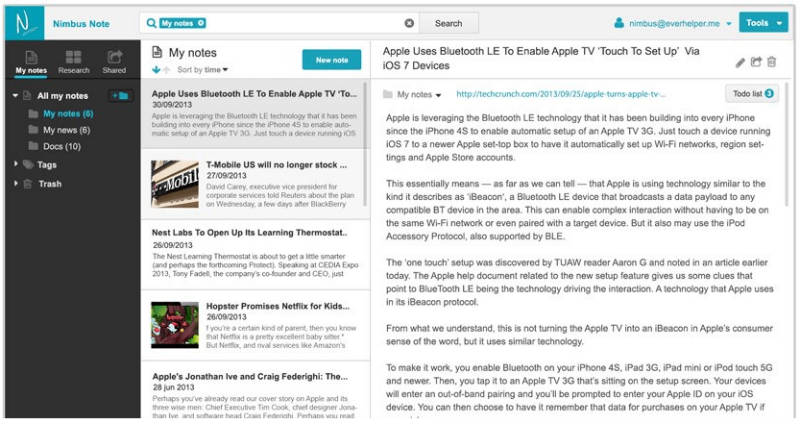 Nimbus Note is a simple note manager – you'll be able to create and edit notes, sort them in folders and subfolders, and then share them with coworkers.
The tool lets you sort and organize your notes, as well as add context to them, by labeling them with tags.
Nimbus Note also lets you add supporting material to your notes, in the form of audio, video and image files.
You can then turn your notes into comprehensive to-do lists, meant to help you keep track of your assignments.
The standout feature is that you can digitize paper documents, such as business cards and pictures. Also, owing to the available text recognition component, you'll be able to manipulate text in the digitized documents as well.
Availability: Web, Windows, Chrome, Opera, Android, iOS, Chrome
Habitica – RPG game-style task manager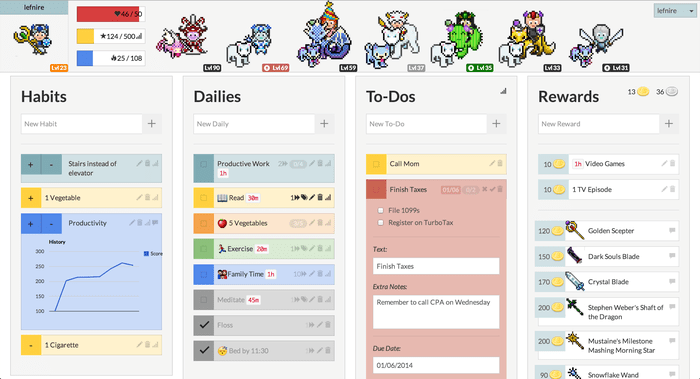 Habitica is an app that gamifies productivity and habit-forming in the best way possible. It's the leading app on the market, and perhaps the most robust one.
For people who find it difficult to stay consistent in forming new habits, Habitica offers a reward system that makes the progress more visible and tangible. It approaches the process as if it was an RPG game, and the user is the main character.
You enter your to-do lists, daily new rituals or habits, and then get experience points for every task finished. With the experience points, you level up your character and are able to customize everything about them.
Habitica also offers:
Forming a "party" with friends and family to tackle tasks easier
Joining community "quests" to find support and earn points (for example, 'no sugar for a month' group)
Creating custom rewards
Task reminders
Socials for meeting like-minded individuals
Availability: Android, iOS
ClickUp — all-in-one productivity platform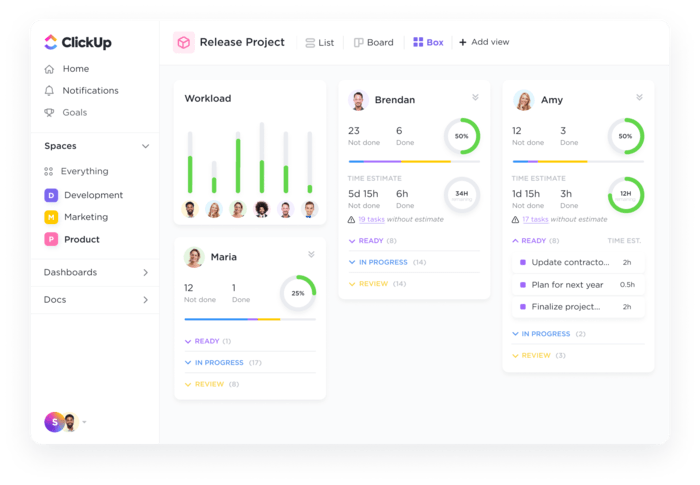 ClickUp is a powerful productivity tool for teams of all sizes and across industries to manage time more effectively, collaborate smarter, and bring all of your work to one place. It is completely customizable and offers a feature-rich experience to stay on pace, hit your goals, and monitor project updates—no matter what project style you use.
ClickUp's intuitive UI makes it easier than ever to track and save time with hundreds of productive features like:
Over 15 views including Calendar, Timeline, and Workload with easily adjusted due dates and a simple drag and drop interface.
Native global Time Tracking to record time spent on any task and on any device.
Time Estimates to predict how long each task on your project timeline will take.
Customizable time reporting to see your entries and filter them in a number of ways.
Plus, ClickUp integrates with 1,000 other time management tools including Clockify, Everhour, Toggle, and Harvest.
Availability: Web, macOS, Windows, iOS, mobile app, Android
Asana – team organizer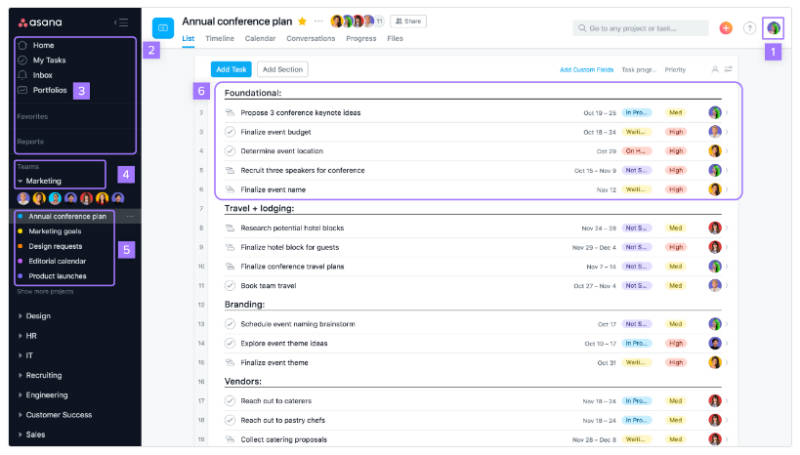 Asana is meant to improve your time management by streamlining team collaboration – your team can easily manage tasks and projects, and not waste a minute wondering about who needs to do what, and when.
You'll be able to:
prioritize tasks and projects
define deadlines
specify project details
assign tasks to the most appropriate team members
Once you've done that, you'll be able to follow the tasks' progress on a straightforward visual project plan, one which allows you to notice and prevent potential problems, gaps, and overlaps.
One standout Asana feature is its Focus Mode – this mode allows you to see and tackle one task at a time, without feeling tempted to succumb to the dangers of multitasking.
Availability: Web, Android, iOS, Chrome
💡 Asana is just the tip of the iceberg when it comes to team organizers – you can find 19 other great team management tools in our list of Best team management software.
Focus@Will – collection of neuroscience-based music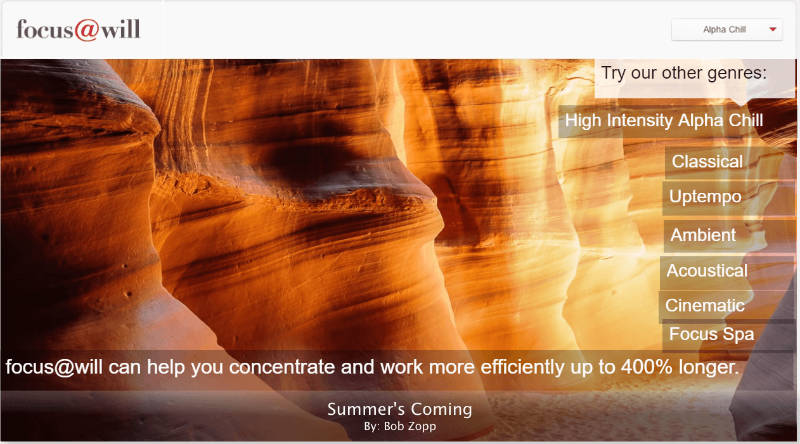 Focus@Will provides you with instrumental music meant to help you finish work faster and procrastinate less, by increasing your productivity and focus levels.
The app combines neuroscience and music – you get tens of thousands of hours of instrumental music, in 50 channels that are updated with new tracks every month.
The bonus channel of the app is the one specifically designed for people with ADD and ADHD – so, with this Focus@Will, focus isn't off limits for anyone.
According to its creators, this time management software eases you into productivity within 20 minutes, which is the time needed for the music to blend in with your thoughts.
Once you've grown accustomed to the music, it keeps you in focused state for a 200-minute session.
Availability: Web, Android, iOS
Join.me – online meetings scheduler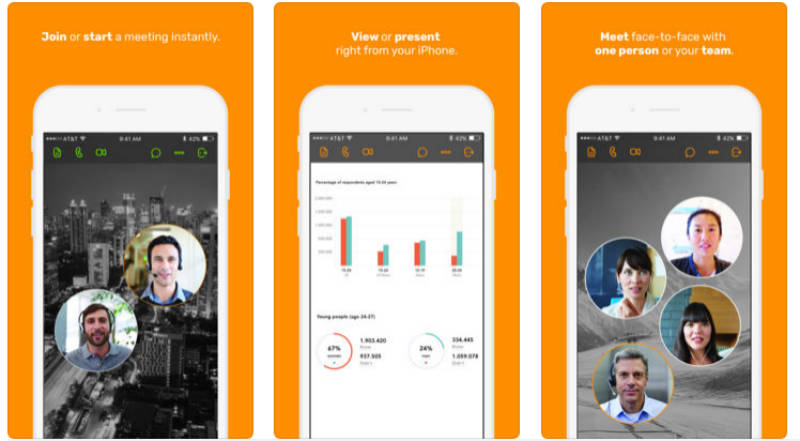 Join.me is designed to help you set up online meetings and web conferences, as well as share your screen with collaborators. You'll save a lot of time you'd otherwise spend getting everyone from your team together in front of the same screen.
With this scheduling app, you'll be able to set up or join conference calls, participate in live text chats, and enjoy a number of sharing options:
sharing a screen
sharing screen control
multiple screen sharing
You'll also be able to manipulate meetings, by scheduling, annotating, recording, locking or exiting them when you see fit.
You can include 250 participants who can join in from over 40 countries, and then track who's in attendance, or even remove members who are disrupting your workflow.
Availability: Web, Android, iOS, Windows, Chrome
Pocket – bookmarking service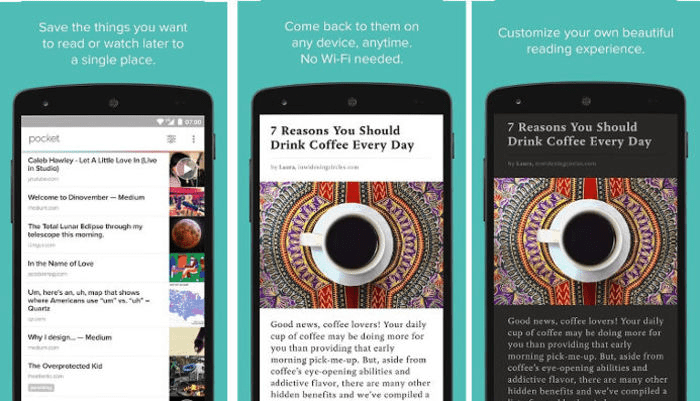 Pocket is perfect for when you want to save something you've found on the Internet for later – news articles, quotes, videos, or anything you may encounter but have no time to tackle right now.
Later on, you'll be able to read and manage the saved content, and even include highlights and comments to the text. Included are also text-to-speech and offline mode.
You can access your saved documents across a variety of devices, even offline, as everything syncs together automatically. It also has a Discover feature, where you can browse for articles directly from Pocket's feed.
With this time management tool, even when you're waiting at the dentist, or going through a tedious work commute, you can enjoy interesting content, and not waste a minute of your time.
Availability: Web, Android, iOS, Kobo eReader
Scribe – knowledge sharing tool
Scribe is a free Chrome extension that makes any step-by-step guide for you. It captures a workflow you complete on the computer, turning clicks and keystrokes into written instructions and highlighted screenshots.
You'll be able to:
Instantly create step-by-step instructions
Share guides with a link or embed in other platforms
Edit any guide quickly when the process changes
Track Scribe views
Save time creating work instructions, SOPs, and more
Scribe can save you from a meeting just to share a process, and its guides can help quickly build out a knowledge base. Scribe is great to use with Loom for quicker process guides.
Availability: Chrome, Windows, Mac
Flow – project and team manager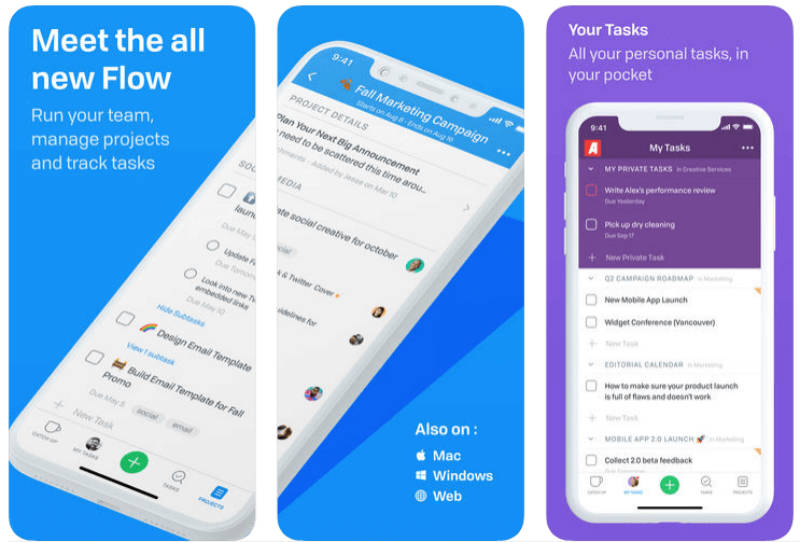 Flow is a straightforward management software meant to help you manage projects and teams, as well as track the tasks you're working on with your team.
You'll be able to plan and manage projects, keep track of everything through progress timelines, and visually organize your workflow through a drag & drop system.
Flow also allows you to:
track your task's progress
associate tasks with notes, comments, and subtasks
link tasks with specific start times and deadlines.
The tool also provides you with effective integration with Slack, so you can share project updates with your team, and even create tasks, through the /flow command in slackbot.
When it comes to team management, you'll be able to manage multiple teams separately, as well as define user permissions, by distinguishing between private and public projects.
Availability: Android, iOS, Windows, macOS
Loop – Habit Tracker – a mobile habit tracker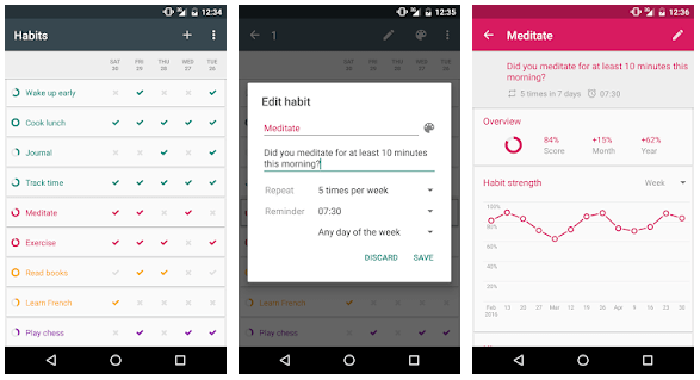 Loop – Habit Tracker is a straightforward, open-source habit tracker meant to help you sustain good habits and reach your goals – complete with graphs and charts showing your progress over time.
Once you decide to cultivate a habit, select an hour when you want to tackle it each day, one time a week, or 3 times a week, and then set a reminder within the app.
You'll then be able to check, dismiss, or snooze the habit directly from the received notification.
The app also allows you to track your habit score within graphs, charts, and statistics, and then it calculates the progress you've achieved with the said habit, through a specialized formula:
If you follow your schedule, the habit becomes stronger
if you skip a few days, the habit becomes weaker – but the app doesn't annul the progress you've made so far
For extra functionality, you can even install Loop – Habit Tracker on your Android Watch and manage habits and its reminders as easy as ever.
Availability: Android
TimeTree – shared calendar app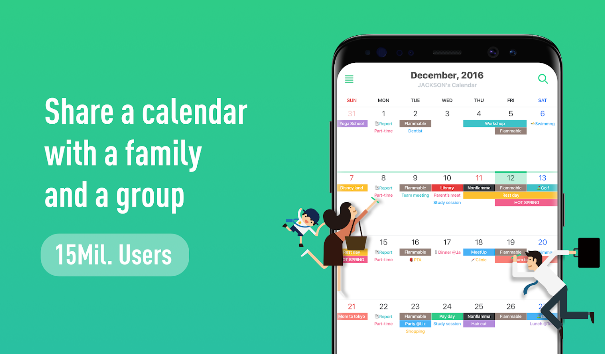 TimeTree is a shared calendar app meant to help you coordinate events in your calendar together with friends, colleagues, family, or whoever you need. You'll be able to plan family-oriented events, schedule your academic life, organize your work, delegate tasks, or even set-up romantic dates.
The TimeTree app lets you:
create calendars for each group of people
add and chat with members
share files and notes
set reminders
synchronize all calendars together to make sure nothing ever overlaps
In essence, you'll be able to manage shopping lists, anniversaries, school schedules, daily meetings, inventory schedules, and much more, in 13 languages.
Availability: Web, Android, iOS
SyncBack – backup software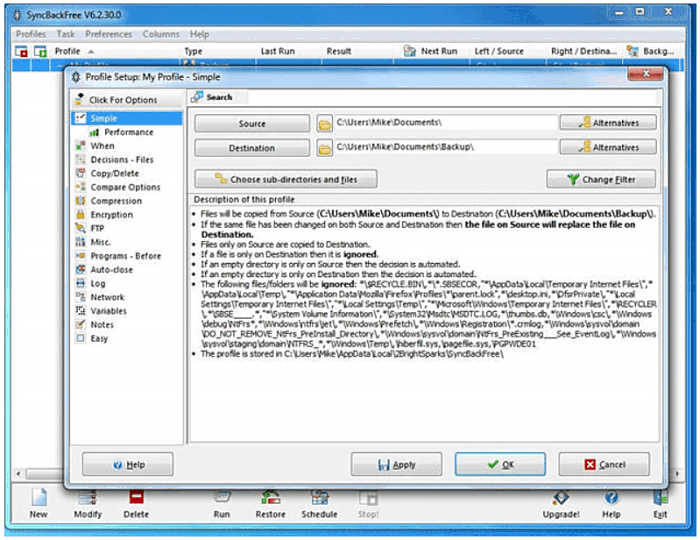 SyncBack is an online backup software for your data – you'll be able to back up, sync, and restore your files automatically, and in regular intervals.
This software offers three solutions you can choose from, and each has its own set of features and functionalities:
SyckBackFree – a free, basic backup solution
SyncBackSE – an enhanced backup solution compatible with Windows servers and workstations
SyncBackPro – a backup solution that combines personal and business needs, with cloud backup support and scripting
You'll be able to back up your important data to popular cloud services such as Dropbox, OneDrive, and Google Drive – you'll also be able to back up your data on multiple operating systems.
Availability: Windows, Mac, Linux, Android
Mind42 – online mind mapping software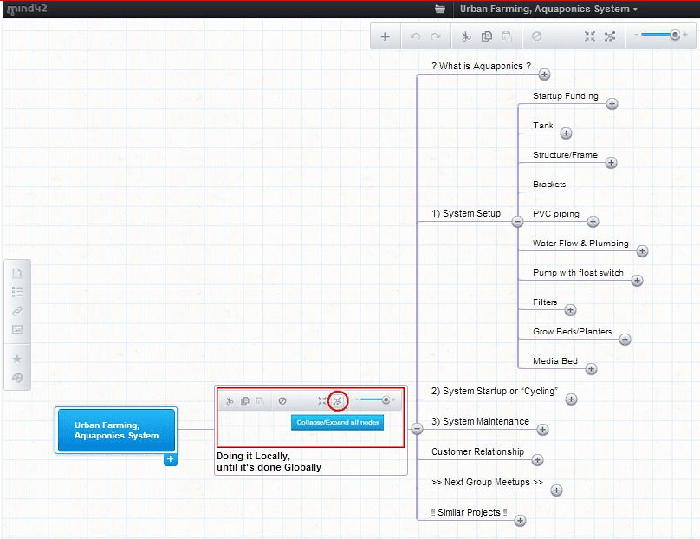 Mind42 is a free, browser-based mind mapping tool with collaboration features that allows you to make sense of and plan your thoughts, as well as visualize your work.
You'll be able to create structured diagrams to serve as your to-do lists, but also brainstorm ideas, organize events, and add an accompanying image to each branch – you can then keep these lists private or share them with others.
The thoughts and actions you can capture and link with Mind42 are numerous, so you can use this time management app for business and private plans – from brainstorming ideas for your newest project to compiling a list for your next movie marathon.
Availability: Web
MyLifeOrganized – GTD task organizer and manager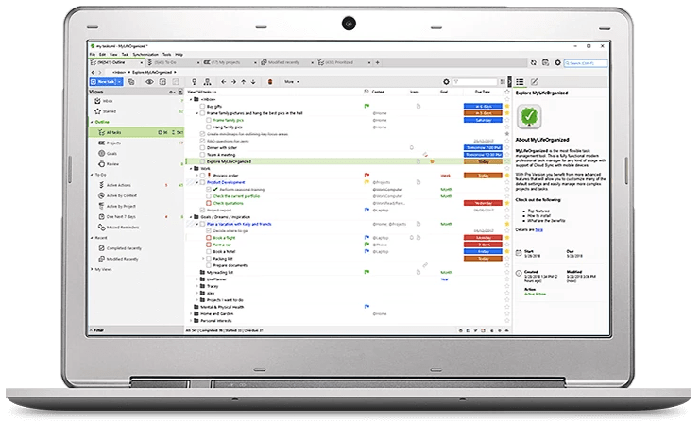 MyLifeOrganized is a robust task organizer and manager that works on the principles of the Getting Things Done system, while also syncing all your to-do items across devices.
You'll be able to:
create tasks and group them into subtasks
compile checklists in the drag & drop interface
keep your work in order by creating hierarchical lists
define dependencies between tasks
Apart from that, the software also allows you to set up location-based reminders that recognize where you are (e.g. at a shopping mall) and notify you with a corresponding to-do list (e.g. a shopping list).
Availability: Web, Windows, iOS, Android
Taskade – task manager and collaboration tool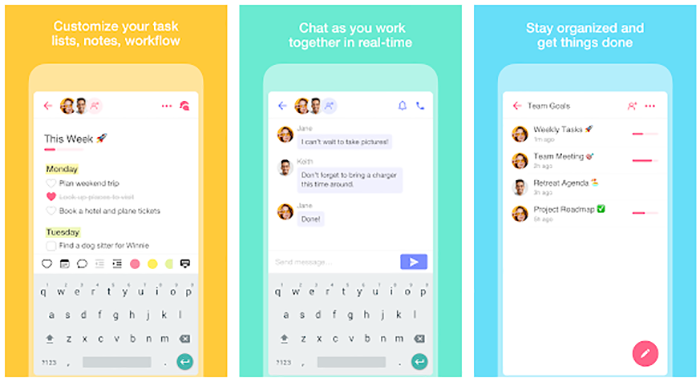 Taskade is a comprehensive task management tool with rich collaboration features – you'll be able to work on both short-term and long-term projects from a virtual workspace where all users can add tasks and create to-do lists.
The core of this task manager is its project progress system – all users will be able to view their tasks, and then mark them as complete. The more tasks you mark, the more the progress bar fills up, indicating how much more you need to do to finish the project.
You'll also be able to enjoy effective collaboration features, such as:
team and direct chat
video conferencing
deadlines and reminders
recurring tasks and team permissions
Availability: Web, Windows, Mac, iOS, Android, Chrome, Firefox
Sanebox – an email manager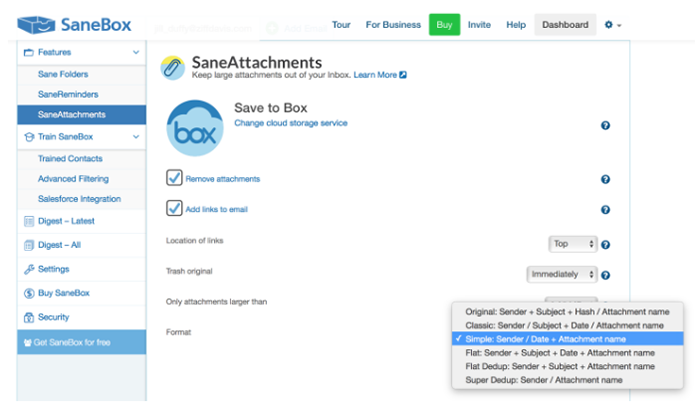 In gist, Sanebox is an email manager meant to help you keep your inbox clean of unwanted clutter, and highlight your priority conversations.
This tool will be able to:
notify you of your most important messages once they arrive
hide your inbox when needed, to help you avoid constant interruptions (through the "Do Not Disturb" features)
remove annoying, unwanted senders
point out if someone hasn't replied to you, and remind you to send follow-ups
As a highlight, you'll be able to minimize the space in your inbox usually taken up by attachments – the SaneAttachments feature lets you store attachments in Dropbox, Google Drive, or Evernote, for safe keeping.
Availability: Web
IFTTT – a conditional statements creator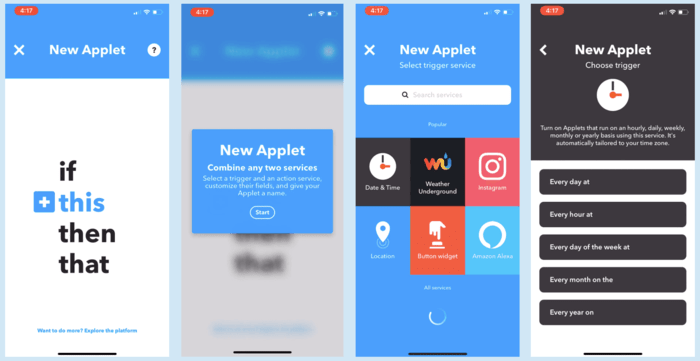 IFTTT is a conditional statements creator based on the famous "If this, then that" condition – you'll be able to connect devices, apps, and services, and then define automations that trigger linked actions within these devices, apps, and services.
For example, you can set to have IFTTT:
log all phone calls you make on your Android and add them to your Google Spreadsheet
turn off the lights in your house when you set your Nest Thermostat to away
mute your phone when Google Calendar recognizes you have a meeting scheduled
create tasks in Todoist when you put a star next to an email in your Gmail inbox
send missed Android phone call notifications to your Slack
These automated "recipes" are called "applets" – there are over 30 groups of applets, from those for travelers to those for educators, and each group offers an array of software combinations and commands.
Availability: Web, Android, iOS
💡 IFTTT isn't just a time management app, it's a popular productivity tool – there are also other great universal tools meant to help you boost productivity, and you can check them out in our list about The best (and most popular) productivity tools.
Bear – a note-taking app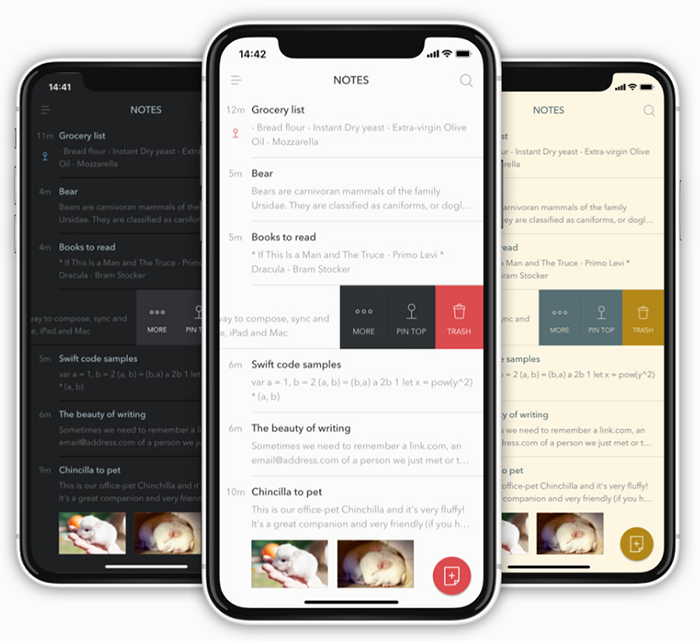 Bear is a cloud-based note-taking app meant to help you capture your thoughts and ideas, by turning them into to-do lists you can later tackle and manage.
You'll be able to add notes, tags, and attachments, but also create links between notes, in order to weave your thoughts into a bigger picture, such as an in-depth essay, story, or blog post. To make sure your notes always stay in order, you can associate them with the right hashtags.
The app also offers a focus mode you can use when you really want to concentrate on your writing – by using this mode, you'll hide the Notes List and Sidebar, which will bring your selected note forefront.
Availability: Mac, iOS, Chrome, Firefox, Safari
Google Tasks — a simple task organizer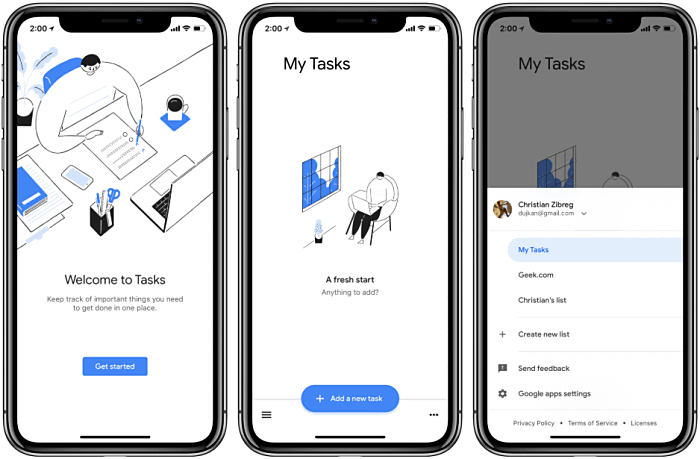 Google Tasks, as its name suggests, is an app meant to help you capture, edit, and manage all your tasks, no matter their type. Each task you create and manage will automatically sync across all your devices.
You'll be able to:
Create specialized task lists that show only your most important to-dos
Break down your tasks into subtasks, for easier management
Set and track due dates for tasks
Organize your tasks by priority, based on their due dates
Your time management efficiency will also benefit a lot from the tool's integration with Gmail and Google Calendar. For example, your Google Tasks integration with Gmail will enable you to create tasks directly from emails, view all tasks in the sidebar of the Gmail panel while managing your inbox, as well as directly track all tasks back to their source emails.
Availability: Web, iOS, Android, Windows, macOS, Linux, Firefox (extension meant to enhance original features), Chrome (extension meant to enhance original features)
My Daily Planner — a daily planner app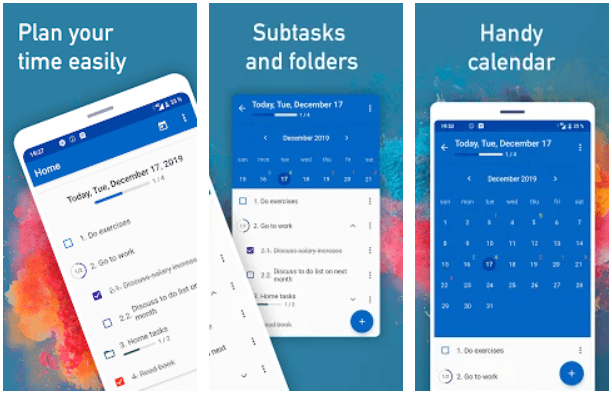 My Daily Planner, as its name suggests, is a daily planner app that focuses on the simple basics meant to help you organize and plan your day:
Define your priority tasks, and cross them out when completed
Plan and organize work on the said priority tasks
Define and keep track of task deadlines in a calendar view
Stay on track with your work through timely reminder alerts
Each section offers several additional perks to help you streamline and speed up your workflows, so you'll be able to:
Split tasks into subtasks, to help manage them better
Define recurring tasks
Add tasks by issuing voice commands
Group to-do lists in separate folders, to give your work context
Handle your assignments in two calendar modes: the Week Mode and the Month Mode
As an extra bonus, you'll also be able to keep an archive of your completed tasks — unlike most similar apps, My Daily Planner doesn't delete the to-dos you mark as completed, but lets you check back with them even after you've accomplished them.
Availability: Android, Window
SendInBlue — an email marketing service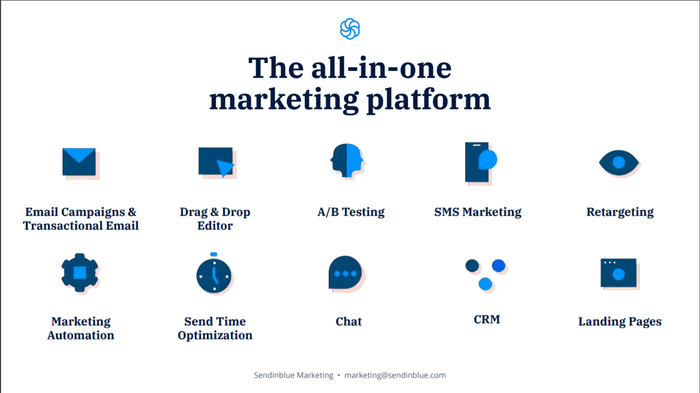 SendinBlue is an automated marketing platform meant to help speed up and improve your communication with clients, customers, and other relevant people, by helping you personalize your email marketing strategy through audience insights
For businesses and individuals who send a large volume of emails daily, SendInBlue is a well-priced solution. It offers unlimited contact storage, numerous email templates, and a CRM tool that helps you work on your customer relations at the same time. You can also generate and analyze reports on email performance, and conduct A/B testing.
You'll also be able to:
Send a total of 300 emails per day to 2000 contacts on the free plan
Use an integrated CRM tool for building relationships with customers
Construct campaigns, emails, and newsletters in a drag-n-drop section
Easily create landing pages and then carry out A/B tests to figure out what solutions bring you the most conversions
Use SMS marketing for limited time and time-sensitive offers, and live chat
Choose from 60+ email templates and an HTML editor for custom emails
And, you'll be able to streamline these operations even further by relying on SendInBlue's integrations, such as WordPress, Shopify, PayPal, Sugar CRM, Wix, Gmail, etc.
Availability: Web, Mac, Windows, Android, iPhone
Otter — an app for digitizing your handwritten notes, transcriptions, and voice recording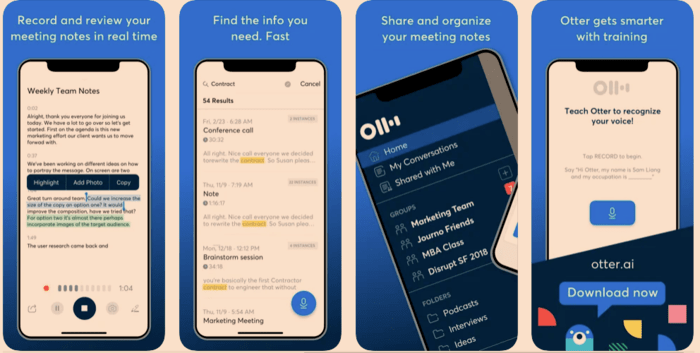 Otter.ai is an app aimed at helping you spend less time scribbling down meeting notes, and transcribes any audio log.
Otter is a great solution for individuals and businesses who spend quite some time in meetings, negotiating with clients, or doing interviews. The app records audio, after which the AI transcribes the content, being mindful of different speakers. The whole process can last around 30-40 minutes, letting you get on with other important work.
Alongside transcription, the app offers the following:
Zoom integration (to record and transcribe meetings)
The free version allows 10 hours of audio transcribed per month
Lets you search through transcriptions and export them
Adding annotations, highlights, and comments
It makes meetings less stressful by transferring the weight of documentation onto the software itself, so users can fully participate in the meeting.
Availability: iOS, Android, Web, Zoom, Windows, Mac
Shift — an app manager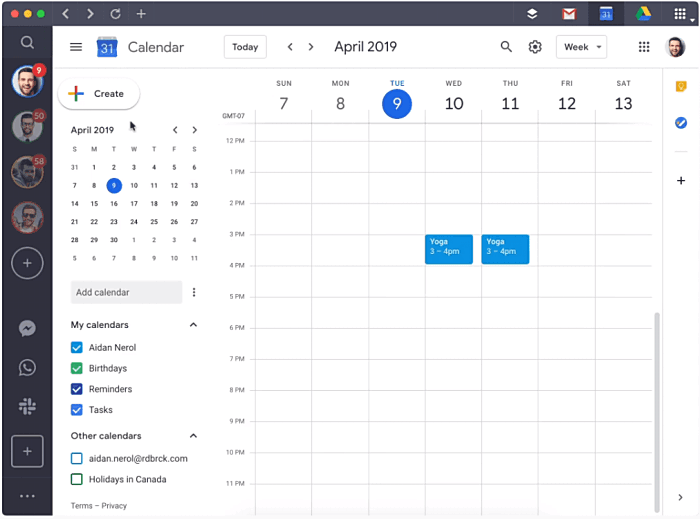 Shift is an app meant to help you streamline your conversations and workflows across various apps, without logging in and out all the time, from one app to another.
Simply, choose your favorite communication, management, social, storage, and other types of apps (including Messenger, Google Drive, Trello, Asana, Facebook, WhatsApp, Gmail, and 500+ other fan favorites) and connect them to Shift. Then, track, manage, and streamline your workflows across all your apps in a couple of clicks.
Specifically, you'll be able to:
Find what you're looking for through a unified search system that searches across your Mail, Calendar, and Drive accounts
Manage all your Google accounts, including multiple Gmail accounts, Calendar, Drive, and Adwords, from one place
Switch from one app to the next across browser-like tabs
In addition to all that, you'll also be able to use Shift to browse the web directly from the app.
Availability: Web, macOS, Windows
Workflow — an app to automate your workflows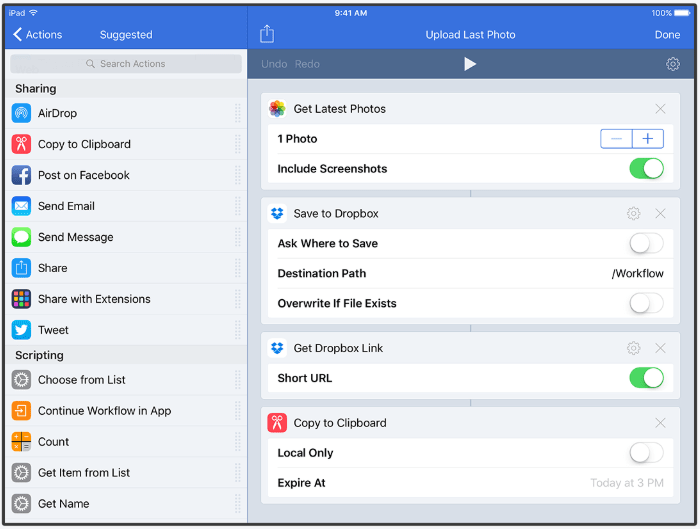 Workflow is another app that aims to automate your workflows by grouping all your apps so that you can manage them from one place. However, the difference between this app and Shift is that Workflow allows you to select specific actions, i.e. workflows, from each app and then activate the said actions with a couple of clicks.
For example, you'll be able to add Twitter, Facebook, and Dropbox, and then choose from a list of sharing options that allow you to carry out simple actions associated with these apps, such as:
Making posts on Facebook
Making tweets
Making PDFs
Saving files and folders to Dropbox (or getting a Dropbox link)
Copying something to Clipboard
For added bonus, the app also allows you to integrate with IFTTT, allowing you to trigger hundreds of IFTTT recipes with Workflow, from posting links to Reddit and news to LinkedIn to setting nest temperature and turning your TV on and off remotely.
Availability: iOS, Android
Clear — a touch-based to-do list app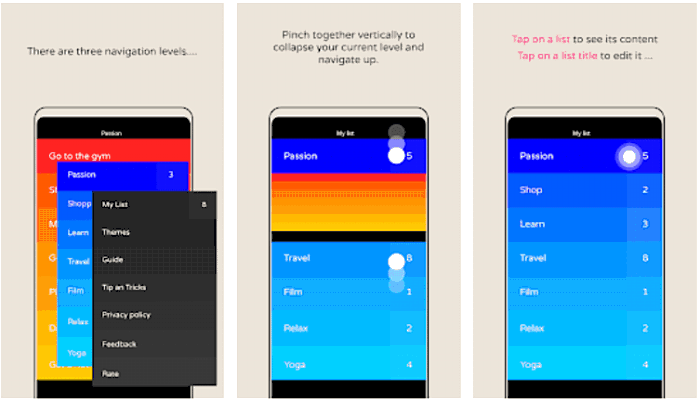 Clear is a simple, button-free approach to to-do lists that allows you to add, organize, track, and manage your tasks through swipes, pulls, and pinches in a completely touch-based, all-gesture interface.
To work the app, all you need to do is:
Pull down on the list to add an item to it
Swipe to the right to complete an item
Swipe to the left to delete an item
Pinch apart two items in order to add a new item between them
Pinch vertically to close your current list, and see all your lists in one view
The lists are color-coded for your convenience, and the app encourages you to be precise with your wording, as each to-do item can only be a maximum of 30 characters in length.
Availability: iOS, Android, Windows, Mac
SignNow — an app for signing e-documents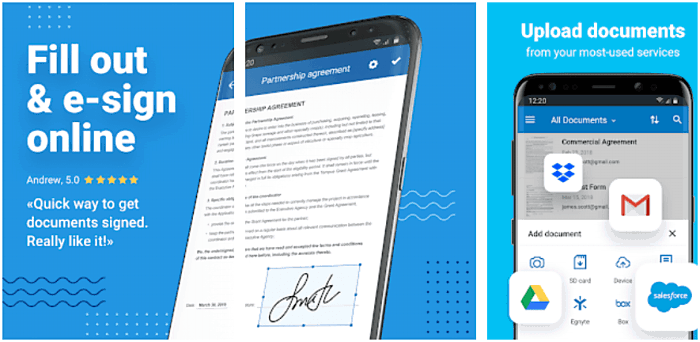 SignNow is a simple app meant to help you gather electronic signatures from clients, customers, and employees.
You'll be able to:
Generate documents
Generate custom signing invitations and send them in bulks
Track the status of a document by setting notifications to inform you when a document is signed
Give permissions to recipients to forward your documents to other people to sign
Request payments through optional payment sections within editable forms
Set automatic expiration dates for documents awaiting to be signed
You'll also be able to require the recipients to sign your e-documents with hand-drawn initials and signatures instead of typing them. And, your recipients will have the option to decline to sign, in which case you will also be notified immediately to get a chance to act accordingly.
Availability: Web, iOS, Android
SwiftKey — an AI swipe keyboard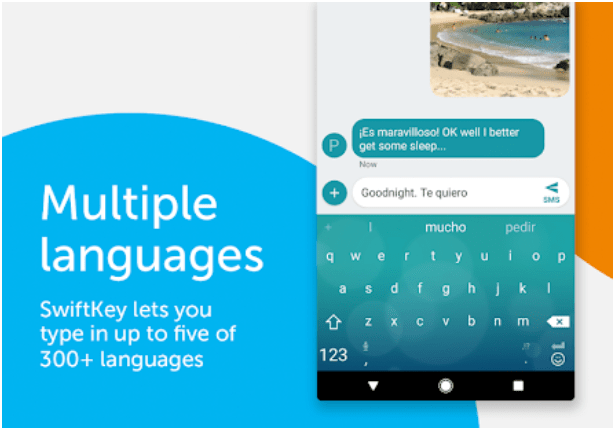 SwiftKey is a swipe keyboard meant to help you type faster by learning your writing style, predicting what your next word will be, and then replicating it as you type. The more you use the app, the more it learns about your writing style. As a result, the predictions become more accurate, and you write faster.
The elements the app picks up on and memorizes are the emojis, GIFs, slang terms, and nicknames you use in texts.
Specifically, you'll be able to:
Decide whether you want to tap or swipe to type
Spell check and grammar check your texts with increased accuracy
Make use of a keyboard toolbar with shortcuts, to help you write even faster
And, you'll be able to perform all that in a custom keyboard that supports 100+ keyboard themes (including your personal photos as background) and 300 languages (5 of which you can even use simultaneously).
Availability: iOS, Android
Waze — a navigation & live traffic app for faster commutes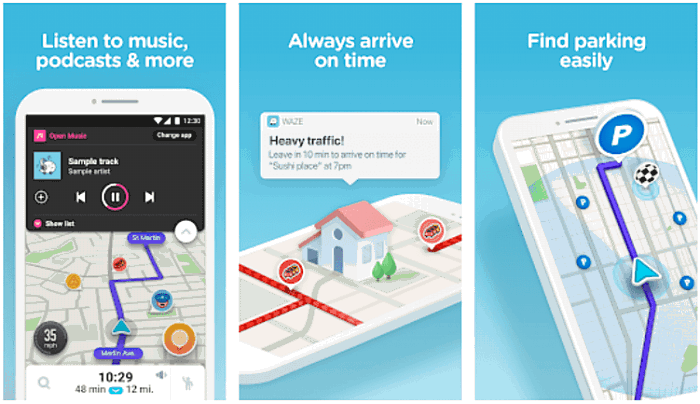 Waze is an all-inclusive community-based commute app that gives you driving directions, road alerts, and a live traffic map to help you get to place A to Place B as best and fast as you can.
You'll be able to:
Get and drive by real-time traffic information in your local community
Get step-by-step driving navigation to your destination
Get alerted of road accidents, dangers, and police patrols so that you can avoid them and take other safer and quicker routes
Find the lowest gas prices in your local community
Keep other people up-to-date about your expected arrival time
Look up the estimated arrival time of the friends and colleagues who are driving to the same destination as you
On top of all that, the app memorizes your most frequent routes and destinations, as well as your working hours, so that it can automatically redirect you when the road conditions change and help you always arrive on time.
Availability: Web, iOS, Android, Windows
OfficeLens — a simple PDF scanner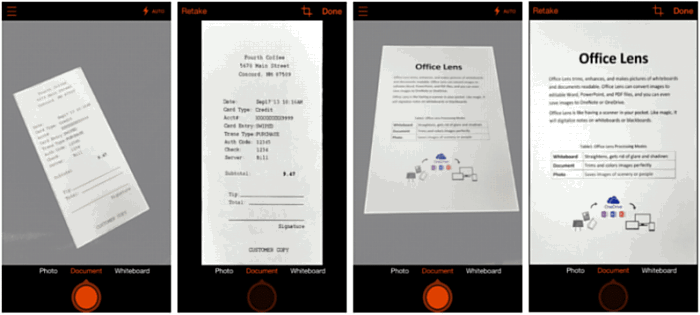 OfficeLens is a simple PDF scanner meant to help you scan, review, cut, improve, and enhance photos of your documents and whiteboards.
You'll be able to:
Take pictures of your documents and whiteboards and then convert them to PDFs, Word documents, or PowerPoint presentations
Save pictures of your documents and whiteboards and store them in OneNote or OneDrive
Digitize the notes you write on whiteboards or school blackboards
Sketch your ideas, and attach these images to save them for later
Search for phrases and words in images, once they have been digitized by the app
On top of that, you'll also be able to use the "Business Card" mode in order to group information about your contacts and then save them in an addresser in OneNote. Multiple languages are supported.
Availability: iOS, Android