16 Best free invoicing tools
Invoicing tools have become a vital and irreplaceable tool for everyone doing their own accounting. Freelancers and small businesses especially need the best of the best to ensure their invoices are accurate and safe. And ideally, those same tools are user-friendly, packed with features, and free.
Unfortunately, most invoicing tools hide their best features behind a paywall, which are more often than not, financially unsustainable. So, for those of you who rely on getting the best tools possible for the most affordable subscription fee (or free!), we've compiled a list of 16 free invoicing apps. Because when you run a business, every penny counts.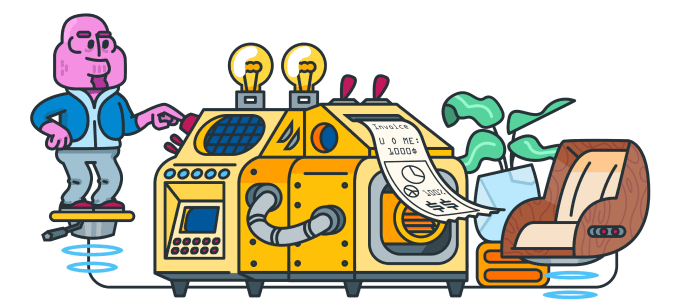 Recommendation
In case you are not quite sure how much you need to charge for your services, we suggest that you try our handy Hourly Rate Calculator to get some basic idea based on your industry, location, and experience.
PayPal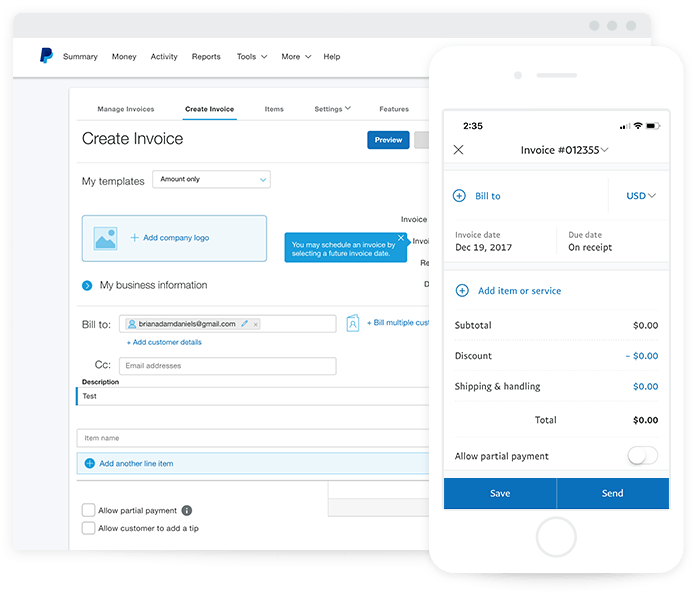 PayPal is an online payment service currently being used by around 30 million businesses. Its ease of use, massive integrations and adaptability to businesses of any size make it a long-standing contender.
When it comes to invoicing, PayPal offers customizable invoicing, in-person payments, mobile invoicing, and ACH payment processing, to name a few.
This free invoice app also boasts some of the best data security, as well as payment fraud protection. You have the option to bill and invoice recurrently if you run a subscription-based business.
For monthly, quarterly, or yearly reports, you can create custom statements for any period, sales and summaries, chargebacks, audits, and access your tax documents.
If your business mostly sells products, you can make use of the "Categorize your sales" option and create groups of items you sell. This way, you'll be able to quickly select the correct item when creating the invoice.
PayPal is a great solution for businesses of any size. Perhaps its biggest drawing points are its ease of use and the fact that nowadays, individuals are more inclined towards businesses that have PayPal as an integrated payment solution.
Square invoice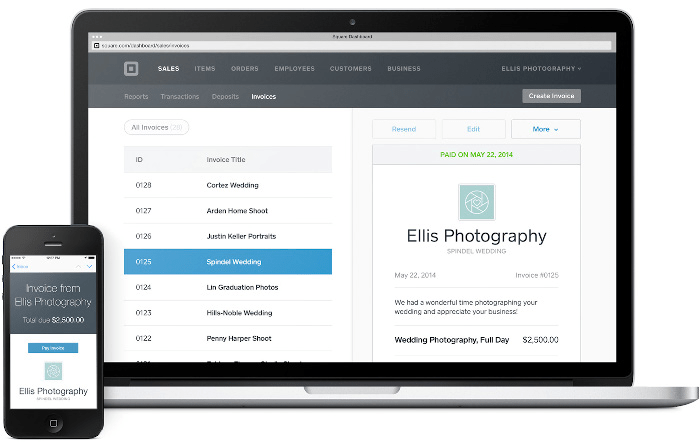 Square invoice is a great software for freelancers and small businesses who value simplicity most of all. If you're not concerned with scaling (projects and clients) for the time being, then Square Invoice can be a good choice for you.
As a part of their free plan, they offer unlimited invoicing for an unlimited number of users and customers. You can send invoices via email, text or a link. There are custom invoice templates, and the option to set up payment milestones, as well as multi-package estimates. The only caveat here are the processing rates for different types of payments.
The company takes pride in their versatility, as their billing tools are suitable for everyone. But they truly shine for individuals and small businesses involved in retail, arts, health and fitness, field services, etc. Square Invoice even has their own hardware for charging clients in person — via card readers, square terminals, readers for magnetic stripes, and digital registers.
While its free plan is more than enough, should you decide to scale your business, they offer a paid plan at $20 per month.
Zettle by PayPal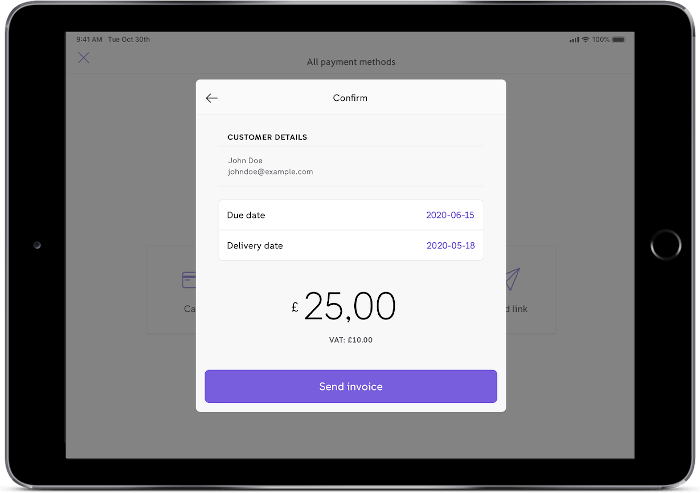 This free invoicing software is another option for small businesses who want the option of invoicing and billing on the go. Business owners (or freelancers) can simply purchase their card reader as a one-time transaction, and use it for however many transactions they need.
Zettle provides an accompanying app to their card reader, which you can use to charge clients anywhere. The company also gives you custom invoices, reports, gift cards and payment links. They also accept a vast number of credit and debit cards, as well as mobile wallets.
Since it is mainly free, Zettle relies on charging fees per transaction. The base rate is 1.75% for every transaction, no matter the country, currency, or card type. The same fee goes for QR code payments, which are processed via — you guessed it — PayPal. Invoices and payment links have a 2.5% fee per transaction.
Invoice Quick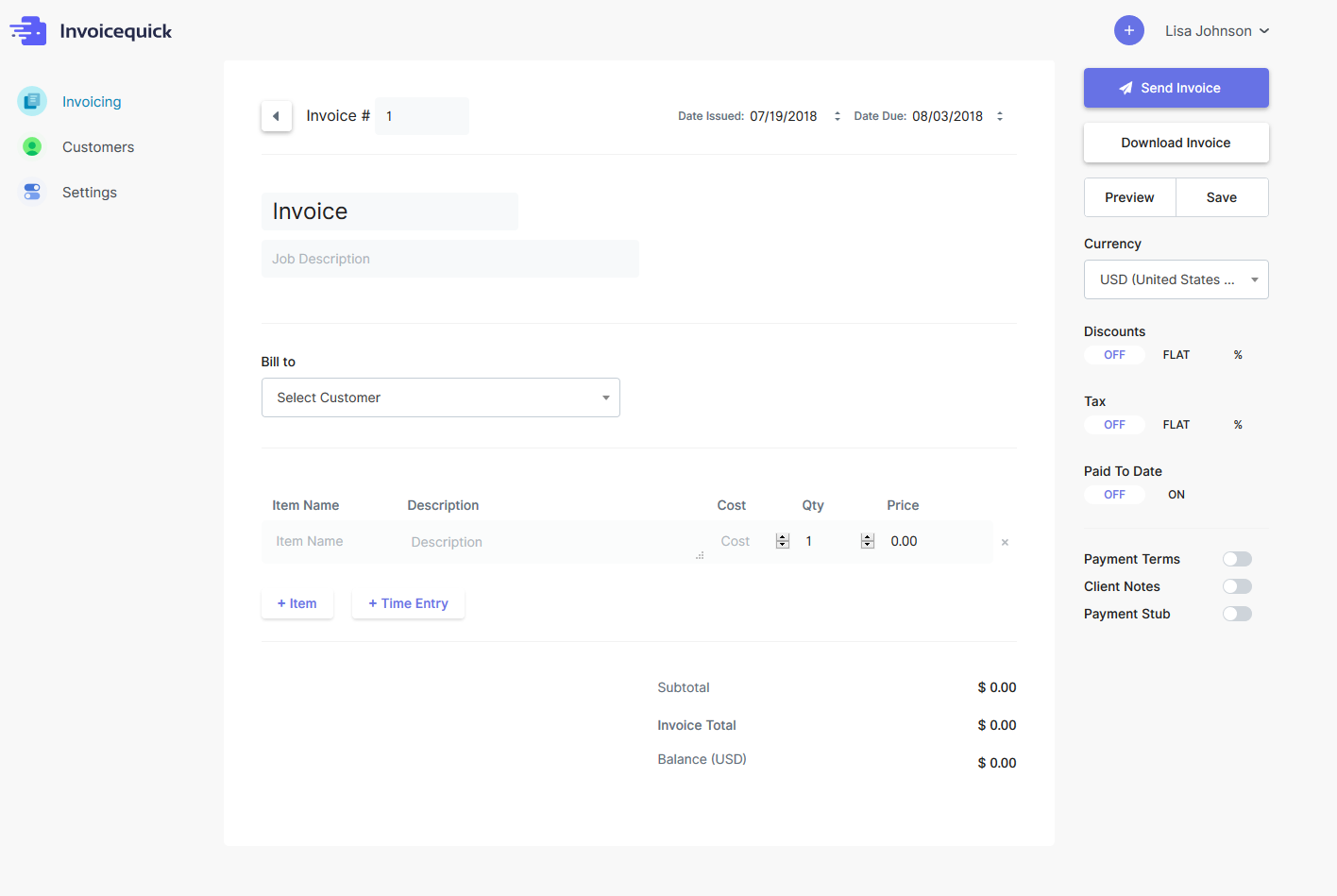 Invoice Quick allows you to create invoice templates and later download them as PDFs.
This free invoice software offers you the straightforward basics – you can customize your invoices with a logo, indicate your client's and your own personal information, set the currency, and include the product's or service's description, alongside the total bill.
As additional features, you can choose to include discounts or taxes to the total sum, and add special payment terms or notes on specific clients.
If you expect to receive the payment via mail, you can add another additional feature – the payment stub. This feature indicates your company's information, which makes it easier for you to get paid.
Customers can also pay you via PayPal, if you indicate your PayPal email address in the invoice.
Wave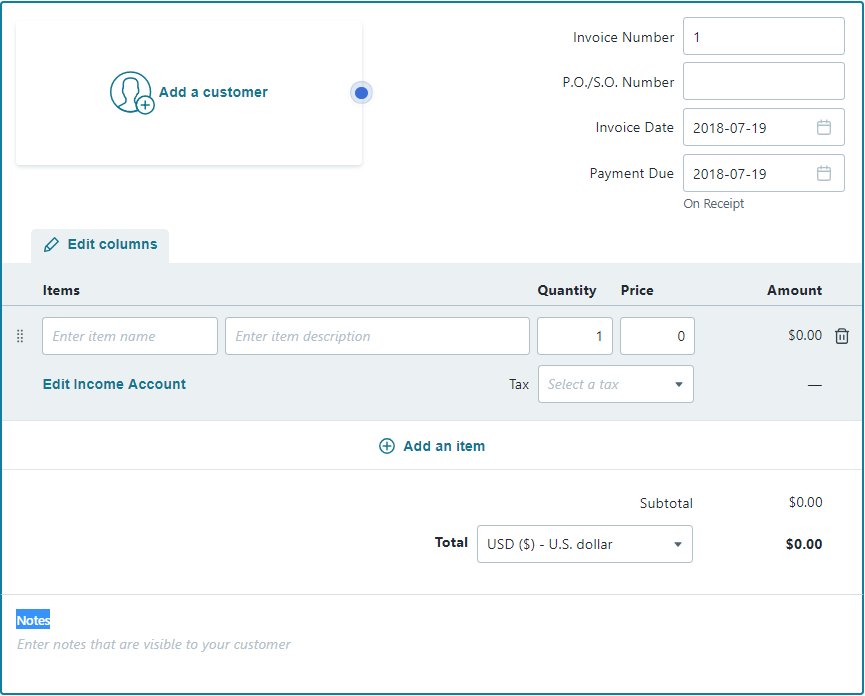 Wave is designed as a freelance and small businesses invoice app – it's great for those who do their own accounting.
With this cloud-based tool, you can generate and send out invoices, generate reports about your finances, perform accounting and payroll tasks, track all expenses, scan receipts, and more.
You'll also be able to track the status of your invoices, set estimates, and customize your invoice to match your brand's or company's colors.
This invoice service provides all these features for free, for an unlimited number of users, clients, expenses and reports.
Brightbook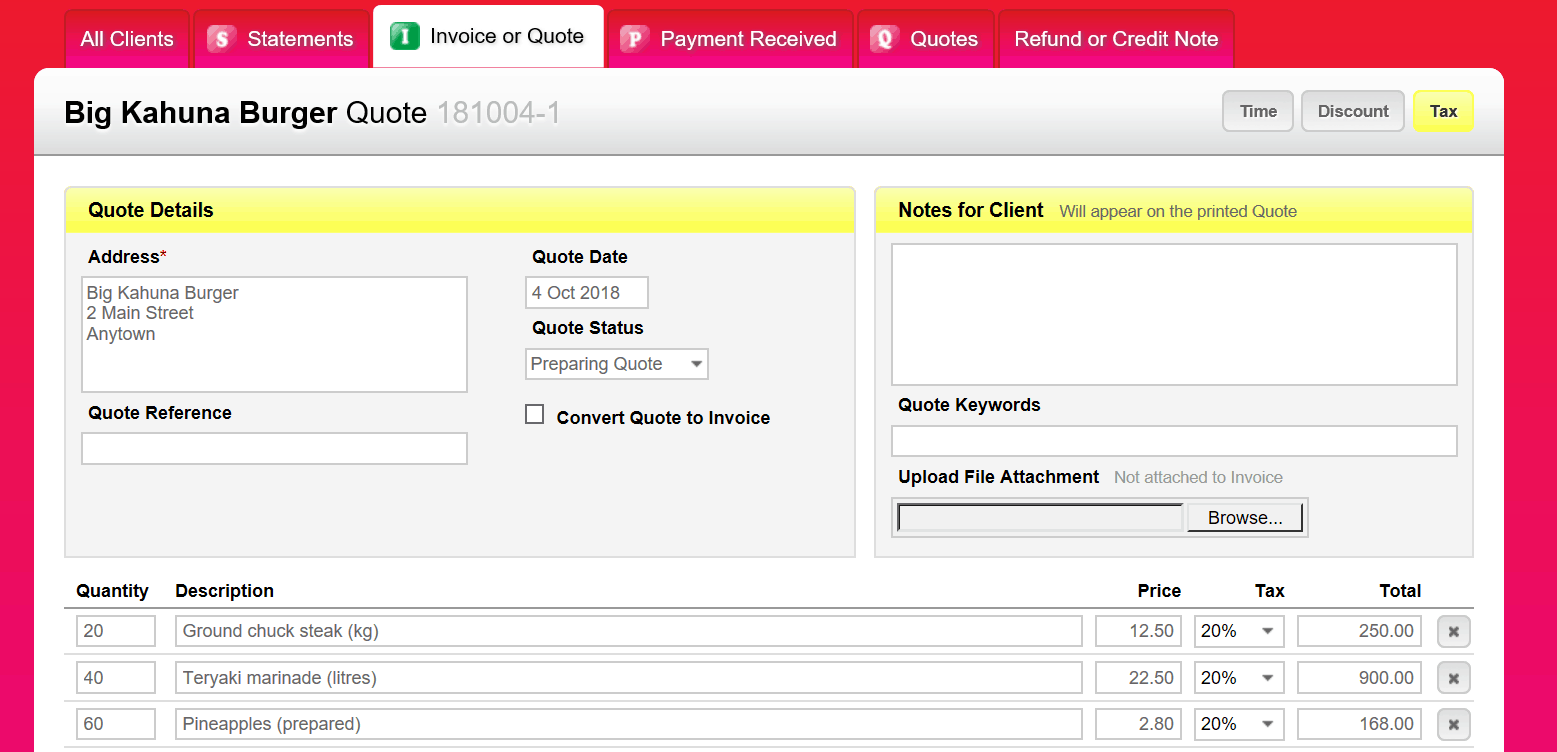 Brightbook offers all of its features for free – you'll be able to manage your invoices and accounting tasks for multiple companies and accounts under one login.
This invoicing tool lets you calculate your profits and losses, generate tax reports, get insights into how much money clients owe you, but it also makes the entire billing process professional and in line with your brand.
You'll be able to add multiple users, and select who can see what – this is a great option if you want additional privacy and security.
Brightbook also allows you to create invoices from your client's quotes – once you receive a quote you can convert it to an invoice in just one click.
If your business mostly sells products, you can make use of the "Categorize your sales" option and create groups of items you sell. This way, you'll be able to quickly select the correct item when creating the invoice.
In essence, this small business invoice app works best for startups, freelancers, contractors and the self-employed.
Invoice Ocean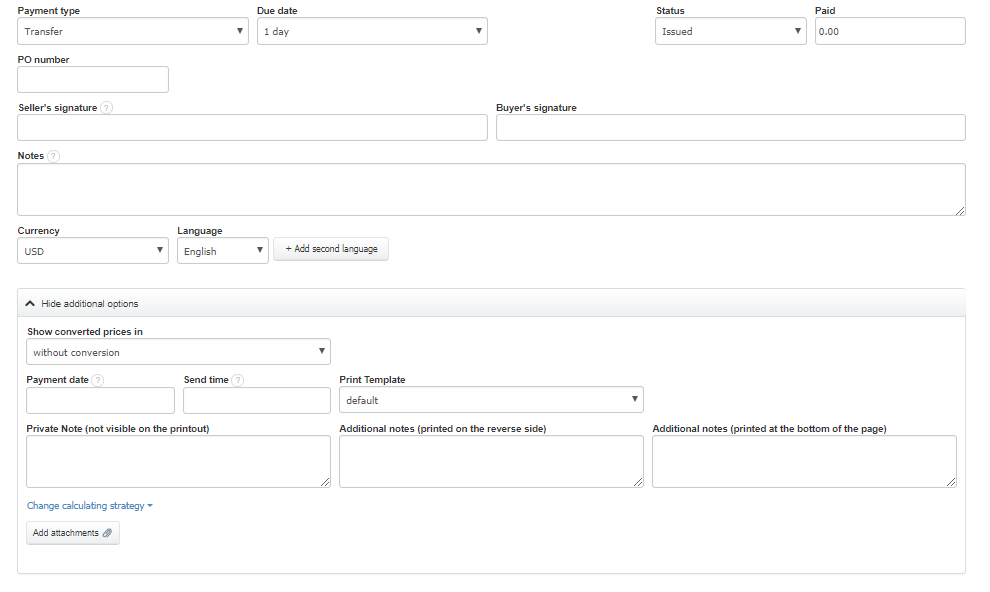 Invoice Ocean is an online invoicing software that's all about speed – it promises you can generate professional-looking and accurate invoices in under 30 seconds.
This invoice tracker app automates the creation of invoices by providing you with auto-completion based on the data you've entered earlier. Invoice Ocean also adds pre-defined VAT rates, as soon as you pick the suitable rate.
To speed up the process of entering a client's information, you add just the client's ID, and then it automatically adds the rest of the data. You can also choose from 29 languages and all available global currencies, which makes it easier to work with international clients.
The company prides itself in having top-notch security. All of the sensitive data and transfers are encrypted and protected by SSL. Which means your and your client's money is as safe as in a bank.
One of the more useful features of this invoicing tool is the "Recurring invoices" option. This feature allows you to set up a date when the invoice will automatically be sent to the client. When this happens, both you and the client will get an email notification – this'll ensure you never forget about an invoice.
Invoice Generator by Invoiced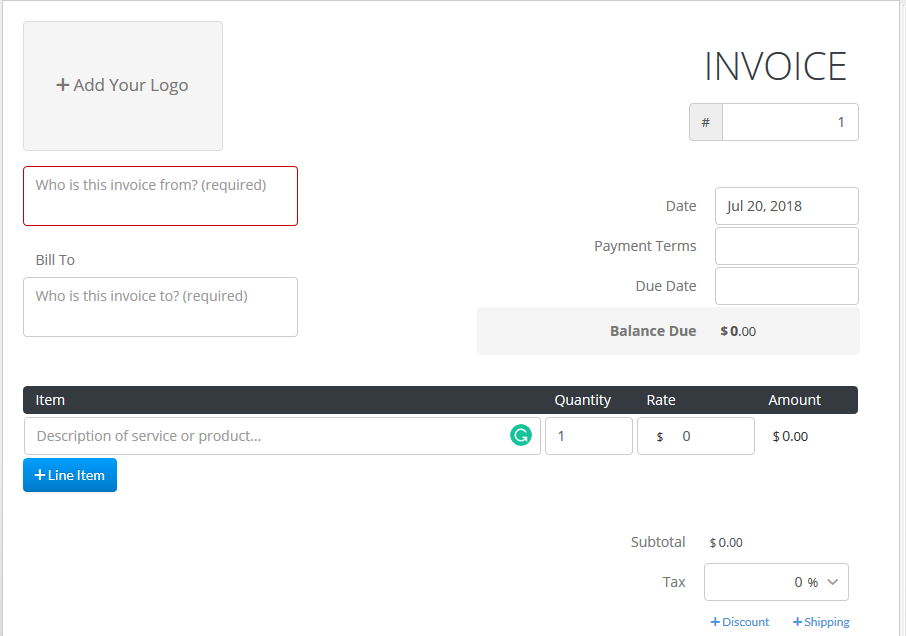 Invoice Generator is a web-based invoice creator with basic features – its simplicity makes it perfect for anyone who's only interested in generating invoices, without making use of special features.
It's minimalistic and easy to use: you add the client's and your own information, indicate the sum to be paid and the payment terms, as well as add your company logo, before sending the invoice out. As soon as you visit the website, you're prompted to fill out an invoice – the editable template is located on the main page.
The Invoice Generator also allows you to save templates for similar invoices, add notes, and provide information on the payment fees, payment methods and the schedule of delivery to your client.
Once the client receives the invoice, he or she can download it as a PDF, or pay it online. Through the Invoice Generator, you can get paid via PayPal, Venmo, and Square Cash.
This tool is perfect for freelancers who want to produce invoices on the fly, without all the bells and whistles of additional features. It's free, offers unlimited invoices, but also offers just that.
Tipalti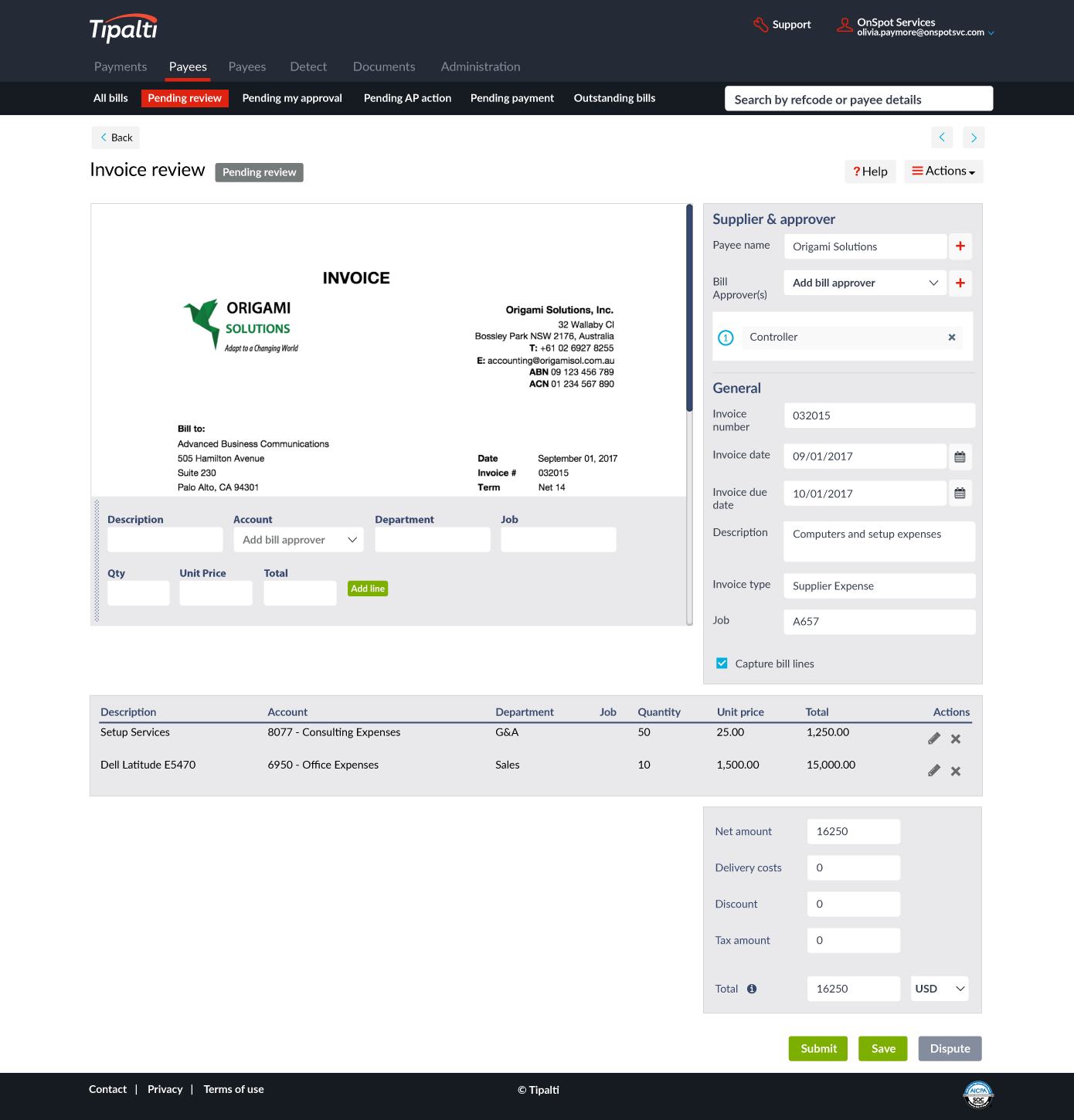 Tipalti is a tool that works towards automating as much of the billing and invoicing as it can. Their goal is to eliminate human error, and make invoicing and accounting hassle-free for all parties.
Tipalti's users can pay in over 190 countries, with 120 currencies and 6 different payment methods to choose from (including Global ACH and local bank transfer).
The invoicing tool is also certified by KPMG, the global network of firms for taxing, financial audits, and advising. This means you can formulate your taxes and reports with safety and less headache.
What Tipalti also does great is tackling common invoicing issues: late payments, non-compliance, and administrative overwhelm.
ReliaBills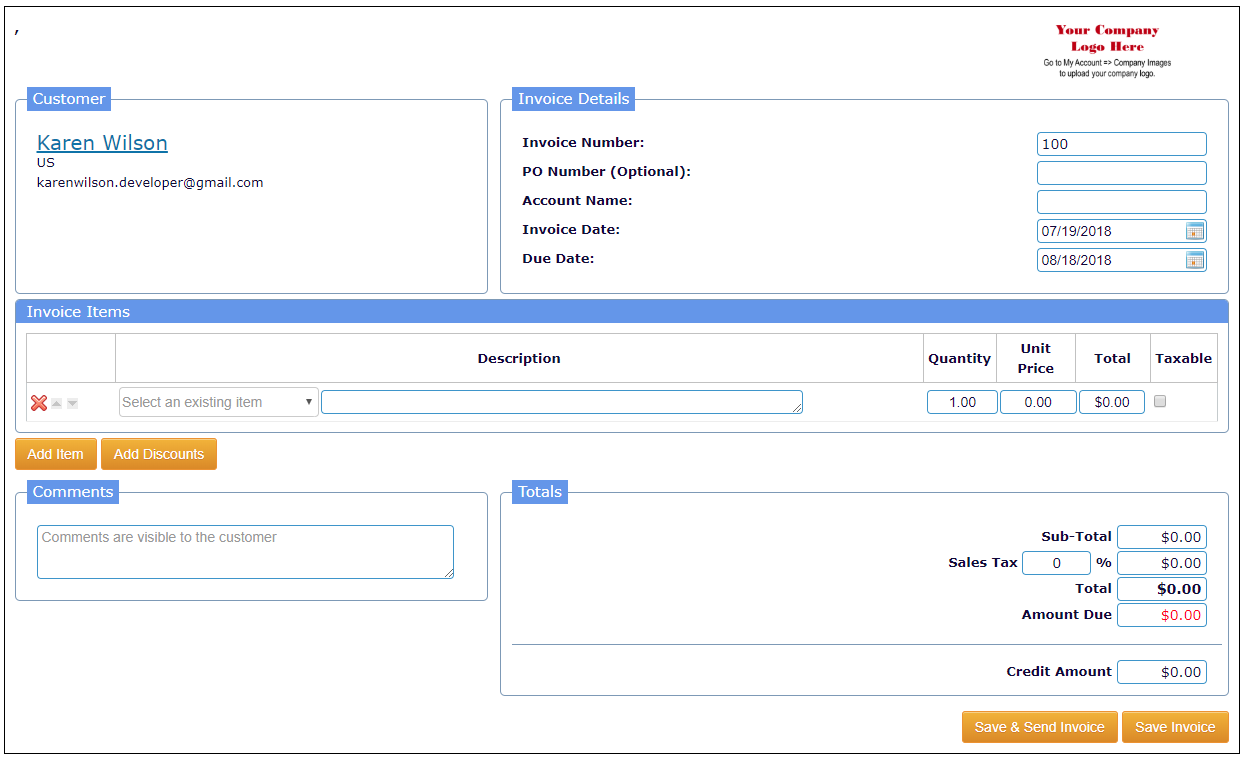 ReliaBills offers a number of great features for free, although it includes some great additional features in its paying plan. It's mostly aimed at small businesses – they state they don't offer enterprise options.
With the free plan, you get to generate unlimited invoices, for an unlimited amount of clients, with unlimited amounts of emails. You'll also be able to add as many users to the system as you want, and assign them with "roles" indicating their specific access within your invoicing records.
ReliaBills enables you to create customized invoices, with your brand's colors and logos included – afterwards, you can import them individually, or in bulks. Once the client receives an invoice, he or she can approve it with just one click, or ask you for a follow up.
The best part of this free billing software is that you can track the status of your reminders for invoices: you'll know whether the client has opened the email, and whether the email has arrived at all.
SimplyBill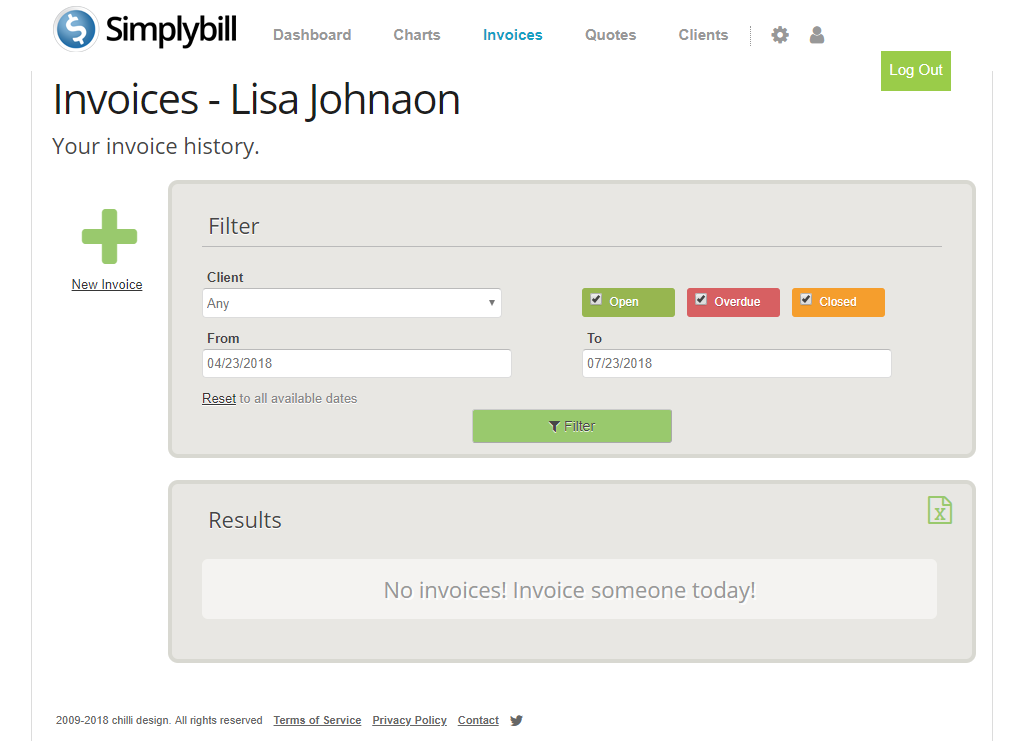 SimplyBill is a cloud-based invoice maker app that helps you generate and send out up to 3 customized invoices, as a part of the tool's Free Plan.
This invoicing tool is great for freelancers who charge by the hour – apart from the usual information, it allows you to indicate each of the services you've provided to the client, as well as the hourly rate for each service.
SimplyBill also allows you to track when each invoice you've sent is due, whether it has been opened, and what the sales taxes for it are.
A feature that makes this tool especially useful is its Reports section – you'll be able to see at a glance how much money you've earned in a certain time period, and compare results from different time periods, all based on the data from your invoices.
Invoice Journal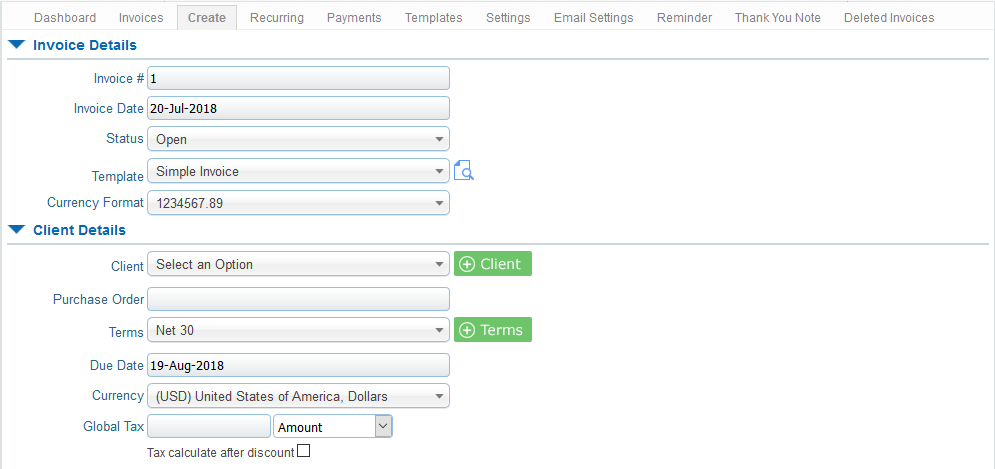 Invoice Journal offers you the ability to generate, customize and send out invoices, as well as manage your inventory of products, all from a centralized system.
As an invoice service, the Invoice Journal enables you to convert estimates into invoices, and make use of the "recurring invoices" option to schedule your billing, so that the invoices are sent at regular intervals.
The Free Forever plan of the program promises invoicing for one user – with this plan, you can generate 30 invoices per month for an unlimited number of clients.
The one group of features that stands out, is the app's client and product features. You'll be able to filter out and track your clients, as well as import client and product data from other apps into the Invoicing Journal system.
Due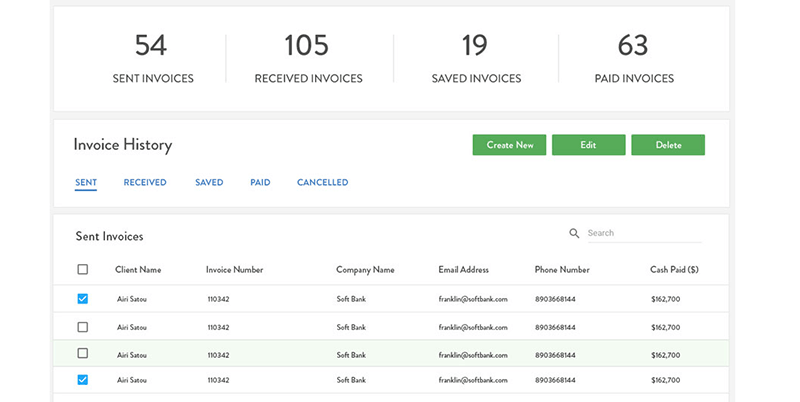 Due is an accounting software that encompasses all the necessary features for a streamlined business, whether you're a freelancer or a business.
It contains time tracking, a digital wallet, payment overview, invoicing, eCash, and global payments. You can use each aspect separately, or all of them combined to keep all the aspects of your business in the same place.
As far as invoicing goes, Due lets you create recurring invoices, low payment processing for clients (2.8%), include discounts and customize your templates.
Invoicing international clients has also been made easy, since it accepts cards from any part of the world.
Street Invoice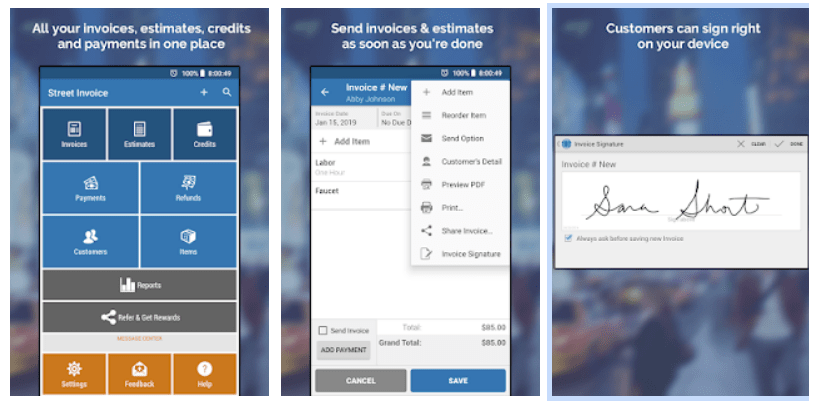 Street Invoice is an Android, iOS, BlackBerry and Windows app for invoicing – with its Free Plan, you can generate up to 15 free invoices.
This simple invoice software allows you to generate invoices and bills, but also to convert any estimates, quotes and proposals you make into invoices. Street Invoice helps you manage potential credit memos and refunds, as well as put an electronic signature on each invoice.
As a billing software, it automates the invoicing process further by:
setting due dates automatically, once you've set the payment terms
automatically calculating the total amount due, and the taxes
allowing the customers to pay the bill via PayPal, by clicking on the PayPal button provided
Street Invoice also provides you with various methods of sending out the invoice (via email, text message or by printing it out and sending it), lets you track client balance and profits, sync your data across various devices, and many more.
Inveezy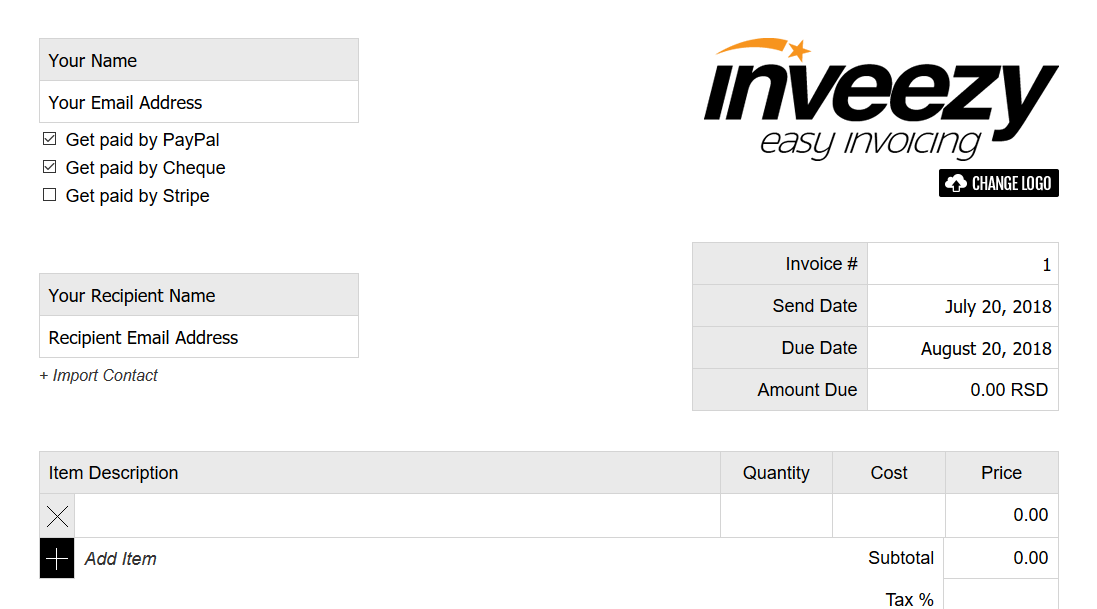 Inveezy is another instant-invoicing tool that lets you access a customizable invoice template and edit it, directly in the app's main web page – no login is needed.
If you're interested in your invoicing history, you can make use of the option to receive all your invoices at once in one email.
With this free invoicing tracker you'll also be able to choose whether you want to be paid via PayPal, Stripe or by Cheque, by checking the correct box.
Apart from the regular branding, item description and billing information, Inveezy offers you the option to save an unfinished invoice as a draft, or save it as a quote.
Apart from the web-based option, you can try Inveezy on Android.
Bonus app — Clockify (Time Tracking + Invoicing)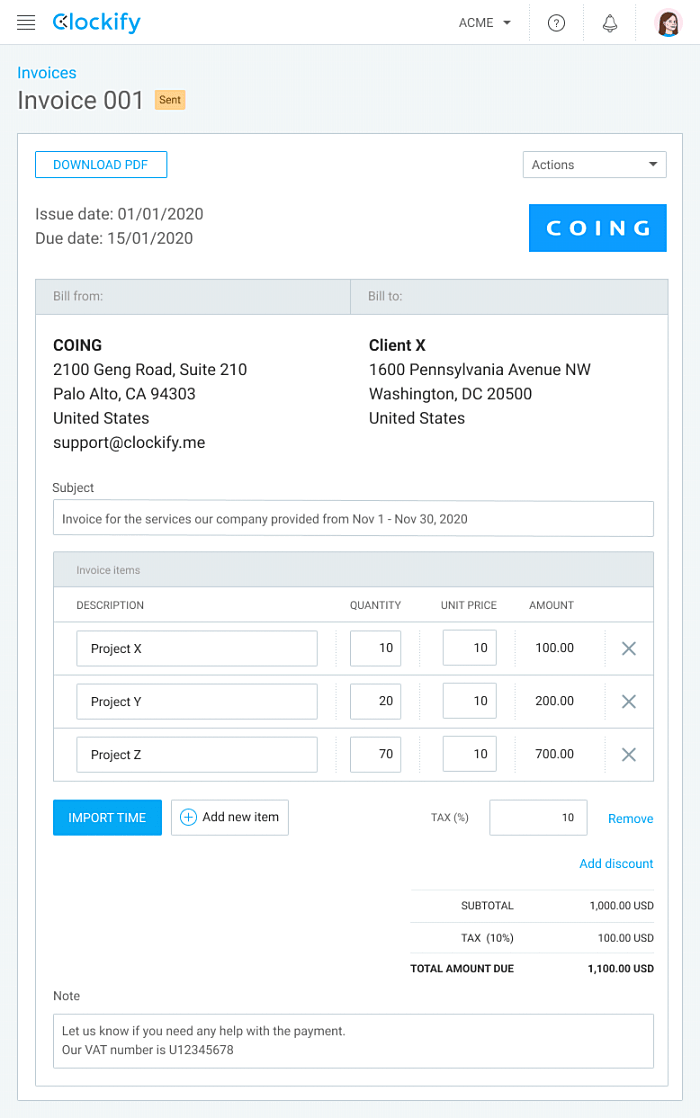 In Clockify, invoicing is not a free feature — but, Clockify offers several accompanying free time tracking features that tie into its invoicing feature, and make the whole invoicing process quick, simple, and easy.

Clockify includes taxes and discounts, grouping items you want to invoice — but, you can also include expenses and:
Track them (overtime pay, materials, mileage, reimbursements, etc.),
Label them as fixed fees or unit-based,
Add expenses' receipts to invoices,
Categorize them for clearer invoicing.
Of course, in order to correctly calculate how much your clients owe you, you'll need to track your billable hours. This way, you'll get a detailed insight into how much time you've spent on their projects, and how much you're owed for that time, in relation to your hourly rate.
Anytime you're done with the project, you can go to Reports, filter by the specific project (or client, if the client has multiple projects you need to bill), and see the total amount of hours tracked, and what you are due for that time. You can also export this data in Excel or PDF, for a more precise breakdown.
With all of this, you get Clockify as a great invoice service on top of its time tracking.
Recommendation
If you are looking for more tools to further streamline your business and make it more automated, you can read our guides for:
✉️ Any personal favorites that aren't on this list? Let us know at blogfeedback@clockify.me, and we may feature it here in one of our future updates.