4,000+ Reviews
Time clock

for healthcare services

Spend more time with patients and let Clockify take care of scheduling and time tracking.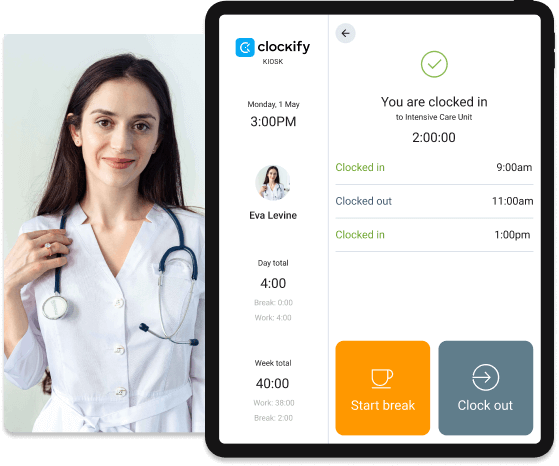 Time Tracking for Healthcare Services
Turn any internet-connected device into a time clock kiosk. Clock in and clock out app for your employees. No special equipment needed.
Use Clockify time clock, and record employee daily work hours and breaks.
Clock In/Clock Out Made Easy
Step 1
Sign in
Select your profile and enter your personal PIN.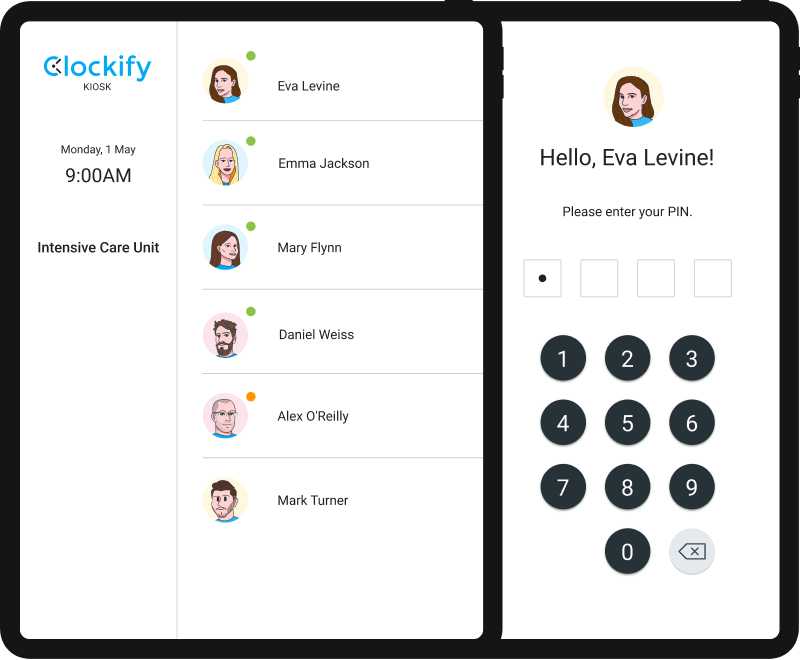 Step 2
Clock in
Start your work shift with one button.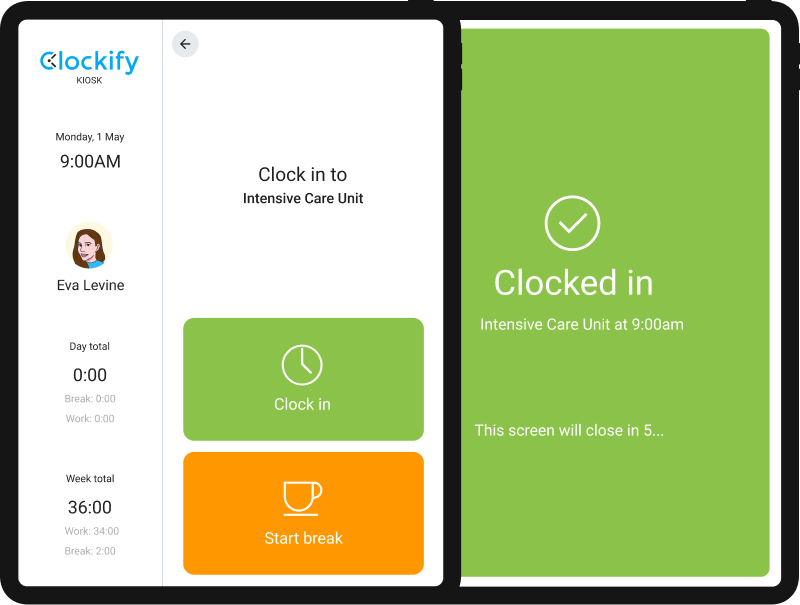 Step 3
Clock out
Finish your shift with one button.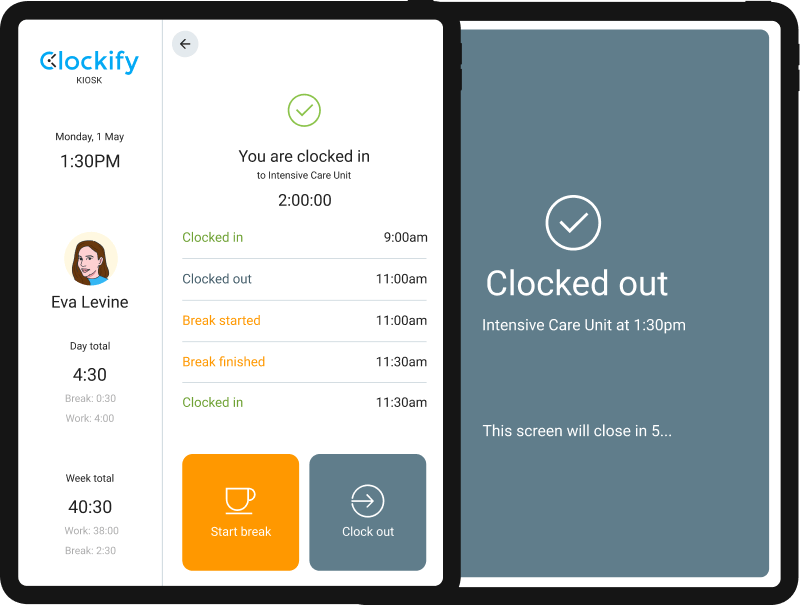 Why use Clockify kiosk app
Healthcare shift scheduling app
Plan optimal staff coverage and schedule shifts based on everyone's availability. Create schedule templates to prepare in advance, and easily make adjustments with drag & drop.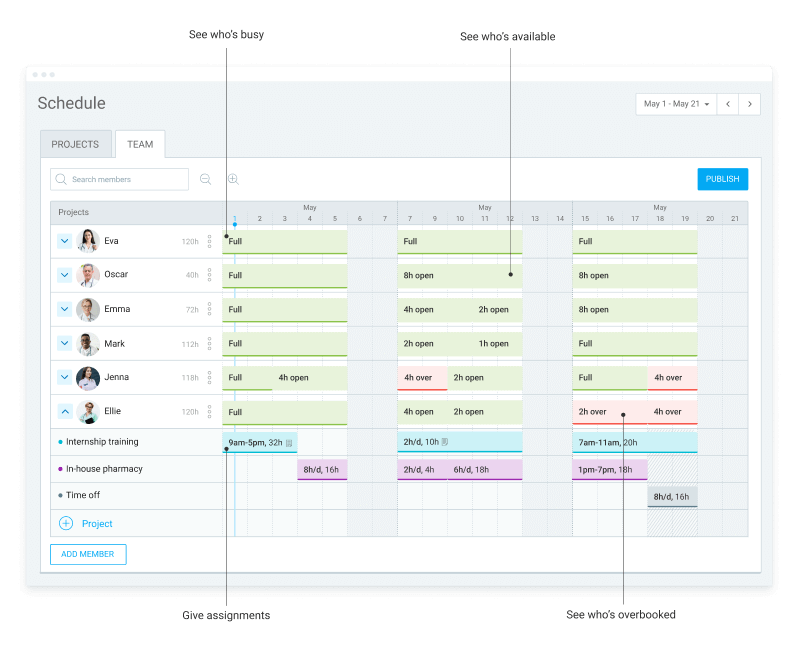 Export timesheets for payroll
Employees can track their time automatically or manually, and edit their timesheets before submitting. After approval, you can export timesheets with customized data to facilitate payroll.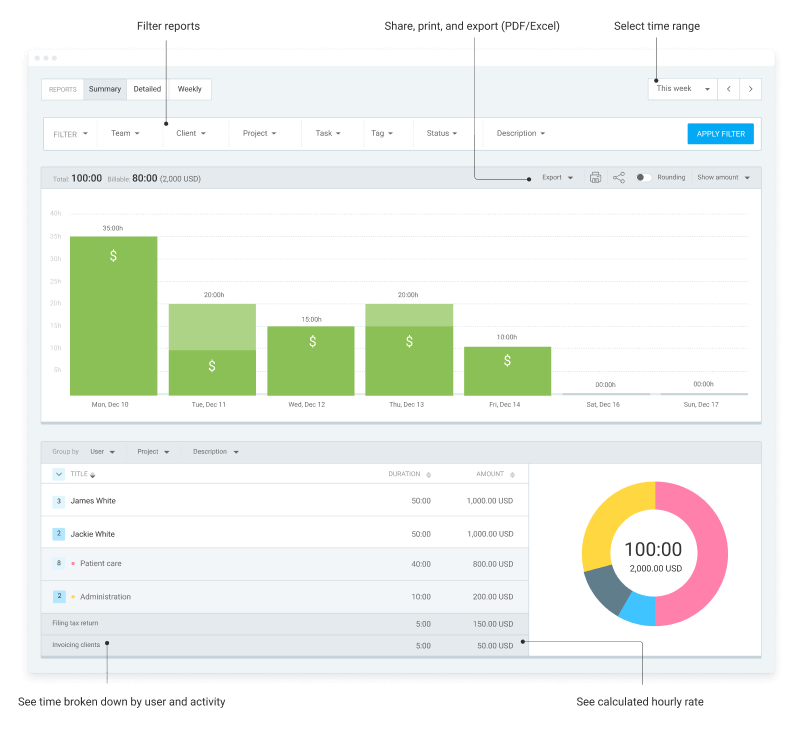 Time tracking on any device
Besides the web, desktop, and kiosk station, Clockify allows you to track time via mobile, too. Keeping track of your on-field team's working hours and GPS location will allow you to stay alert in case of an emergency.
Team chat and management
Stay one click away from your team, wherever you are. With Clockify, you get free access to the team communication and collaboration app to exchange messages, calls and files.
Use Clockify to request and approve time-off, track vacation or sick leaves of your employees.
#1 SUPPORT IN SOFTWARE
World-class customer support
We're here 24 hours a day, every day of the week, including holidays.
24/7
support anytime, anywhere
95%
satisfaction score (12k+ ratings)
99.99%
highest uptime levels
EMAIL • PHONE • CHAT
Choose a pricing plan for your healthcare business
Upgrade your business with Clockify's paid plan.