Managing freelancers: 8 steps for streamlining freelance workforce
The question of how to manage freelancers is an interesting one in business. Managing employees is often compared to herding cats, and managing freelancers can be twice as hard.
If you're a manager, you'll need to manage and organize a number of different people with different personalities and work habits – and, with freelancers, on top of the usual challenges, you'll need to manage 1) people you likely haven't met face-to-face and 2) manage people from a distance.
And all this makes confirming freelancers are actually working properly an especially demanding feat. Luckily, there are 8 steps you can follow in order to streamline freelance management and make the most of the freelance force within your company:
1. Decide why you need a freelancer
The first step to managing freelancers properly is making sure you understand their use within your company, but also the possible drawbacks:
Pros of hiring freelancers:
Freelancers typically work from home, so they don't have to cover certain overhead expenses, meaning they can afford to offer you lower price estimates.
Freelancers are fully focused on delivering the best possible results with your project in a fast and efficient manner – because they understand that living up to your expectations is in their best interest as well.
They partake only in meetings they're vital for and don't partake in office politics at all (usually because they don't know most of their in-house colleagues, just the ones they're collaborating with).
Considering that they are often given a task and then left to work on it by themselves, they're more used to organizing and parsing their own work. They know how to secure all the resources they need on their own, as well as manage their time and tasks in a way that helps them finish everything before the deadline.
They're more flexible with their time
The flexibility of freelance work hours means they'll be able to comply with more of your requests because they're usually able to reshuffle their schedules easier.
Also, many freelancers work on weekends instead of weekdays, so you may find that the request you've sent on Friday evening got finished by Monday morning.
You can hire them for short time periods
Regular employees often require longer time-based contracts, and it's sometimes much more convenient to hire a freelancer to work for you on a small project for a short time period.
Need a company logo for your company that sells carpets? Hire a freelance logo designer.
Need to optimize your website for search engines? Consult a freelance SEO expert from time to time.
Some tasks require only short-term personnel and freelancers are your best choice in such cases.
Cons of hiring freelancers:
Possible missed deadlines
Some freelancers may juggle several projects at the same time to reach a certain target income every month, so proper organization may become difficult. Considering that time is scarce, unless your project is the one offering the highest pay, or is the one with the closest deadline, chances are it won't be a priority for the time being.
Your freelancer may live across the globe and work in a different time zone, meaning your message sent on Monday at 9 am, may not get a response before Tuesday evening. Freelancers who juggle several projects at the same time may also work in several time zones (depending on the day and project priority), meaning freelance response time may be a wild card.
A higher chance of them being flight risks
This is possible if the freelancer hasn't worked with you before, or if you haven't signed a legal contract. In such cases, the freelancer may drop your project midway, due to it being too challenging or because he or she has found a better job opportunity in the meantime.
A freelancer is usually given some of your company's credentials, and access to certain data, so unless the person you've hired is trustworthy, this may pose a problem.
However, you can avoid this if you:
do a background check on freelancers before you hire them
work with people you've worked with before (and who have proven to be reliable and trustworthy)
hire freelancers by recommendation
In the end, you'll probably find that the pros outweigh the cons – after all, the cons only apply to individuals, and can be avoided with better organization, methodical planning, and hiring the right people. By including freelancers in your team, you'll get a more affordable and efficient approach to handling your work, and ease the work strain off of your regular employees in an efficient way.
2. Define the budget for freelancers
Just like with any expense, you'll need to ensure you account for the freelancers' earnings in your annual budget. By doing so, you'll lower the chances that you'll unexpectedly breach this budget, because you'll have an idea of the overall amount set aside for freelancers, in advance.
Also, you'll understand your business costs better than if you were to define a budget for the freelancer only each time you hire a new one.
3. Hire the right freelancers
Considering that we've concluded that the best way to work with freelancers is to work with reliable and trustworthy freelancers, the most important step on your road to better freelance management is making sure you hire the right freelancers.
Here's where you can find freelancers, and how you can make sure they're the right people to see the job through.
How to find freelancers
One of your options (if you're afraid of working with and trusting someone you don't know) is to ask your team, and business contacts for recommendations. However, by doing so, you're reducing your search to a limited talent pool – many freelancers you don't yet know are quality workers who would immensely contribute to your project and even grow into reliable partners in the future.
So, to help you expand your freelance search, here are the most popular freelance websites and the professionals who frequent them – post your job on these job boards and platforms, look around, and see what you can find:
Some of these freelance websites allow freelancers to contact you directly by sending their CVs, work samples, and contact information. Others allow freelancers to send you their bids, estimates, and project proposals, so you just pick the best one. The third type of freelance websites are freelance platform – they allow you to view freelance profiles, work samples, and other information by yourself, and then decide who you want to contact.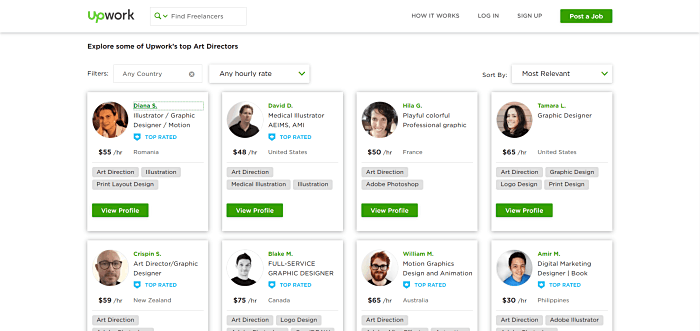 You can try all three types of websites for the same project: post it on job boards and bidding sites, and contact select freelancers you find on freelance platforms – you'll increase the chances of finding the right person immensely. In any case, if you're offering a quality project and quality work terms, chances are you'll attract quality freelancers.
Also, if you're in any way uncertain about these new freelancers, ask them to send you letters of recommendation from reputable clients they've previously worked with.
💡Clockify pro tip
There are dozens of other great websites frequented by freelancers you can go to and post your work offer –  just check out our extensive list of 110+ Best Freelance Jobs Websites.
How to choose the right freelancers
Once you've posted a job on a website for freelancers, you'll need to make sure they have the qualifications needed to finish the job, but that they're also reliable enough to see through your requirements and expectations. So, there are several steps you need to go through before making you pick:
Check the freelancer's reviews
If you're looking for freelancers on freelance platforms, you'll probably be able to view the reviews of people who've previously worked with said freelancer.
Read these reviews – if the majority of past clients gave the freelancer a positive review, feel free to contact them for more information, or an estimate for your project.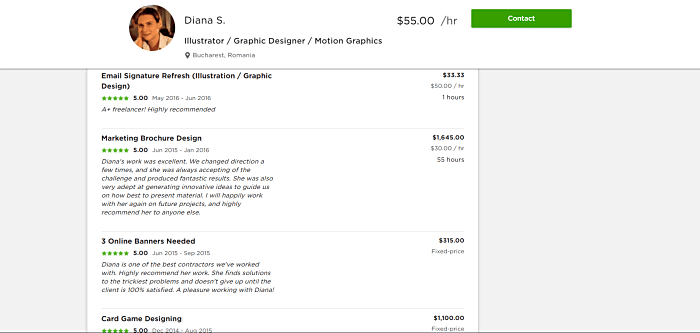 Also, bear in mind that a high number of reviews is a plus, but shouldn't be the decisive factor – perhaps the freelancer has just started out and hasn't had the chance to work on many projects yet.
Check their Social Media accounts
This includes Facebook, Twitter, and Instagram, where you'll be looking for red flags that indicate the freelancer may not be the most reliable worker – there's even a Journal of Applied Social Psychology study that claims that Facebook shows how successful a person will be at their job.
For example, if your prospective freelancer is pictured drinking in clubs in every single Facebook picture they're tagged in, it's probably best to keep looking – such a hectic lifestyle may influence the freelancer's ability to perform quality work.
Consider their experience and education
The freelancer will list his or her experience in the CV, and you should pay close attention to this section.
You'll be able to see whether the freelancer had previously worked on projects similar to your own, and you'll be able to assess their education level – but be careful not to discriminate against people based on their education, experience, or lack of one of these factors.
Bear in mind that experienced freelancers may have learned the trade through efficient practice and that the educated freelancers may not have had a lot of chances to show their vast knowledge in practice. So, experience without formal education, and education without practical experience can both be effective – in the end, if you're having trouble making a decision about such freelancers, ask for work samples and assign test tasks. Which brings us to the next point.
You can ask developers for a code sample, in order to have something to discuss during the technical interview – you can ask them why they choose this solution, and not the alternative, and why.
Writers usually have published articles online, so a simple google search may suffice, but you can ask them to send their most notable clippings directly to you.
If you're looking for designers, illustrators, or animators, they'll likely be able to send a sample of their artwork.
But, if the freelancer has no previous work to show you, you can assign a test task to try out their skills and abilities.
For example, if you're testing out developers, you can have them write a functional code during the interview – however, you should bear in mind that this may be too stressful for the interviewees, and they might not showcase their best work in such short time. The better solution, if they have no ready-made code samples to send to you, is to task them with an arbitrary problem, and then give them enough time before the technical interview to present an effective solution.
4. Define project details
Once you've selected the right freelancers, you'll need to make sure they know why you hired them, and what they need to do – so, make sure you fully explain the project details, including project requirements, expectations, deadlines, meetings agendas, and who they need to report to. This way, you'll pave the way to successful management.
Define project requirements
Freelancers who know the full project requirements will have a clear picture of what needs to be done, what resources they'll need in order to reach project objectives, and how they need to plan their time.
Clearly defined project requirements will lead to cost reductions, more effective communication between you and the freelancer, and higher chances the project will succeed with the first draft.
Define project expectations
Project expectations are (or at least should be) defined by the client – once your company is made aware of project expectations, you should communicate these expectations to the freelancer working on the project.
Project expectations include project objectives, measures of success, deadlines, necessary materials, project budget, changes in the scope of work, priorities, and deliverables – a failure to manage project expectations may lead to more time wasted, lower productivity, and reduced trust between the manager, the client, and the freelancer.
So, always ensure that the freelancer knows about the initial project expectations and all subsequent changes in expectations.
Project deadlines may be the most important project expectation – your company's ability to deliver the project according to the agreement you made with the client will likely influence whether the client will become a recurring one or not.
In order to define a deadline, discuss goals and project objectives first, instead of tactics – knowing where you need to go with your project can best tell you how much time you'll need to get there. Discuss the possible deadline with the freelancer, in relation to other expectations and requirements, and make deadline estimates you can present to the client.
In order to make project progress tracking easier, break the project down into chunks, and define milestones for these project chunks – once the freelancer reachers a certain milestone he or she will have to officially report to you with the progress.
Considering that the freelancer will likely work with a team, schedule a longer first meeting in order to explain the project basics and introduce the people your freelancer will collaborate with.
When crafting this initial creative brief for the freelancer, bear in mind that the freelancer is not familiar with the way your company and company culture work – explain everything in detail including what apps your team uses, how you communicate, and how you like to see ideas presented.
Later on, in order to make sure your freelancer is on the right track, you can set up daily meetings via Skype or another communication channel. Just make sure these meetings are short and cover the most important points of the project's progress for that day.
This may be the most important step in the successful management of freelancers – making sure they report their progress regularly, and to the right person.
Unless you make this clear, the freelancer may start taking requests from other members of your team at random, and waste time doing something they weren't hired or contracted to do in the first place.
5. Instruct freelancers to track their work time
The best way to track what everyone in your team is doing, including the freelancers, is to instruct everyone to track time they spend on their assignments.

This way, you'll have real-time data showing who is currently working on what and for how long.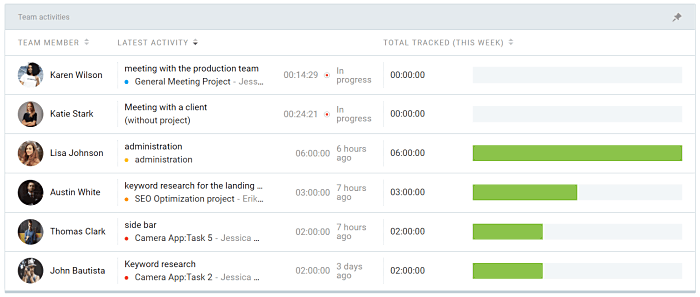 You'll also be able to view how much time is estimated before completion for each task by the freelancer.

This way, your team will feel more in control of their workload – considering you'll all know how much time you have left to tackle your tasks and finish everything.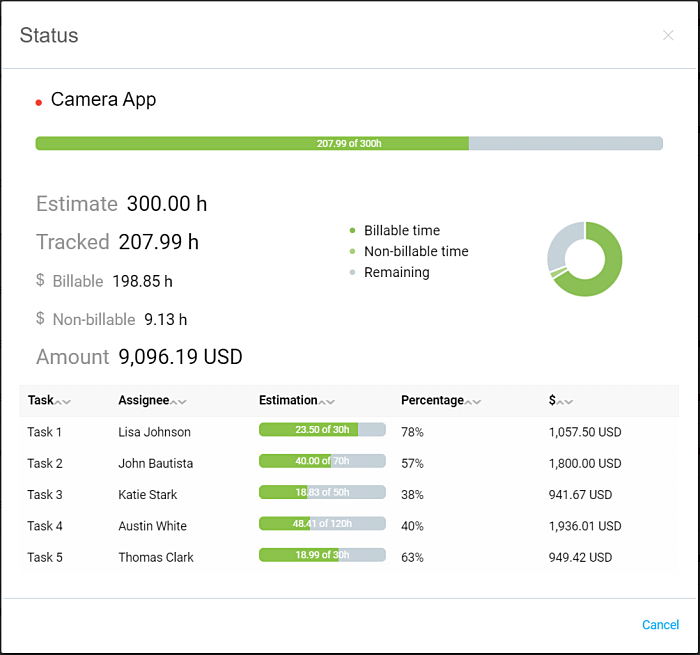 If any aspect of the project is lagging, you'll know beforehand to contact the freelancer, inquire for a report on the issues he or she is experiencing, and then discuss possible solutions together.
In order to have people track their time properly, add the freelancer and the rest of the team to their projects, assign them with tasks, define a daily target in terms of hours spent working, and let them track time on tasks in real-time, or add time manually on tasks they've spent working that day.
Later on, when the project nears its milestones or final deadline, you'll be able to view, analyze, and generate your own Reports that show your teams progress – branding these reports with your company's personal logo, before sending them to the client, is also a nice touch.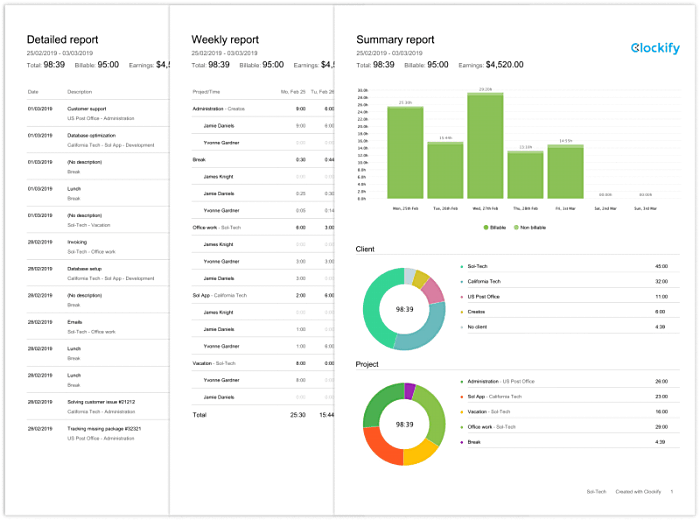 As an alternative, you can instruct your freelancers to enter time in a classical timesheet and send out their filled-out timesheets in regular intervals, so that you can analyze their project progress and identify potential and current problems the management needs to address.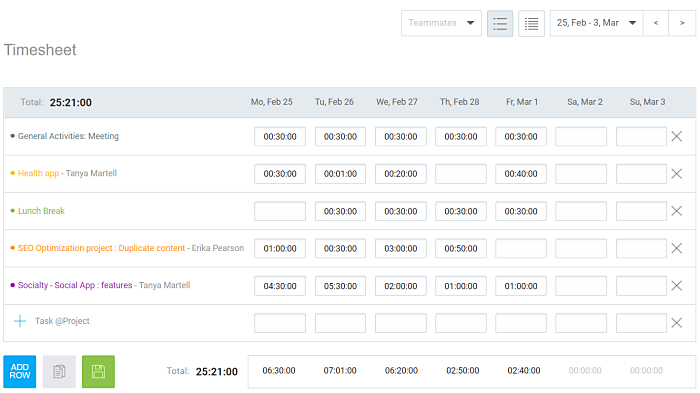 6. Use project management tools
To streamline your management efforts, it'd be best if you were to combine your time tracker with a project management tool – here are some efficient tools you can include to your management system:
Trello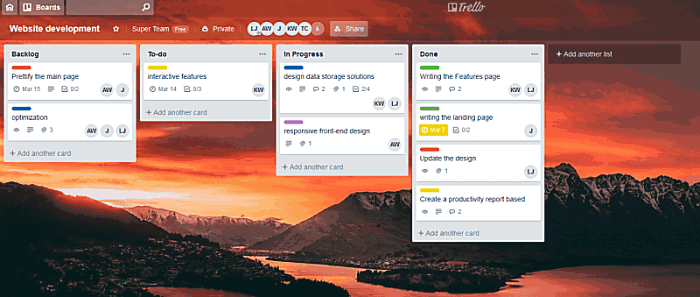 Trello is a Kanban-based project management tool with a simple concept:
Add cards (tasks) to your board (project)
Organize cards according to their status:

Backlog column– for ideas
To do column– for tasks that are on the agenda
In progress column– for tasks the freelancer is currently working on
Done column– for tasks the freelancer has finished

Assign freelancers with tasks
Let them move the cards across boards as the tasks change status
Track their progress
You and your freelancers can also view tasks in a calendar view, add checklists to cards, add attachments, define deadlines, and visually organize cards by type.
Asana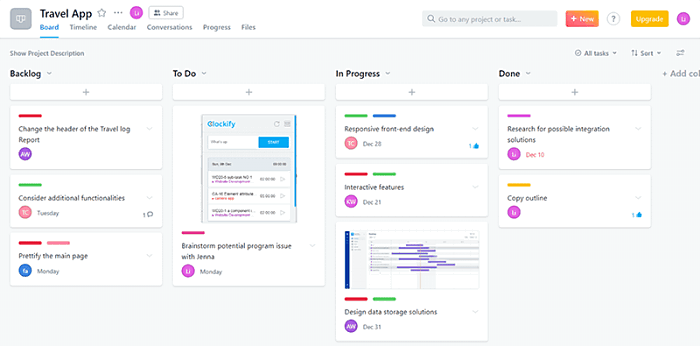 Asana is another tool that offers a Kanban approach to project management – but it also offers a list approach for people who also want to focus on their task lists.
The drag & drop project system offers boards where you move cards across columns, just like in Trello.
The list project system offers a to-do list with project tasks where freelancers can simply mark tasks as complete.
To make sure no one in your team forgets about their deadlines, Asana offers a comprehensive calendar view. Also, you can directly address and discuss the project with team members in the app's chat system.
Agantty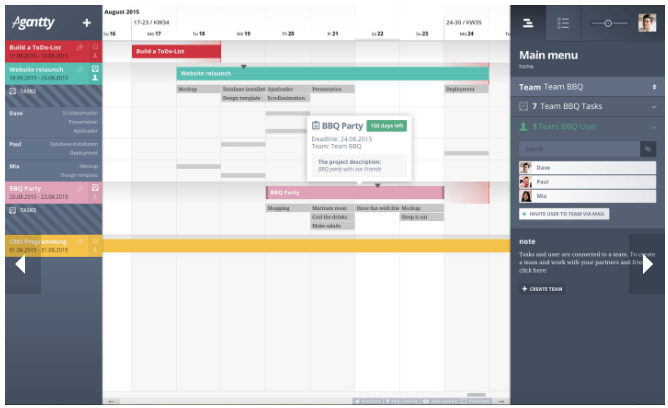 Agantty offers a project management solution to teams who prefer working in Gantt charts – you can assign tasks to freelancers by dragging and dropping them within the chart.
This tool is suitable if you're working with a larger team – you'll be able to group, parse, and organize your team, and make sure everyone is assigned the right task and information.
Once you've assigned everything, you'll be able to sort tasks, add deadlines, as well as track the progress of your freelancers by tracking their milestones.
Jira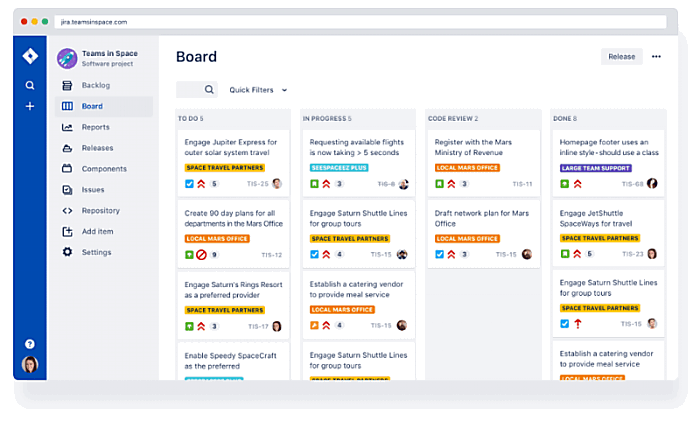 Jira is an Agile project management tool mostly suited for software development teams – you and your freelancers will be able to track tasks and bugs in several functional project templates.
You'll be able to follow roadmaps and project sprints, monitor project details, but also clearly measure your freelancers' project performance.
You'll get to choose between Kanban and Scrum project templates – then, you'll be able to track your team's progress in a Kanban board, or create, track, and monitor issues (tasks) within Scrum boards.
ClickUp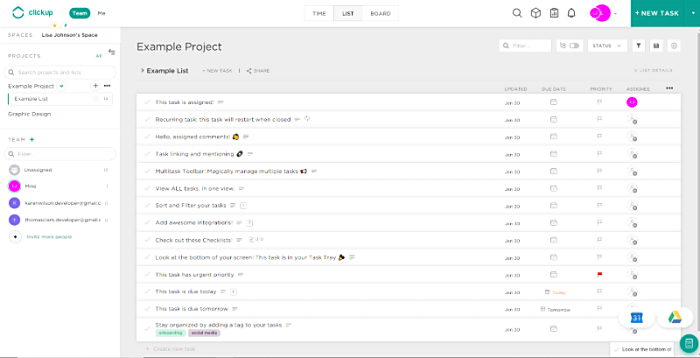 ClickUp is another project management tool with Kanban and List boards, as well as a Calendar view, but it's flexible and functional enough to warrant a place next to proven powerful tools such as Asana, Trello, and Jira.
You'll get to add multiple assignees to one task, set up recurring checklists for tasks that repeat, reschedule everyone's tasks in bulks, and make use of some unorthodox features, such as assigning comments to users and saving entire websites as tasks.
The best part about this software is that it has a plethora of customizable features, so you can adjust the software to fit your project management practice.
Basecamp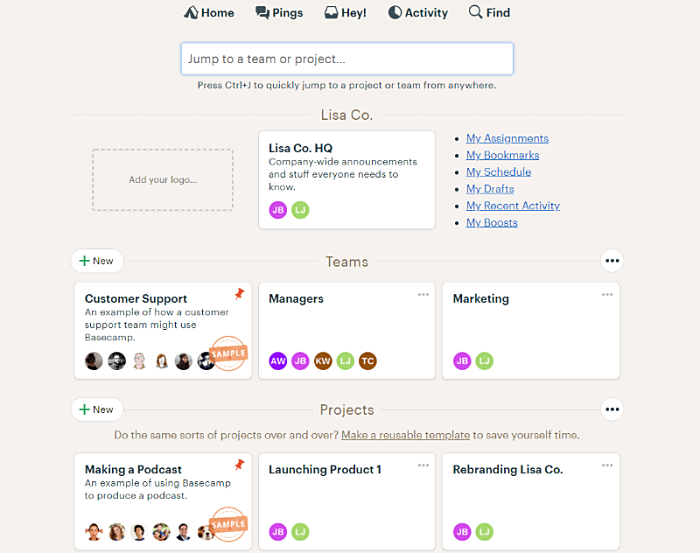 Basecamp is a project management platform that offers great collaboration and communication features – grouping your teams by departments, and assigning them with the right projects is only the beginning.
You'll be able to create, track, and tackle tasks in to-do lists, create, follow, and adjust schedules, as well as manage and keep track of your project-related files.
The messaging section of the app promises to manage all your team communication (so this app also doubles as a communication tool, more on which we'll talk about later), either in groups or individually.
7. Use effective communication tools
In order to ensure your management system is efficient, you'll need to ensure you use an effective communication tool meant to help you polish all project details and handle all project-related communication.
Such a tool is crucial in your work, considering that most freelancers work remotely, so you won't be able to go over to their cubicle to hold a face-to-face consultation anytime you need like you can with regular employees.
So, here are some effective communication tools you can try:
Skype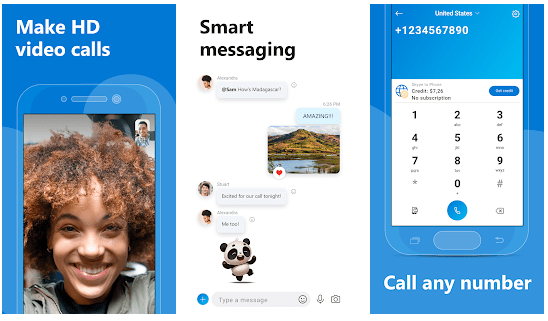 Skype is the go-to tool for standup meetings, and arrangements you want to make "face-to-face", and in real-time, no matter the geographical distance between you and the freelancer.
Features include free instant messaging, video phone calls, SMS messaging, as well as voicemail, file sharing, and screen sharing.
If you have to hold an online meeting with a larger group of people (up to 25), you'll be able to do so with Skype, by using the split-screen option.
Slack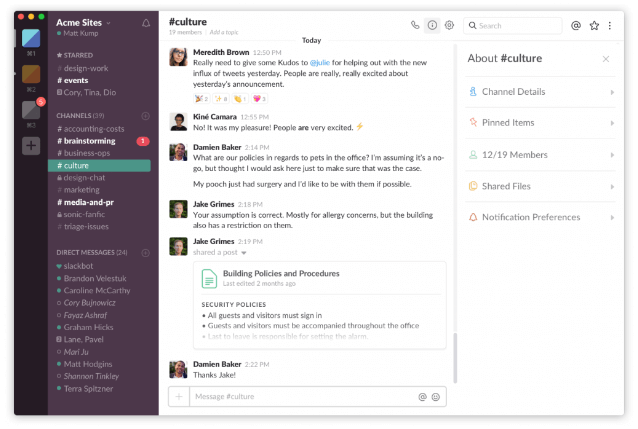 Slack is a popular communication tool that lets you fully focus on team discussions and arrangements – you'll get to create channels to support group discussions around particular topics, or send messages to individual teammates directly. You'll even be able to decide who can view what, by creating public channels anyone with the link can access, or locked channels, for the select few.
This tool also lets you attach and send files, share briefs, and highlight important documents by pinning them to a channel. If a particular topic-related channel becomes too wide in scope, you can parse it into threads.
Twist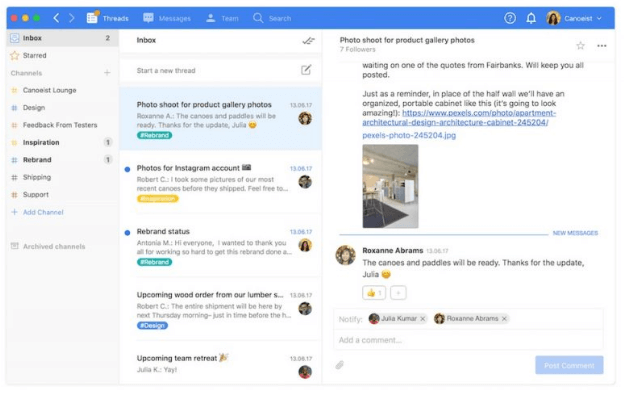 Twist is a team communication app specially geared at remote teams – you'll be able to hold conversations and organize them in topics such as particular teams, projects, and clients, or simply send direct messages to individuals.
Although they seem alike, the difference between Slack and Twist is that Twist focuses on delivering context to teams who are working in different time zones and cannot converse in real-time – you'll get threads on different subjects you can search and manage at any time.
Podio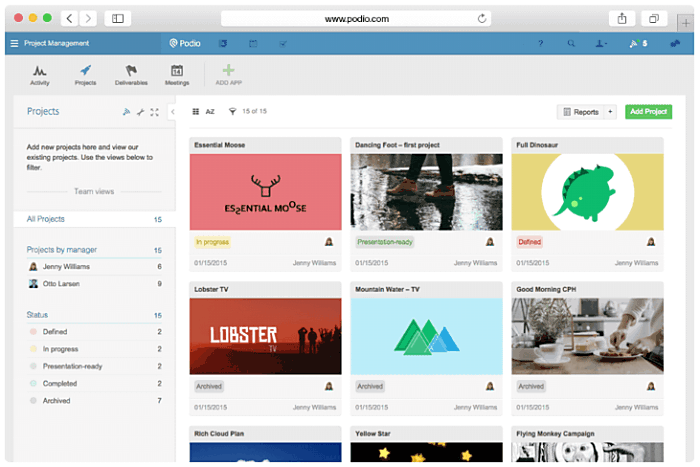 Podio is another team communication tool with all the usual features, but it works on a larger scale – apart from your freelancers and in-house teammates, you'll be able to include clients and other external parties to conversations.
Other unorthodox additions that make this tool worth a try are its Calendar view for tracking deadlines, its Visual Reports for helping you track deliverables, and Activity feed for asking questions, posting comments, and making audio and video calls.
Fuze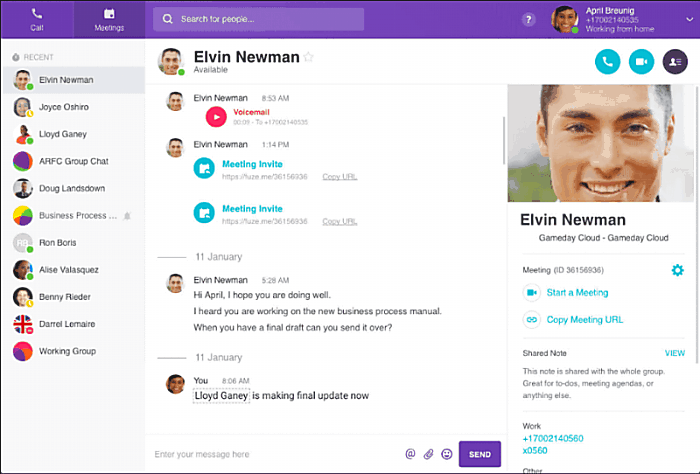 Fuze is a cloud-based tool for facilitating text messaging, as well as audio and video calls for the purpose of making meetings more effective and easier to schedule and document.
You and your team will be able to hold and record audio and video conferences, share your screens, make notes about conclusions you make on meetings, but also enhance these events by using built-in Slideshows with annotations to present your ideas.
Wrike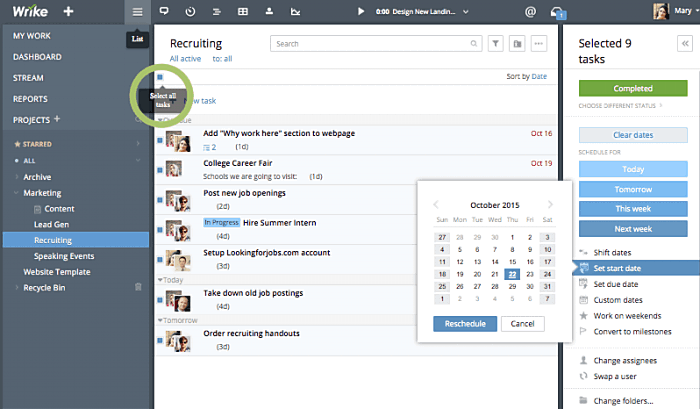 Wrike is a combination of a communication and project management tool – you'll be able to work with your team on the same tasks simultaneously and discuss the project in the app's communication system.
Apart from that, you'll also be able to schedule tasks in a Calendar, share videos, images, and files, as well as post accompanying comments to everything you attach.
Wrike is another tool that offers communication on a larger scale, so you'll be able to bring in additional consultants, as well as the clients, to shed light on problematic aspects of the project.
8. Build a relationship with the freelancer
Last but not least, once you've hired your ideal, dependable personnel, explained everything they need to know about the project, and made it a habit to use the right software on a daily basis, you should build an optimal relationship with the freelancer, and make sure he or she finds you a trustworthy and reliable leader.
Show that you care about the freelancers' careers – supply them with quality projects, and not just something your team simply doesn't feel like doing.
Treat them the same as you treat your regular employees, and try to include them in the company culture (if time and other factors allow).
Make all precautions when it comes to payments:
make sure they're paid them on time, and the amount agreed on
discuss and select a suitable payment processor to use to send them what they've earned
freelancers need to pay certain taxes, and they'll need you when filling out their tax forms, so abide by the tax rules that apply to freelancers
include payment terms and other money-related details in the contract, and make sure you discuss overtime.
Help them in any way you can or find appropriate – if appropriate, you can recommend them:
Moreover, make sure you make yourself available for additional questions, discussions, and concerns, and work together with your freelancer in order to find suitable solutions to project-related problems.
Conclusion
In the end, streamlining the way you manage freelancers may take effort and preparation, but it will guarantee you get a valuable and skilled addition to your regular team, one you'll be able to effectively cooperate with in order to reach high project quality.
Once you understand the benefits of freelancers, you'll first need to define the annual budget for freelancers. This will:
keep you in check
save your business from financial surprises, like going way over budget or not having the resources to pay the freelancers you've already hired
Then, you'll need to confirm you're hiring the right people for the job:
ask for recommendations in your business sphere
look through several job boards, freelance platforms, and bidding sites frequented by the type of professionals you need
When screening freelancers, make sure you:
ask for work samples
task the candidates with a test assignment, in order to assess their skills and abilities
ask for recommendations from their previous clients
go through their reviews and rating (if any) on their website you find them on
perform a short background check of your prospective freelancers on Social Media before hiring.
Remember, when you hire the right people, it will be much easier to efficiently manage them.
To ensure your reliable freelancer performs the job in the best possible way, explain all project expectations, and track whether and when they are met:
give them all the details they need to know about
define (or help them define) all deadlines
hold regular, short, on-point meetings
In work, make the most of technology:
instruct your freelancers to track time and submit their reports and timesheets
use a project management tool to track project progress in context
use a communication tool to handle all discussions, feedback, questions, and issues
And, lastly, be a trustworthy manager to your skilled professional freelancers:
make sure they're paid as per agreement
make yourself available for discussions and feedback
supply the freelancers with the help and resources you've agreed to supply
If you've done all that, and provided the freelancer with an interesting, quality project, chances are that you've made a lasting professional contact, one that will be happy to work with you in the future and abide by your management practice and guidance.