We don't need to tell you how busy your life can get. It's something you're painfully aware of every single day. And if in your search for time management apps you happened to run into our page:
Welcome!
We're about to help you find the best apps in the overcrowded market, and save you hours of trial and error.
Because time management is all about wasting as little time as possible, right?
Additionally, we've divided our list into four big sections, since we believe that effective time management has four important avenues:
tracking time,
keeping you focused,
keeping you organized, and
task automation.
We've chosen several apps that stand out in each of these categories. Combined, they can turn your Android device into a true time management machine.
So, let us begin!
Apps for tracking time
The first time management aspect we'll be dealing with is the time tracking itself. It's crucial not just for perfecting your productivity, but for having a clear overview of your billable and non-billable hours. There are plenty of time trackers nowadays, so we've singled out a couple that we believe suit the largest number of people.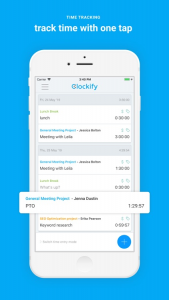 If you're looking for an Android time tracker that boasts a robust set of features, for free, then look no further. For a large majority of people, Clockify's free plan will be enough to cover all their tracking needs. It lets you time your work manually and via a timer, generate and manage time reports, look at your billable vs non-billable hours, and create workspaces for entire teams.
Clockify is designed with the intent to provide users with time tracking across all devices and in tune with a multitude of other apps. It's seamlessly integrated with other time management apps such as Trello, Asana, Jira, and Todoist, just to name a few. It's ease of use and sleek design make it a subtle, yet invaluable asset.
Apps to help you focus
Time management is greatly affected by your focus, as well. Staying concentrated for longer periods of time has become a common problem nowadays. Every day we're bombarded by dozens of things demanding our attention, which leaves us with plenty of unfinished obligations and postponed tasks.
The trick lies in learning to prioritize and then training our brains to give undivided focus to those priority issues. There are plenty of resources online that help achieve this goal. And we have found the following three to be among our favorites.
If you want to eliminate distractions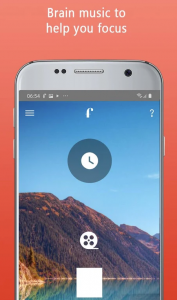 Focus at will is an app that features 25 channels designed to help you develop into a more productive, focused version of yourself. You can choose a channel that plays a specific type of music until you find the one that suits you the most. Focus at will also features a personality test that assumes the best channel for you in case you can't decide.
As far as the app use goes, it's simple and straightforward: set up a timer for your work session and hit play. When the timer ends, the music stops, and the app prompts you to grade your productivity experience. In this way, the app learns how to adjust the music to your brain's activity.
Focus at will is an interesting app, with plenty of positive testimonials. Unfortunately, there isn't a free version, except for a two-week trial, after which you are billed annually. However, the Android app version is free for an unlimited time, although it lets you use only the bare bones of it.
If you want to improve concentration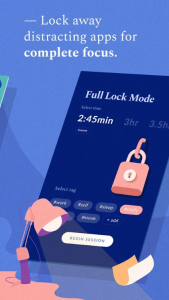 When it comes to focus timers, Flipd is one of the more versatile ones. It goes above and beyond for those who want something more than a minimalistic timer.
The app allows users to choose the purpose of their focus tracking: be it studying, sleep, meditation, or other. In addition to that, Flipd has a so-called Wellness Hub which features pre-made listening sessions in the form of guided breathing exercises, podcasts, and ambient sounds.
This app comes wrapped in a slick design, soothing color scheme, and ease of use, although it takes a few minutes to figure out what each corner of it does.
Apps to help you organize
Or: How to turn your Android into a Mary Poppins's bottomless bag?
The fourth aspect of time management we're addressing is how to spend less time digging up information. We've decided to highlight several Android apps that store and pull up everything you need at the touch of a finger.
We're talking contacts, important dates, addresses, project deadlines, the recipe for that dinner you had on Saturday. What if instead of using ten different apps on your phone, you only needed one? Here are our honorable contenders.
If you need a digital scrapbook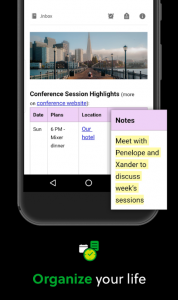 Evernote needs no introduction, as it's familiar to a lot of busybodies. It works as a digital scrapbook of sorts. Whether you want to keep your company reports at hand, or a vision board for your wedding reception – the app has you covered. It lets you save online content easily, scan documents and digitize handwriting. There are also note templates that make list-making easier, such as project breakdowns, habit trackers, and even gift ideas (complete with website links).
One thing to note is that the app can have a steep learning curve for some users. This alone is often the make-or-break point when they consider getting a premium plan.
If you want a virtual assistant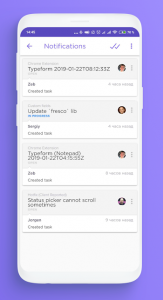 This might as well be the most feature-robust time management software out there. It is perfect for teams, or freelancers juggling several projects and clients at a time.
ClickUp gives a detailed overview of everyone assigned to a project at any given moment. You can see your tasks in hierarchical order, track time, access your cloud storage and sync deadlines with the calendar. As such, it is more work-oriented, rather than life-oriented. The only caveat is that this massive functionality works perfectly for the web-based and desktop version.
To get the full functionality of ClickUp with the app version, you'll want to get browser one as well, as some features are missing.
If you want to save time on note-taking and planning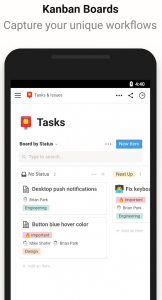 Notion has recently been introduced as a strong contender to Evernote. Its simple, yet eye-catching design garnered initial interest that soon turned into a loyal, long-term userbase. The app houses everything but the proverbial kitchen sink, so it's no wonder it climbed the top lists so quickly.
There are collaborative spaces, kanban boards, to-do lists, and spreadsheets. Notion's biggest selling point is the high level of customizability. Whatever your reasons are for using it – be it business of any sort, personal life, or something as simple as organizing a party – the app allows you to store and share amazing amounts of data with anyone. Notion transforms into whatever you need it to be.
Apps for task automation
The apps in this last section are chosen based on how they take the mundane tasks out of your hands and automate them to save you time. The market is nearly oversaturated with them, which means there's something for everyone. But we've singled out a few that prove to be indispensable. Especially in situations that you may have not known were eating up your time.
If you want to make your own integrations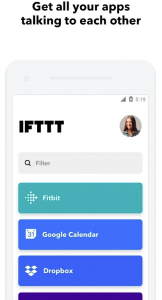 If This Then That is an app that works with over 650 other apps and services online. With it, the developers intended to have a piece of software that integrates different services that, as they say, normally don't "play well together".
This app allows you to, for example, connect your Gmail to your to-do list, so when you empty your inbox, it checks off that to-do for you. It saves you a lot of time on doing mundane tasks that accumulate during the day and inevitably chip away at your schedule. Additionally, IFTTT welcomes user-created connections, meaning you're bound to find just about everything you need.
If you want to save time on emailing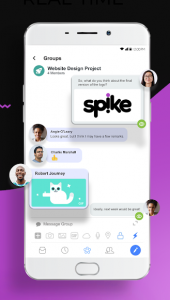 Another great time-saving app is Spike. It's a service that treats your email inbox as a chat, and completely transforms your correspondence. Emailing back and forth becomes much more simplified and easier to track. Additionally, the app prioritizes your mail in a more intuitive way and sorts it according to your contact list.
While not a complete replacement for your Google inbox, it's a great addition if you find the traditional layout of your email service clunky. With a feature-packed free plan, Spike proves to be a useful tool for any freelancer or small business. It saves you time through simplified, intuitive design and customizability.
If you need to save time in commute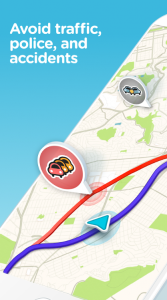 You'd be completely right to question why a traffic report app is on this list. But, consider how much time you spend commuting. Think about how much time you would save by knowing where the traffic jams are, so you could avoid them. This is where Waze comes in.
The app gives you not only a live update (provided by the users) on the state of the traffic, but it also advises the most optimal time to leave the house so as not to be late. You can also listen to podcasts, get notified on police patrols in the area, parking spots available and more. When it comes to time management, Waze is great for people who find that they lose a lot of time commuting, get stuck in traffic jams, or travel a lot to new cities.
To summarize
Time management is a very fickle skill to master. We believe it actually consists of four different skills that need to be addressed separately: tracking how you spend your time, finding smarter shortcuts, learning how to focus, and keeping important information close by. Naturally, the digital age makes honing this skill a lot easier.
The apps we've listed are meant to carry some of the load for you, but to also give you an idea of how you can manage your time better. After using one or several of them from our list, you're bound to notice a great change in how you handle the everyday workflow.