4.7 (4,492 reviews)
Time clock

for transportation companies

Location & time tracker, employee scheduling, and reporting for transportation companies.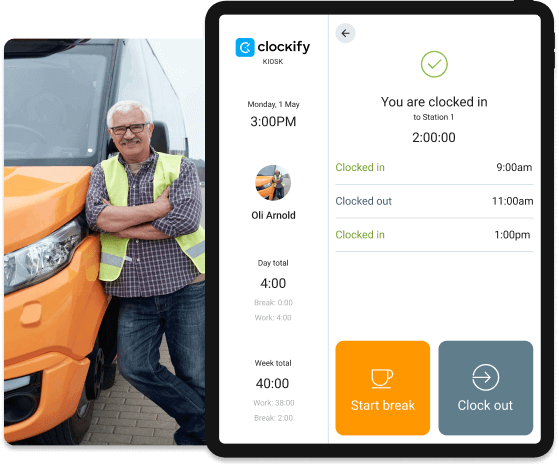 Super simple and efficient kiosk
Works anywhere
No special equipment needed. Works on any internet-connected device.
Quick setup
No installation required. Setup takes less than a minute.
Always reliable
No hardware issues, maintenance, or troubleshooting. It just works.
Low cost
Get started for free. Upgrades start from $0.99 per user.
Easy to use
Clock in and out in a couple of steps. No training required.
24/7 support
Contact us via email, chat, or phone. Response within 1h.
Time tracker for transportation workers
Turn any internet-connected device into a time clock kiosk. Clock in and clock out app for a simple time tracking. No special equipment needed.
Make schedules using Clockify, and record how many hours employees spend on each location, client or a task.
Clock In/Clock Out Made Easy
Step 1
Sign in
Select your profile and enter your personal PIN.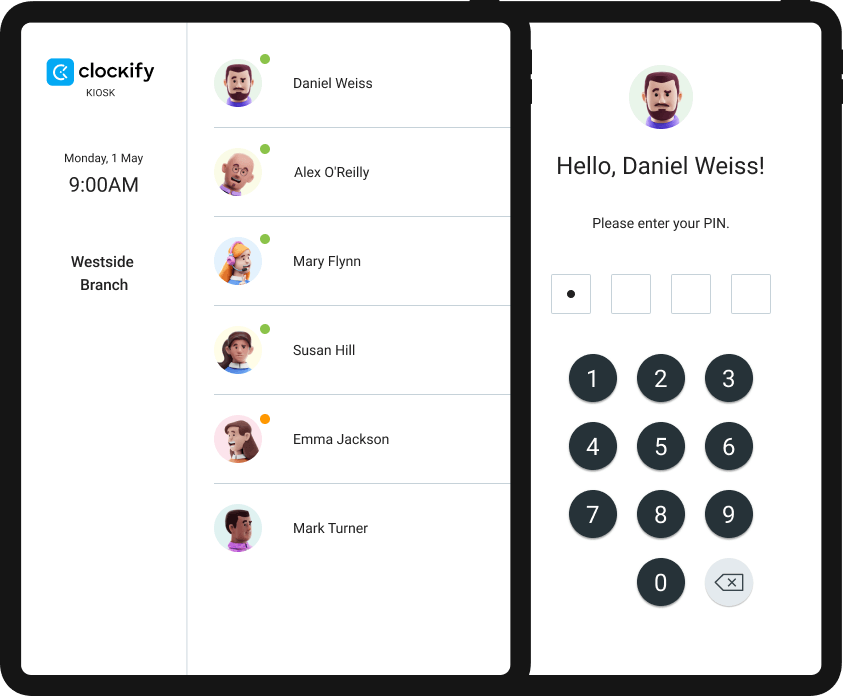 Step 2
Clock in
Start your work shift with one button, and switch between jobs.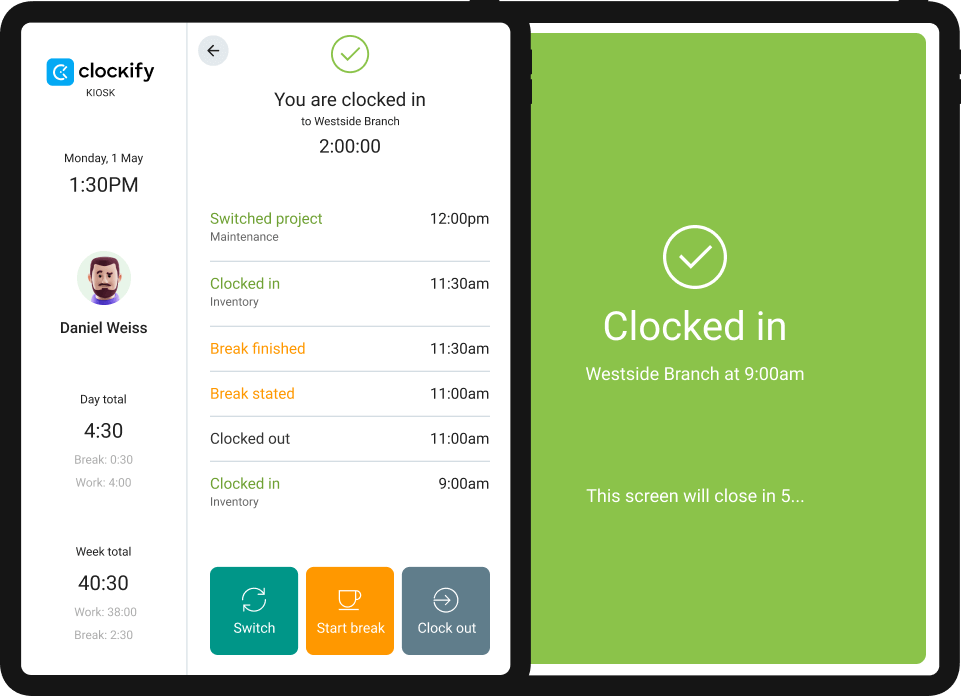 Step 3
Clock out
Finish your shift with one button.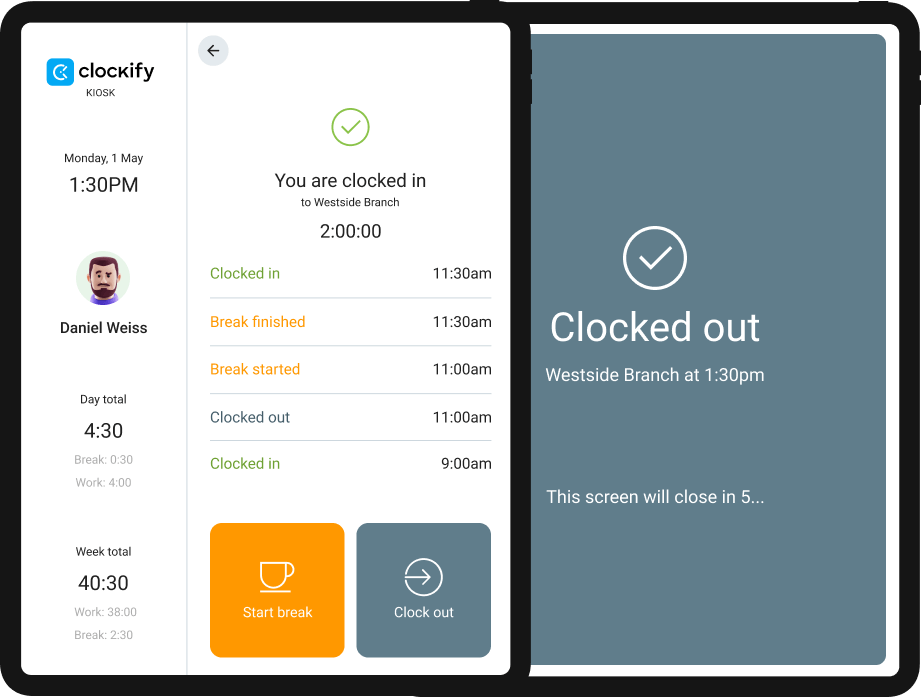 Option B
Fill timesheets
Let employees fill out their timesheets on their own, or do it yourself for them.
Why use Clockify time tracker
Track attendance
Track daily employee attendance. See hours worked, breaks, overtime, and employee time off from one report.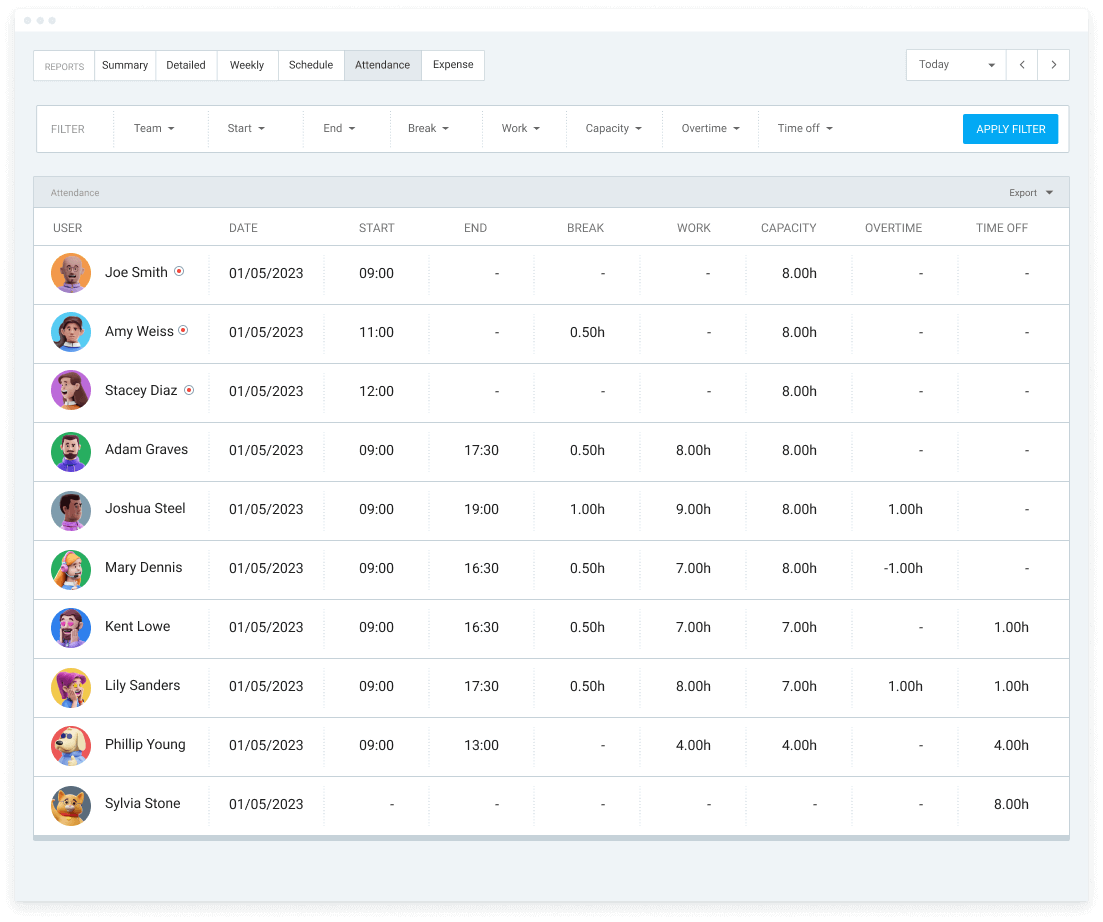 Time and expense tracking
Track hours you spend on the road. Record daily expenses and attach receipts to avoid unnecessary paperwork.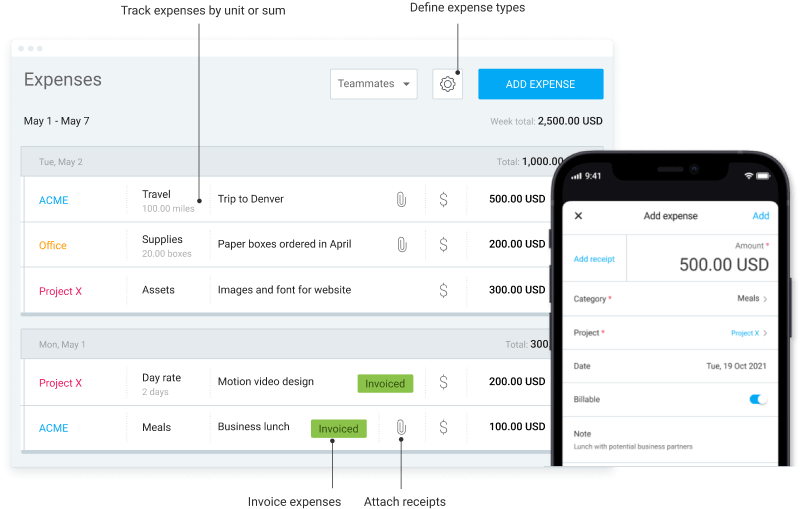 Location tracking
Activating GPS tracking lets you see the current locations of each employee and their location history throughout the day. Employees can clock in and out via mobile to easily record their shifts while they're on the go.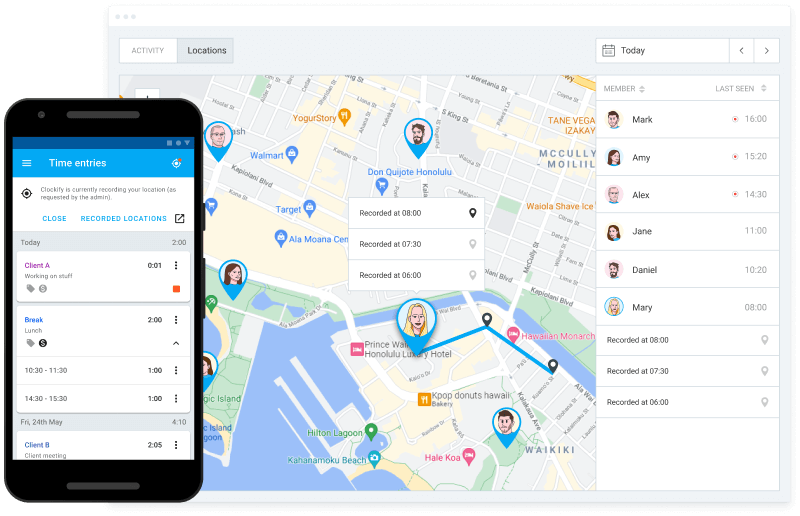 Employee scheduling
Assign tasks and organize your employees across different locations and projects. See who is available and when, find replacements and make adjustments with drag & drop.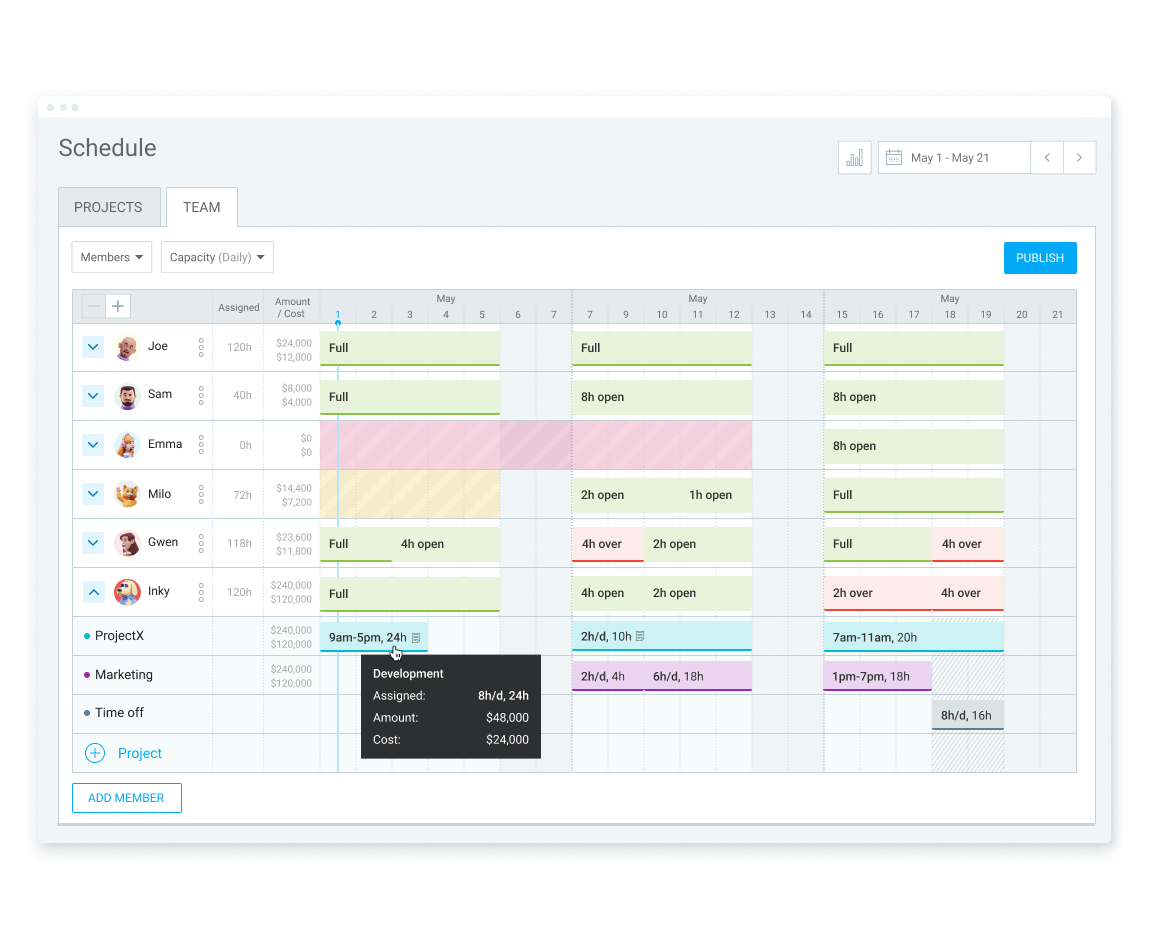 Customize and export reports
Easily calculate payroll by setting up an hourly rate and tracking time spent on work. Export timesheet data as reports, or schedule reports to receive them daily, weekly or monthly.
Manage employee time-off
Manage and approve time off requests, vacation or sick leaves, and chat with your team directly from the app. Exchange messages, calls and files to stay notified about the changes on the road.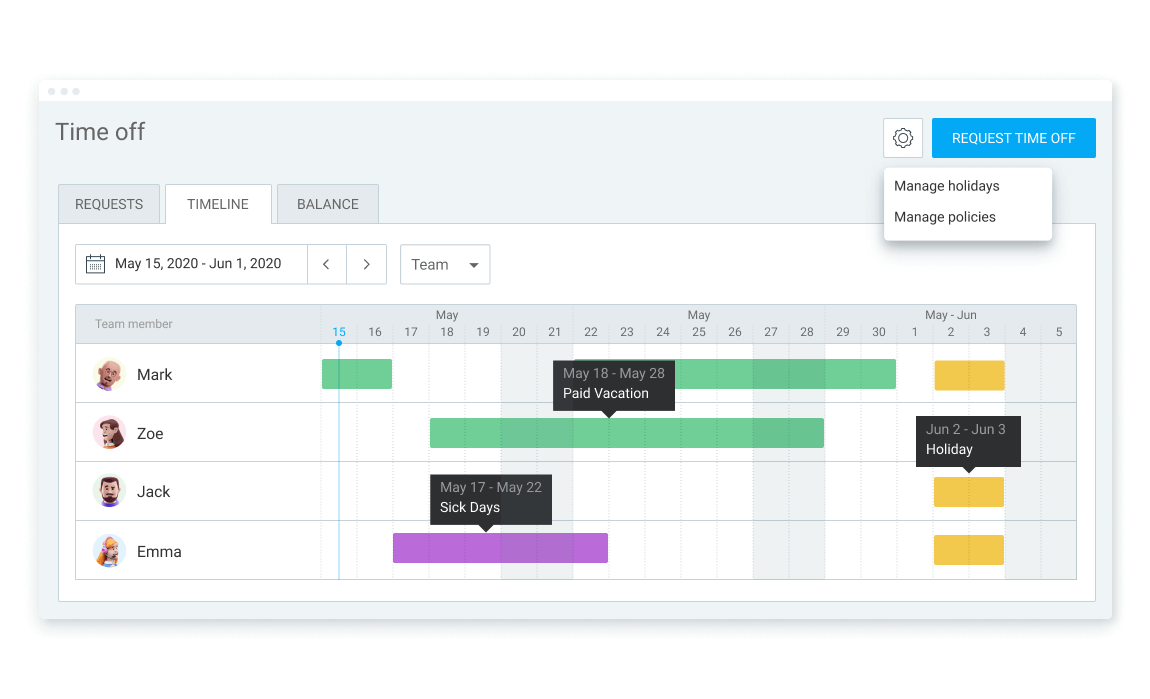 #1 SUPPORT IN SOFTWARE
World-class customer support
We're here 24 hours a day, every day of the week, including holidays.
24/7
support anytime, anywhere
95%
satisfaction score (12k+ ratings)
99.99%
highest uptime levels
EMAIL • PHONE • CHAT
Choose a pricing plan for your transportation business
Upgrade your business with Clockify's paid plan.