33 Best online collaboration tools for teams
Efficient collaboration is the backbone of any team, no matter whether they're office-based or remote – and the best way to enhance teamwork is to use the right collaboration tools.
In line with that, here are the 33 best online collaboration tools for business, grouped by the 8 types of online collaboration tools essential for quality teamwork. From creating content to scheduling meetings online, there is an app for every part of the process.
In this article, you'll find the best tools for project management, creating and planning content, calendar and file sharing, cloud storage, communication, real-time collaboration, and video conferencing, as well as best online whiteboards for brainstorming and team discussions.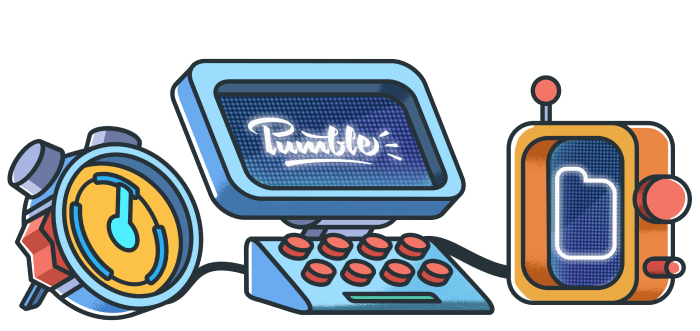 Why should you use online collaboration tools?
For many people sitting in the office from 9 a.m. to 5 p.m. is not how a typical workday looks anymore — flextime and working remotely are becoming increasingly popular. In some instances, workers are willing to change jobs just so they can work from home.
Even if you're not physically sitting next to your team, there are still ways to communicate, collaborate, and get the job done as efficiently as possible. In fact, a study by Stanford University showed that working from home increases productivity by 13%. The productivity increase is backed up by a survey by Connect Solutions, which found that 77% of those who work remotely at least a few times per month show increased productivity, with 30% doing more work in less time and 24% doing more work in the same period of time.
This is partly due to all the online collaboration tools that are out there, as they have a large impact on the speed and the quality of remote work. They allow you to organize and collaborate in real-time, just as if you were in the same room; they also help to decrease travel costs and reduce stress, as you're at home or in another environment you feel comfortable in. On the other hand, inefficient online collaboration tools can make the situation much more difficult, so you have to choose them wisely.
Because of that, we picked some of the best online collaboration tools that will facilitate every step along the way.
Different types of project and team management tools can greatly help you keep up with various types of projects and processes your team needs to tackle. Plus, your team will need a time tracking software solution to make sure you all know who is working on what, and for how long.
You'll be able to schedule and plan better, delegate tasks more effectively, and boost the productivity of your team.
Best for time tracking – Clockify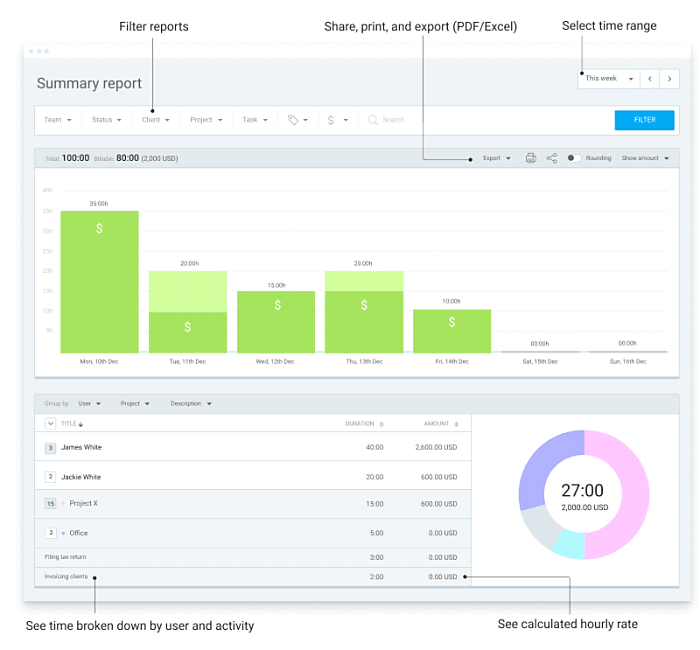 Clockify is a free time tracking software for teams. You'll get to track time on tasks as you work on them, add time manually for back-dated activities, or enter time spent on activities in a timesheet. Then, you'll be able to generate Visual and Weekly Reports of the time you tracked, and analyze the teams' efficiency with their work.
Notable Clockify features:
Define projects and associate them with clients
Define project-related tasks and then assign them to team members
View what everyone is currently working on in the Team Dashboard
Lock timesheets to mark them as approved
The self-hosting option, for maximum privacy, security, and legal compliance
Why use Clockify?
Clockify is a great tool for teams to track the time they spend on tasks, customers, and internal projects. It makes the collaboration process more efficient and transparent, as you will have an insight into who is doing what, who has the most experience with a certain project, and what activities take up the most time. In addition, unlike other time trackers, Clockify lets you have unlimited users, for free.
Available for: Windows, Mac, Linux, iOS, Android, Google Chrome, Firefox, Edge
"Best for tracking project progress – Trello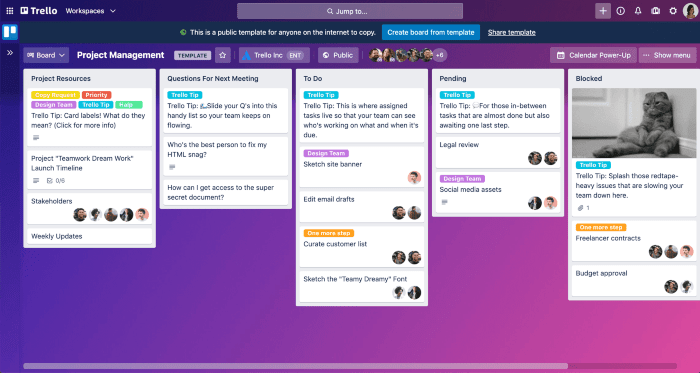 Trello is a Kanban-based project management tool that helps the team keep an eye on project progress. Boards represent projects and cards represent tasks you can assign to people. Then, the assignees can mark the progress they're making with their tasks by dragging & dropping cards/tasks across aptly named columns (e.g. "To Do", "In Progress", "Done").
Notable Trello features:
Trello's shared calendar
Breaking card/tasks into checklists
Adding file attachments
Share cards/tasks with team members
Add deadlines to tasks
Why use Trello?
When your team is juggling multiple tasks and projects at once, it can be hard to keep up with what has to be tackled, what is already done, and what is currently being worked on. Trello helps you to stay organized and on top of your work. It lets you have a clear, visual representation of all the tasks and their current status, as well as who is working on each one.
Available for: iOS, Android, Windows, Mac, Google Chrome, Firefox, Edge, Safari
Best for agile project management – Jira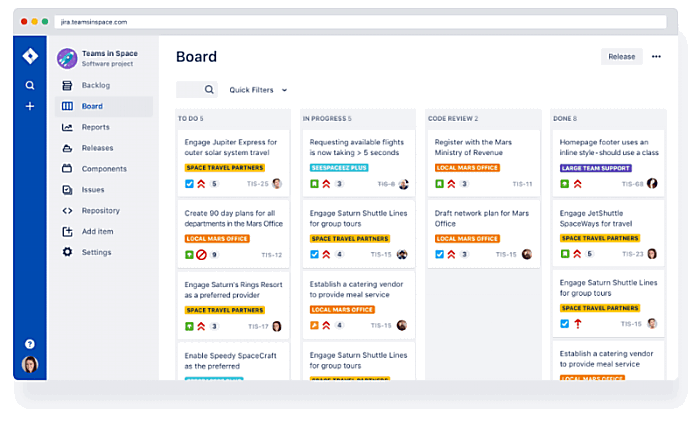 Jira is an agile project management and issue tracking tool, suitable for any agile methodology. It allows you to plan, track, and handle your software development projects and project-related issues in Kanban and Scrum boards.
Notable Jira features:
Business development Project Templates
Roadmaps
Agile reporting options
Custom fields for creating customizable workflows
Sprints
Why use Jira?
If you're a fan of agile project management, Jira may be for you. It provides flexibility and transparency and it's a great organizational tool. You can categorize issues by labeling them, estimate the project budget, and create a customized workflow that fits your team the best.
Available for: iOS, Android, Mac, Windows, Linux, Google Chrome, Firefox, Edge, Safari
Best for customizing your workflow — ClickUp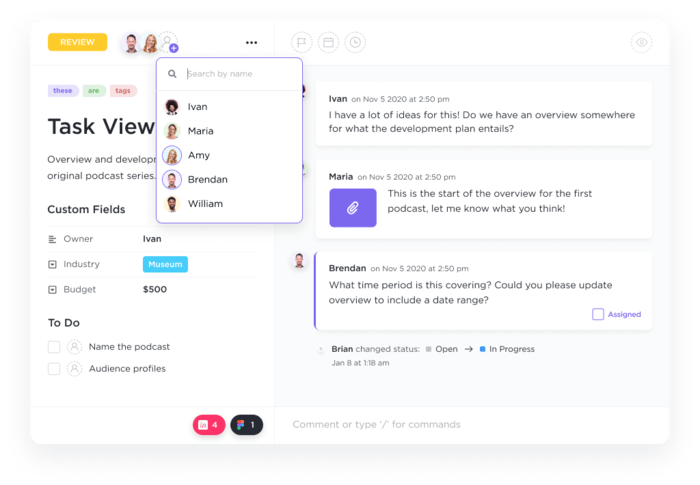 ClickUp is an all-in-one productivity tool that teams of all sizes across industries turn to for a powerful work management solution. It is completely customizable and offers a fully transparent, feature-rich experience to manage your workload, monitor project updates, and connect with the team—no matter what project management style you use.
Notable ClickUp features:
Over 15 views including Chat view
Threaded comments that you can assign and edit
Multiple assignees and watchers in tasks
Real-time editing in ClickUp Docs and Whiteboards
Team insights and real-time reporting
Why use ClickUp?
Collaboration is at the core of every ClickUp feature, with hundreds of functional tools to keep teams updated and aligned on goals. Keep your hybrid, remote, and in-office teams connected with features to ensure everyone in your Workspace is able to comment, edit, and work together efficiently and without overlap. Did we mention you can also integrate ClickUp to 1000+ other work tools? Connect ClickUp to your most-used apps to sync all your work and streamline your team's workflow.
Available for: Web, macOS, Windows, iOS, mobile app, Android
Best project management tool with shared calendar – Asana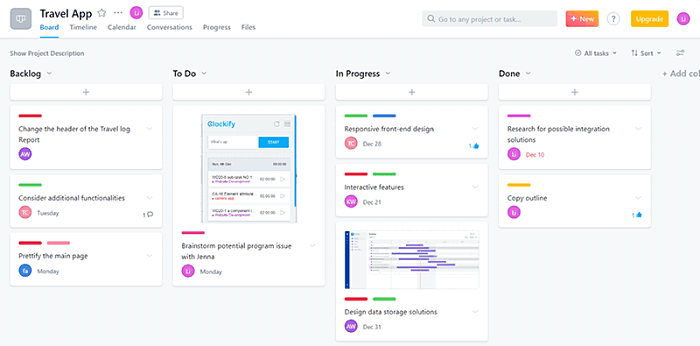 Asana allows your team to approach tasks and projects in a to-do list layout and Kanban-based layout. Add your tasks to the Kanban board and track their progress, or add your tasks to the to-do list board and checkmark them as completed when done.
Notable Asana features:
Asana's shared custom calendar
Adding comments, assignees, and attachments to tasks
Adding due dates to tasks
Tracking tasks on a timeline
Creating and using recurring tasks in multiple projects
Why use Asana?
Asana lets you stay connected to your team, whether you're in the same office or in another country. You can organize tasks and define each stage of work to see what's important and where things are getting stuck. Another useful feature is an option to start discussions with team members and add comments to tasks within the software.
Available for: iOS, Android, Mac, Windows, Google Chrome, Firefox, Edge, Safari
Best for third-party collaboration – Wrike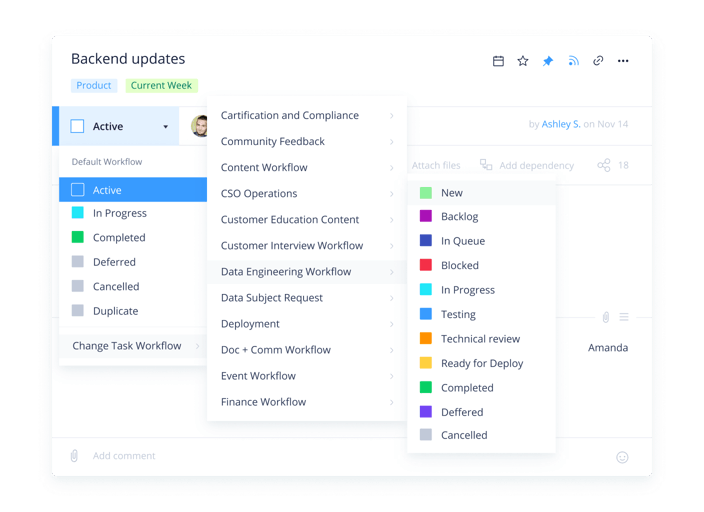 Wrike is a project management tool that allows you to communicate with your team, but also with the people outside your organization. It's great when you need to outsource work to a third party or organize consultations with your client.
Notable Wrike features:
Share images or videos and then highlight important information
Collaborative, simultaneous editing
Visual timelines to help with scheduling
Customizable workflows
Transparent workloads and project resources
Why use Wrike?
Wrike lets you collaborate in real-time across your entire organization. Getting live updates and seeing potential roadblocks before they happen will help you to always be prepared for what's coming next. Since it has a long list of app integrations, it won't be complicated to incorporate it with tools you already use.
Available for: iOS, Android, Windows, Mac
Best for task management – Monday.com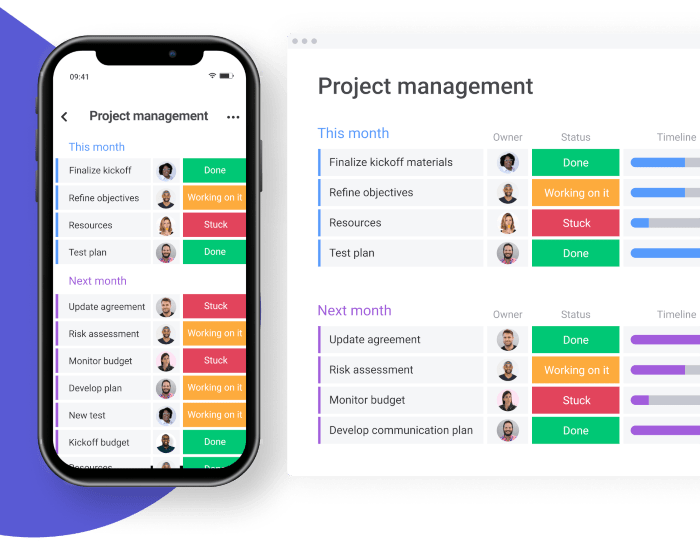 Monday is a work management and productivity app. It is designed to help teams and organizations increase operational efficiency by tracking projects and workflows, visualizing data, and team collaboration. With a variety of project management and collaboration features, it helps teams shape workflows, adjust to shifting needs, create transparency, connect collaboratively, and stop doing manual grunt work.
Notable Monday features:
Milestone and status tracking
Time and expense tracking
Project planning
Project templates
Task, content, and document management
Why use Monday?
With Monday, you can manage everything in one workspace and save time by setting up automations, which helps to improve your productivity. You can also choose if you want to view your data as a map, calendar, kanban, or timeline — whichever motivates you the most to get things done.
Available for: iOS, Android, Mac, Windows, Google Chrome, Firefox, Edge, Safari
Online tools for creating and planning content
A lot of projects require well-designed visuals. Here's a list of tools that will help your team create and plan visual content for social media, blog, site, presentations, and anything else you might need.
Best for presenting designs – InVision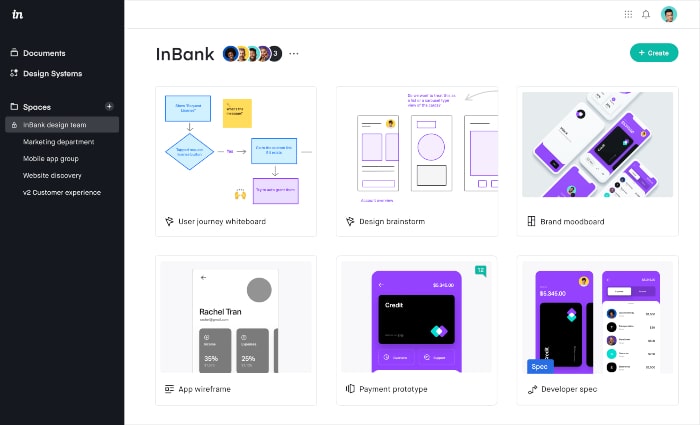 InVision is an app for digital product design, workflow, and collaboration. Made by designers for designers, it allows you to easily create interactive mockups of your design. They provide design tools and educational resources for teams to navigate every stage of the product design process, from ideation to development.
Notable InVision features:
Design sharing and presentation
User Testing and Research
Real-Time Design Meetings and Whiteboarding
Design Feedback and Commenting
Integrations with popular apps such as Slack, Adobe Photoshop, Dropbox, Trello, and Jira
Why use InVision?
Whether you want to present your new design to the team, create interactive prototypes, or discuss the new visual identity for your brand, InVision can come in handy. It makes it easy to communicate thoughts and ideas and collaborate on making the best possible design.
Available for: Mac, Windows, iOS, Android
Best for real-time collaboration – Figma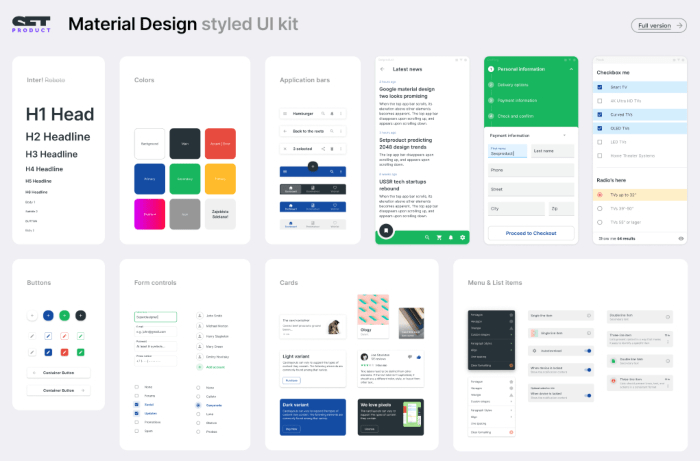 Figma is the web-based collaborative interface design tool that allows real-time collaboration. It connects everyone in the design process so teams can deliver better products in a blink of an eye.
Notable Figma features:
Intuitive prototyping
Built-in commenting
Real-time collaboration
Real-time updating of the project
Share collections of components across projects
Why use Figma?
Nothing great is made alone. Figma effortlessly combines designing with collaboration, so the whole team can explore the ideas together and deliver a great product.
Available for: Mac, Windows, iOS, Android
Best for brainstorming sessions – Visme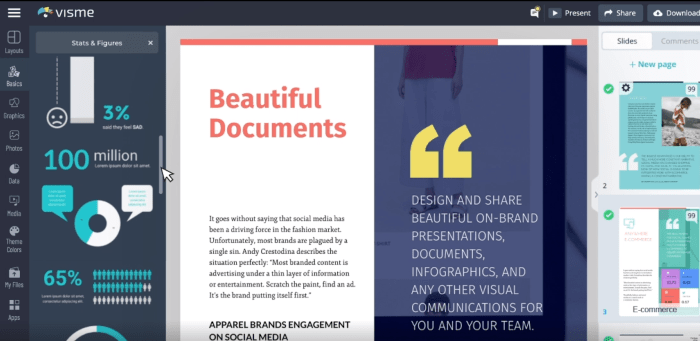 Visme is an online presentations and infographics software solution. Its main aim is to help your team visualize your ideas through thousands of reusable templates and infographics. It's especially efficient as a way to visually present and analyze the data related to the progress of your company.
Notable Visme features:
Flowcharts
Diagramming options
Easy text to chart conversion
The option to map up the brainstorming process
Work offline
Why use Visme?
In Visme, you can create powerful, aesthetically pleasing presentations and infographics, whether you're an amateur or an experienced designer. This user-friendly tool can also take your social media feed to the next level, fast and fairly easy.
Available for: Windows, Mac
Best for social media collaboration projects – Planable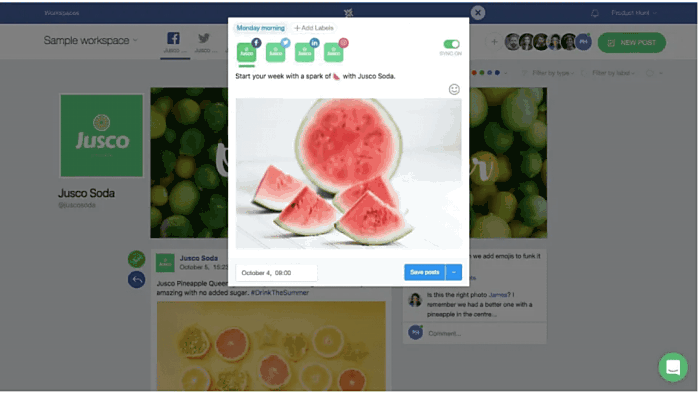 Planable is a social media collaboration platform that lets you preview your Twitter, Instagram, LinkedIn, and Facebook posts before you publish them. You, your team, and your clients can then discuss posts, and tweak your campaign to perfection.
Notable Planable features:
Automatic post publishing
Post scheduling
Create and adapt posts for multiple pages
Create posts by dragging & dropping items
Add and read feedback right next to the mock-up post
Why use Planable?
According to a survey by Sprout Social, 78% of the consumers are willing to buy from a company after having a positive experience with them on social media, while 55% of the consumers find new brands on social media. If that's not a sign to put effort into your social media campaign, I don't know what is — and Planable can help you with that by creating a perfect feed.
Available for: iOS, Android
Online calendar sharing tools
Several efficient online calendars to help your team schedule meetings and tasks in a way that suits the team's daily agendas. And all that while helping you keep an eye on project deadlines.
Best simple calendar for time blocking – Google Calendar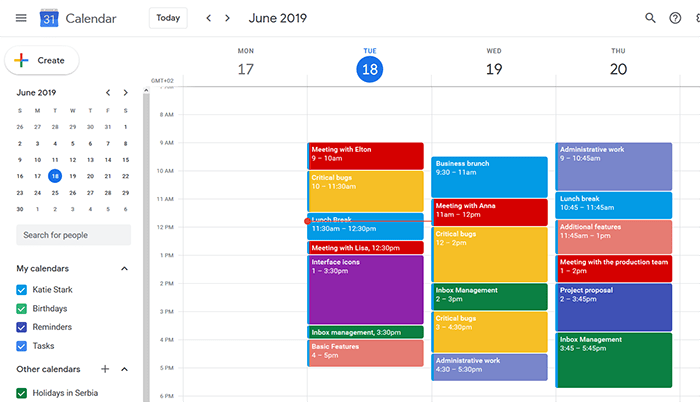 Google Calendar is a simple calendar platform that helps you create, edit, and be reminded of events and deadlines. It allows you to schedule team meetings and events in a way that suits everyone's schedules – through the "find a time" and "suggested time" features. The simple UI makes this tool perfect for time blocking enthusiasts.
Notable Google Calendar features:
Google shared family calendar and other special calendars
Events mentioned in Gmail emails get automatically added to your Google calendar
Define a goal and have the tool automatically schedule goal-related activities at optimal times in the calendar
Enable world clock option to keep track of the time zones of your remote team members
Define individual work schedules to let everyone know when anyone from the team is available for contact
Why use Google Calendar?
If you want a calendar that has a simple and intuitive interface, yet contains many useful features, Google Calendar is a tool for you. It integrates with the majority of apps you already use, so you can have your whole workflow in sync.
Available for: iOS, Android, Google Chrome, Firefox, Edge
Best shared calendar for sales teams – Calendly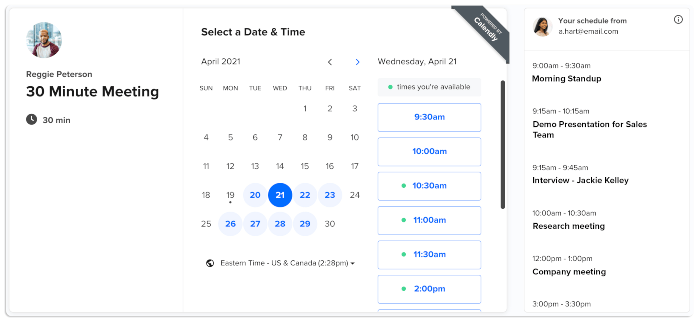 Calendly is a powerful scheduling software solution. Its main aim is to help teams save time, increase sales, and improve the quality of customer service. Make use of the sleek calendar integrations with Google Calendar, Office 365, and Outlook, and avoid double-booking – even if your team members don't use the same calendar. The perfect tool for scheduling group activities such as seminars, webinars, and training workshops.
Notable Calendly features:
Set buffer time between meetings to avoid last-minute arrangements
View team availability on one page
Embed the tool to your own website, for better convenience
Automatically assign meetings to available team members
Track and analyze the types of events team members are most likely to engage in
Why use Calendly?
If you're someone who goes to a lot of meetings, give Calendly a try. It lets you schedule meetings professionally and efficiently, eliminating the hassle of back-and-forth emails so you can get back to work.
Available for: iOS, Android, Google Chrome, Firefox
Best mobile calendar – Any.do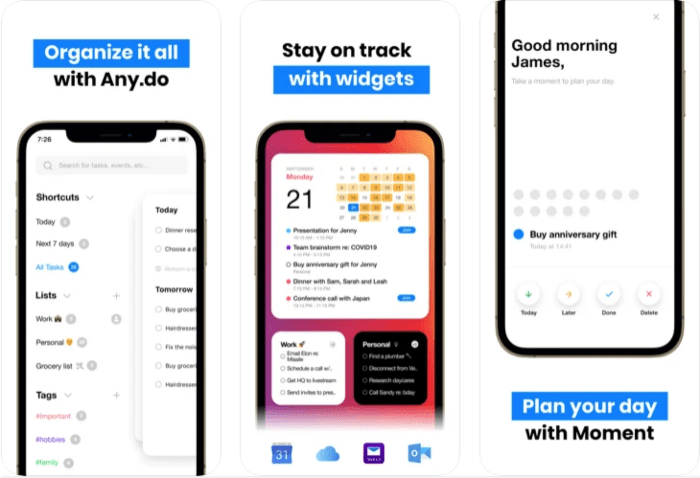 Any.do is a mobile-optimized to-do calendar that lets you plan your workday and then be reminded of the tasks you add to your to-do lists. You can share your tasks and lists for others to see and add notes, sub-tasks, and files to.
Notable Any.do features:
Visually organize tasks, based on their priority levels and categories
Create recurring tasks
Define reminders for one-time events
Define reminders for missed calls
Set reminders to follow up on important decisions after meetings
Why use Any.do?
When you combine a to-do list and a calendar, you get Any.do — keep track of your progress and add smart reminders so you never forget a meeting or an event. You can sync your tasks across devices, so you can access them from anywhere.
Available for: iOS, Android, Mac, Windows, Google Chrome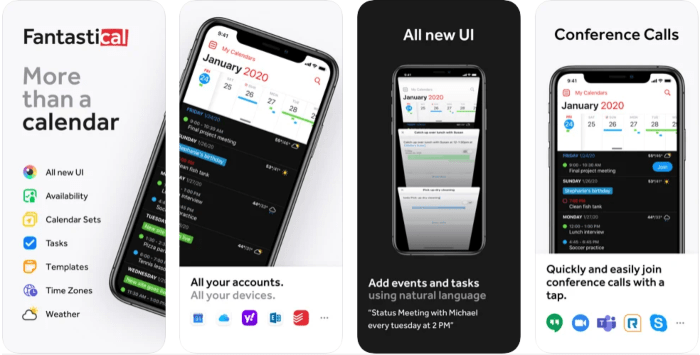 Fantastical is an intuitive and easy-to-use calendar and tasks app. It was the App Store's app of the year in 2020. Fantastical allows you to subscribe to other calendars so you always know if your teammates are available and what are they up to. In addition, when scheduling an event with invitees, Fantastical lets you see your invitees' availability and help you find a time that works for everyone.
Notable Fantastical features:
Upload file and photo attachments
Integrated weather forecast
Switch quickly between calendars
Share schedules with other people
Full task support including Todoist and Google tasks
Why use Fantastical?
With Fantastical, you can customize your calendar experience: see a quick overview of your calendar or browse comprehensive full-screen views of your day, week, month, or year when you need more detail. You can also save time by adding templates to your most frequently used events and tasks.
Available for: iOS, Mac
Online file sharing and cloud storage tools
A list of tools to help you host and share your work – in order to keep everyone up to speed with the latest project resources and documents. Save time, prevent lost data, and make your files accessible everywhere with these apps.
Best all-inclusive file hosting service – Dropbox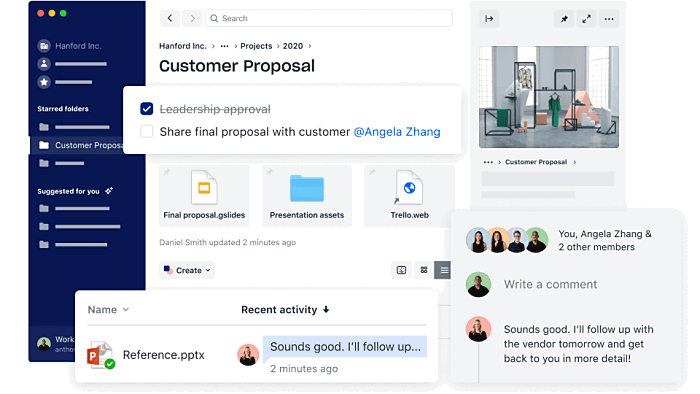 Dropbox is an all-inclusive file hosting service that provides a range of features, including file synchronization, file sharing, and cloud storage. You and your team will be able to store and share your files, both among yourselves or with clients, as well as sync them across devices.
Notable Dropbox Notable features:
Sharing and storing large files and folders (up to 2 TB)
Smart content suggestion for easy access to important documents
A sleek calendar integration
Dropbox Paper, a team collaborative doc with timelines and to-dos
Automatic back-up for all changes
Why use Dropbox?
With Dropbox, you can keep organized and securely share files with your team members. It's also a helpful tool for managing tasks, tracking file updates, and staying in sync with your coworkers and clients.
Available for: Windows, Mac, Linux, iOS, Android, Google Chrome, Firefox, Edge, Safari
Best for file transfer – WeTransfer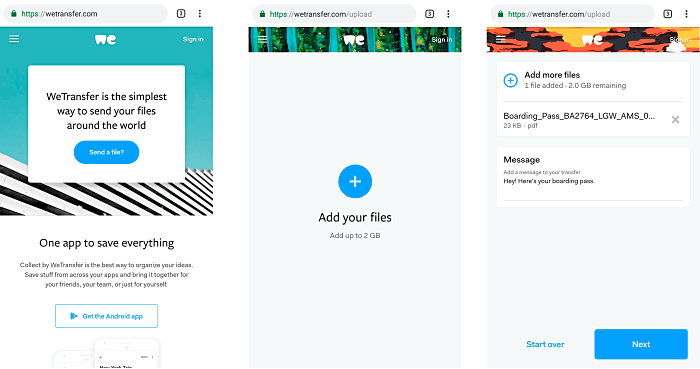 WeTransfer is a simple file sharing service that specializes in the easy transfer of large files – up to 2 GB or 20 GB. All you essentially need to do to send a file is provide your email address and the email address of the person you're sending the file to. And, you don't need to register for an account.
Notable WeTransfer features:
Add comments to files
Long term storage – forward and resend files as needed
Password protected transfers, for higher security
Send or receive transfer files via Facebook or Twitter
Customizable options
Why use WeTransfer?
WeTransfer lets you update files as big as 200 GB and send them fast, easily, and securely. You also get up to 1 TB of storage, so you can store as many files as you need.
Available for: iOS, Android, Windows, Mac, Google Chrome, Firefox, Edge, Safari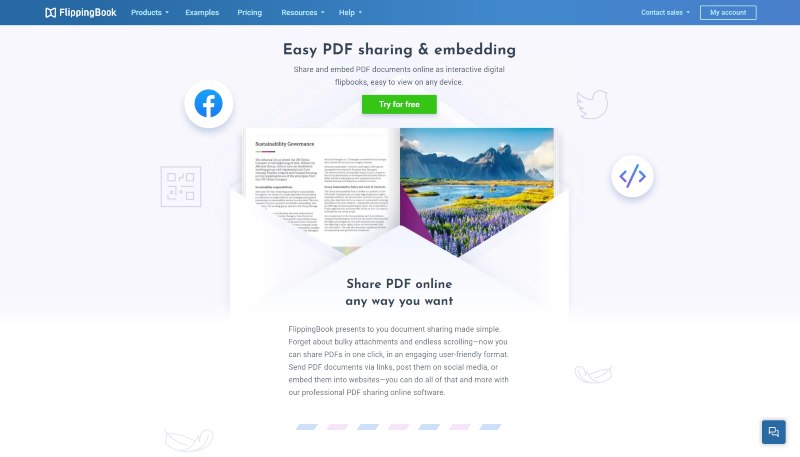 FlippingBook is a professional tool for sharing PDFs online. All you need to do is upload a PDF, and the tool will convert it to a digital flipbook that you can share and track any way you want.
Notable FlippingBook features:
Multiple sharing options: send as a link, embed into a website, send via a QR code
Watch and analyze statistics to evaluate how your content performs
Secure sharing: you can restrict print and download options, set a password, and more
Adding videos, pop-up images, GIFs, and links to make your document interactive and engaging
Built-in lead capture form to collect leads and gather their contacts right within your document
Why use FlippingBook?
FlippingBook makes it easier for teams to collaborate: create flipbooks in a private workspace, use private or shared folders, and integrate other tools for smoother workflows. The tool offers multiple features already built-in for your convenience: branding, lead capture form, document analytics, and more.
Available for: Windows, Mac, iOS, Android
Online communication tools
Team discussions, sharing ideas and knowledge, getting answers fast: efficient communication is the key to efficient collaboration. So, here are the current best app solutions for all your group and direct chats with colleagues.
Best for fast collaboration – Pumble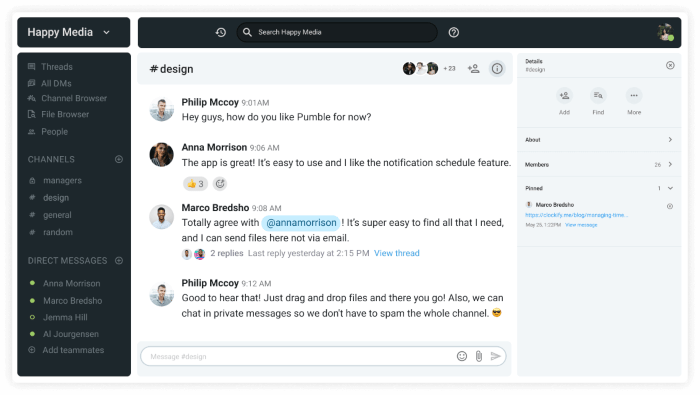 Pumble is a free communication and collaboration app for teams. You can tag your teammates, send them a document (or a meme), and pin the most important messages. It also allows you to create public or private channels with custom names and descriptions to collaborate on projects and securely exchange information.
Notable Pumble features:
Real-time communication
Unlimited chat history and unlimited users
Quickly sharing and finding files and links
Smart notifications
Option to customize your workspace and manage who can do what
Why use Pumble?
Unlike other online communication tools, Pumble gives you unlimited chat history and an unlimited number of users — for free, forever. Get the work done efficiently and easily collaborate with your team by exchanging messages and files in real-time.
Available for: Windows, Mac, Linux, iOS, Android, Google Chrome, Firefox, Edge, Safari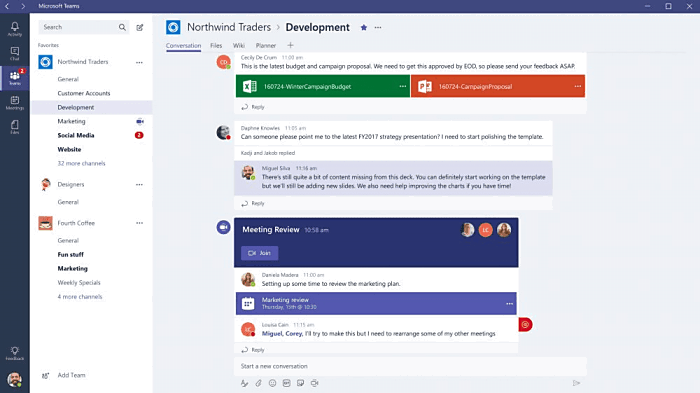 Microsoft Teams is an enhanced group chat app that lets you chat with your team, hold video meetings, but also store and share relevant files. Essentially, you'll get a combination of popular Microsoft Office tools (Word, Excel, Powerpoint, Skype, and Microsoft Outlook) to help you with your work, all from one place.
Notable Microsoft Teams features:
Manage all your group chats through aptly-named, topic-specific private or public channels
Share files with others as links
Open documents and external websites alongside your conversations, in tabs
Instruct bots to complete various tasks for you
Microsoft Whiteboard
Why use Microsoft Teams?
If emails are too slow for you and your team, try Microsoft Teams. Make group chats more efficient by incorporating video calls, sharing content, and communicating in real-time no matter where you are.
Available for: Windows, Mac, Linux, iOS, Android, Google Chrome, Firefox, Edge, Safari
You and your team can track time you spend on tasks and to-dos, or fill out a timesheet directly in Microsoft Teams, by using Clockify.
Best for staying on track with your work – Slack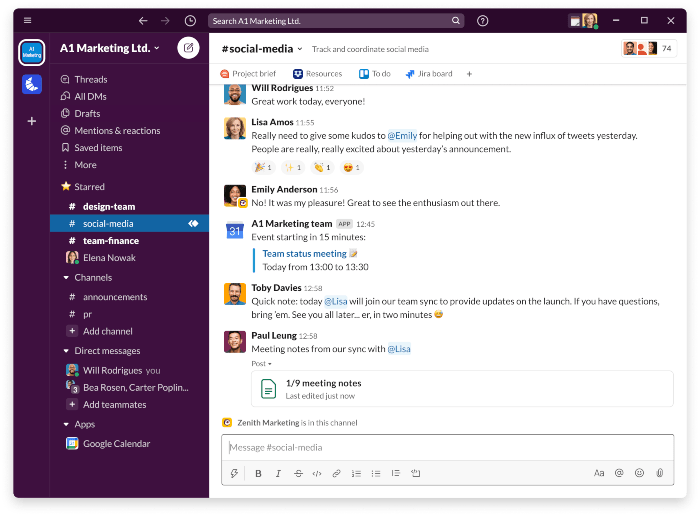 Slack is a simple communication tool that lets you communicate with groups, in specialized channels and shared conversations. Or, one-on-one, in private direct conversations. You'll be able to plan and keep track of your work through reminders, threads, and pinned files and conversations.
Notable Slack features:
Set location statuses (In a meeting, Commuting, Out sick, Vacationing, etc.)
Organize projects, tasks, and team locations by channel
Quick file sharing
Audio & Video-conferencing
Newsfeed
Why use Slack?
Whether you chat with one person or with a whole team, Slack is a simple and organized way to communicate. You can also chat face-to-face with just one click. You aren't limited to your company's workspace; you are able to exchange messages with people from other companies, too.
Available for: Windows, Mac, Linux, iOS, Android, Google Chrome, Firefox, Edge, Safari
Best communication tool for remote teams – Flock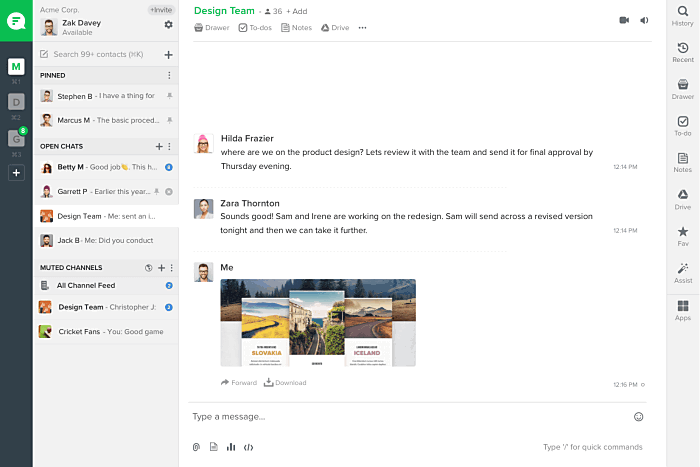 Flock is a communication and collaboration tool meant to help your team brainstorm and share ideas, discuss projects, either in larger groups (via channels) or one-on-one (via direct messaging). You and your team will be able to conduct audio & video calls, as well as improve workflows through notes and reminders.
Notable Flock features:
Get notifications from other integrated apps, directly to the app
Define and tackle shared to-dos
Convert discussions into actionable tasks
Full access to Google Drive, directly from the app
In-app polls, to facilitate decisions making
Why use Flock?
Flock is a shared space for all your cross-functional work. Discuss what's important, problem-solve, and avoid the chaos and clutter by making a channel for each discussion.
Available for: Windows, Mac, Linux, iOS, Android, Google Chrome, Firefox, Safari
Best business phone system for teams – OpenPhone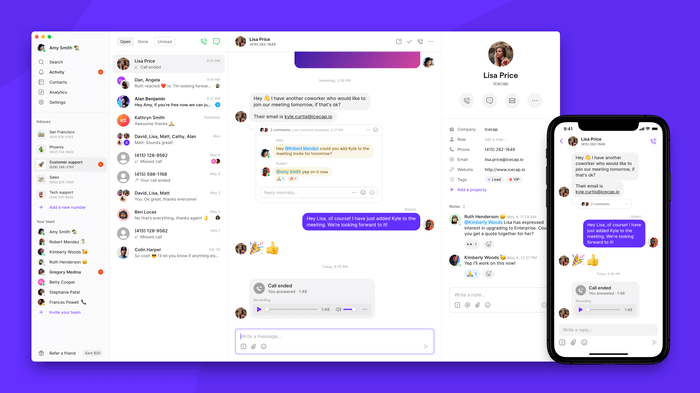 OpenPhone is a modern business phone solution that can help you streamline your team's calling and texting. With OpenPhone, you can easily deliver a professional phone presence and have as many phone numbers as your team needs. Work together from a shared inbox or assign numbers to teammates that serve as direct lines.
Notable OpenPhone features:
Integrations with HubSpot, Zapier, Slack, Gong, and Gmail
Unlimited calling and texting to the US and Canada
Save text templates, set up auto-replies, and other texting features
Automatically record calls
International calling and texting at a fraction of the cost of traditional carriers
Why use OpenPhone?
Easily access OpenPhone via WiFi and collaborate with your team to deliver the best experience possible to your customers. You can tag teammates on any conversation to brainstorm responses and assign tasks. Using shared numbers, anyone on your team with access can move conversations forward.
Online tools for collaborative work
Waiting for your colleague to finish work on a document so you can take over is time-consuming. It's also riddled with possibilities for errors and mishaps. If your team wants to avoid having 30 variations of the same document and not knowing which one is the final one, check out Google Drive's collection of real-time collaboration services.
Best for real-time collaboration in a word editor – Google Docs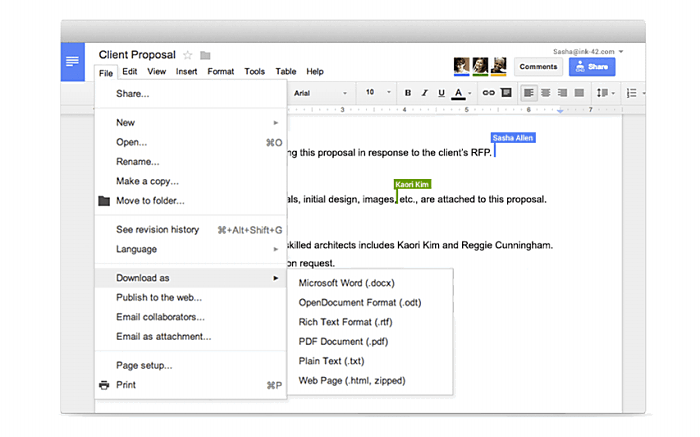 Google Docs is a Microsoft Word-like editor that allows you to write and edit any type of text simultaneously with your team members. Just, invite people to the document, set everyone's permissions (whether they can view, suggest, or directly edit in the document), and start writing.
Notable Google Docs features:
Automated sync and save of all document changes
Download and save finished docs in several different formats – Microsoft Word, Plain Text, PDF, etc.
Format documents
Work offline, if needed
Import Word documents, and work on them further with your team
Why use Google Docs?
If you're a writer, you're probably familiar with the hassle of emailing the same document back and forth until everyone is satisfied with the text. Or the stress of your computer crashing before you saved the document you're working on. Google Docs solves both problems — you can suggest changes directly in the document and all the changes are automatically saved.
Available for: iOS, Android, Google Chrome, Firefox, Safari, Opera
Best for real-time collaboration in a spreadsheet – Google Sheets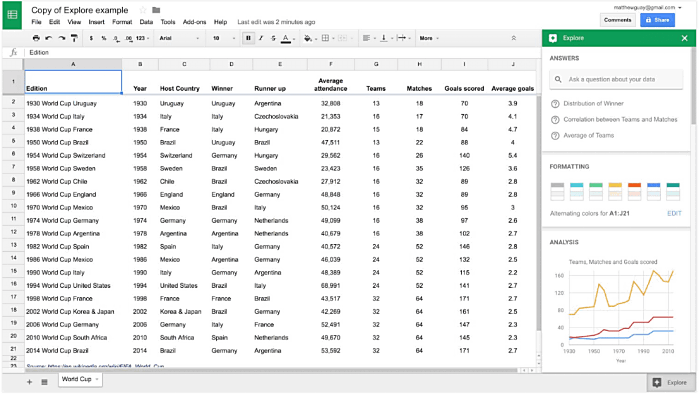 Google Sheets is the perfect alternative to Microsoft Excel – with enhanced features such as real-time collaboration, as well as automatic syncing and saving for all edits. Add data and statistics to the sheet cells before using it to create visual pie, bar, and line charts and graphs.
Notable Google Sheets features:
Download and save finished sheets in several different formats – Microsoft Excel, PDF, Web page, etc.
Import spreadsheets, and work on them further in a team
Build formulas to calculate numbers and further manipulate data
Import data from RSS feeds
Create QR codes
Why use Google Sheets?
With Google Sheets, not only does your data always stay up to date, but Google's artificial intelligence does the majority of data analysis for you. It can also suggest formulas, build charts, and create pivot tables to make the process easier.
Available for: iOS, Android, Google Chrome, Firefox, Safari, Opera
Best for real-time presentation collaboration – Google Slides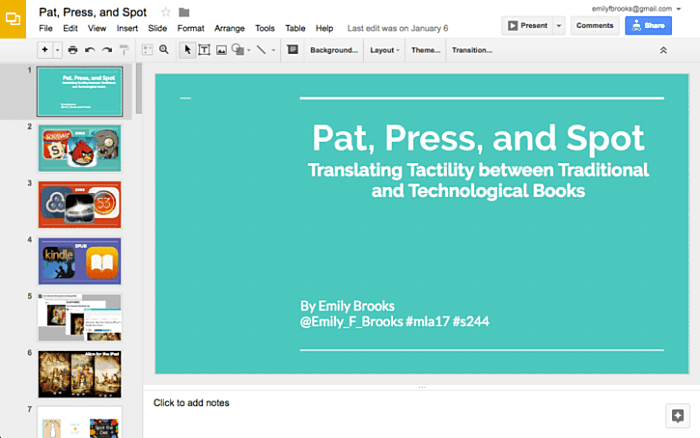 Google Slides are a great solution to help your team build efficient PowerPoint presentations together, in real-time. Write the gist of your idea in each slide, and then further define and embellish your slides with slide-transition, text effects, and images.
Notable Google Slides features:
Publish presentations on the web and embed them on websites
Add and follow speaker notes
Host sleek Q & A sessions
Access your revision history, in order to restore previous versions for the presentations you think you've over-edited
Download and save finished presentations in several different formats – Microsoft PowerPoint, PDF, JPG, and PNG for each slide, etc.
Why use Google Slides?
Whether you are an executive team that has to present a new business strategy or a group of students making a presentation for class, Google Slides is the most convenient tool to get the job done. It allows you to create clean and simple presentations in your web browser, access them from any device, and share them with just a couple of clicks.
Available for: iOS, Android, Google Chrome, Firefox, Safari, Opera
Online video-conferencing tools
Online video-conferencing tools are perfect for remote teams who cannot meet face-to-face every day to conduct daily standup meetings. Such tools help teams to be more connected, have better communication, and collaborate more efficiently.
Best for quick video chats – Skype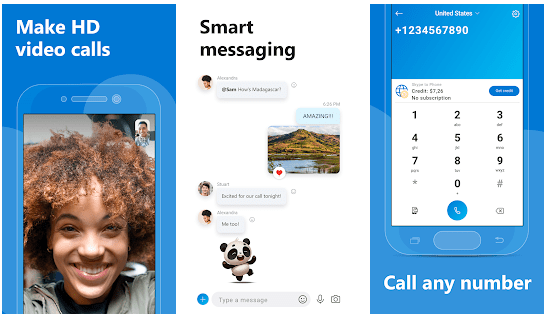 Skype is a simple, free tool for video, audio, text chats, and calls with up to 50 people. It's suitable for longer meetings but works especially well for quick consultations you want to conduct with your remote clients and team members.
Notable Skype Features:
Online Skype whiteboard
Instant messaging and SMS text messaging
Leaving and listening to voicemail
Chat history you can access for up to 30 days
Screen sharing
Why use Skype?
Skype is a great, user-friendly tool for connecting with people wherever they are in the world. It contains the Live subtitles feature, so it's accessible even to those who are deaf or hard of hearing. If your company uses Office 365, Skype is the best choice as it's fully integrated into that suite and works seamlessly.
Available for: iOS, Android, Windows, Mac, Google Chrome, Edge, Safari, Opera
Best for webinars and video conferencing – Zoom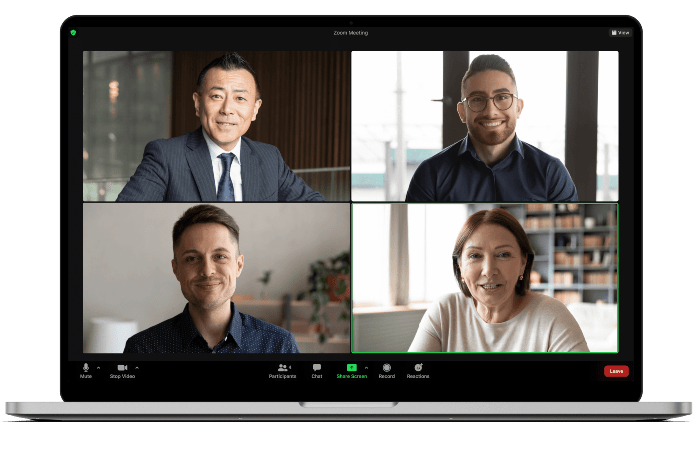 Zoom is predominantly a cloud-based video communication tool. It's great when you want to set up online meetings, video conferences, demonstrations, as well as webinars, training sessions, and classes.
Notable Zoom features:
Screen and application sharing
Up to 100 or 500 participants for one meeting, or up to 10,000 viewers for webinars
Host several meetings at the same time
Voice detection that makes the camera view automatically focus on the speaker
Record meetings and then upload them to YouTube or OneDrive
Why use Zoom?
Zoom offers HD audio and video conferencing, as well as a variety of collaborative tools such as screen sharing, easy content sharing, and whiteboarding. In addition, participants can make direct edits to documents or co-annotate in real-time during the meeting.
Available for: Mac, Windows, Linux, iOS, Android, Google Chrome, Firefox
Best for third-party meetings – GoToMeeting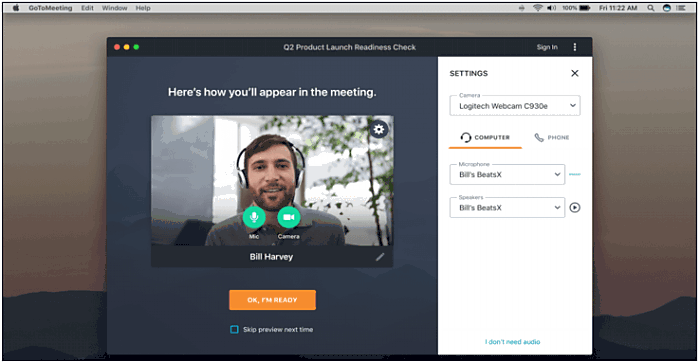 GoToMeeting is an online meeting tool aimed at helping your team collaborate with clients and customers. You'll get to schedule meetings in personalized meeting "rooms". Invite up to 250 participants automatically, and converse with them via 25 simultaneous webcams in HD.
Notable GoToMeeting features:
Convert videos to slides
Launch meetings in one click, via email and popular messaging tools
Transition from informal chats to full-blow meetings in an instant
Save and share transcripts of your recorded meetings
Screen sharing
Why use GoToMeeting?
Collaborate with your team quickly and securely, anywhere and on any device. GoToMeeting offers a variety of useful features, from drawing tools and keyboard sharing to transcriptions and recording calls. Security is one of their biggest priorities, so all sessions are encrypted and you can lock your meetings.
Available for: Mac, Windows, iOS, Android, Google Chrome, Firefox, Internet Explorer
Best full-package solution for IT professionals – Lifesize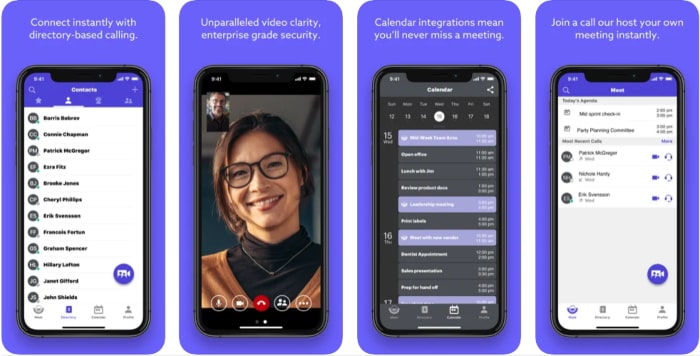 Lifesize is a communication system that allows you to create meeting rooms and integrated directories. Works great for both one-on-one meetings or full-blown seminars and forums. You'll be able to Invite and include both the participants and the audience of seminars within one app.
Notable Lifesize features:
Integrations with Slack and Skype
Use the drawing tool to visualize your ideas on shared screens
Record and store meetings online, before sharing or analyzing them
Video and audio conferencing
Connect across various devices
Why use Lifesize?
Lifesize video meeting and contact center solutions are designed to meet the changing face of work and make remote work as smooth as possible. It offers 4K video quality, excellent audio performance, and cloud contact center software.
Available for: Windows, Mac, iOS, Android, Google Chrome, Firefox, Edge, Safari
Online whiteboards
Sometimes you just need to draw up your idea instead of explaining it in a live video chat to your team. Whether you want to brainstorm, discuss, or present your brand new idea(s), this is where simple online, interactive whiteboards are best to come into play.
Best online whiteboard for team discussions – Miro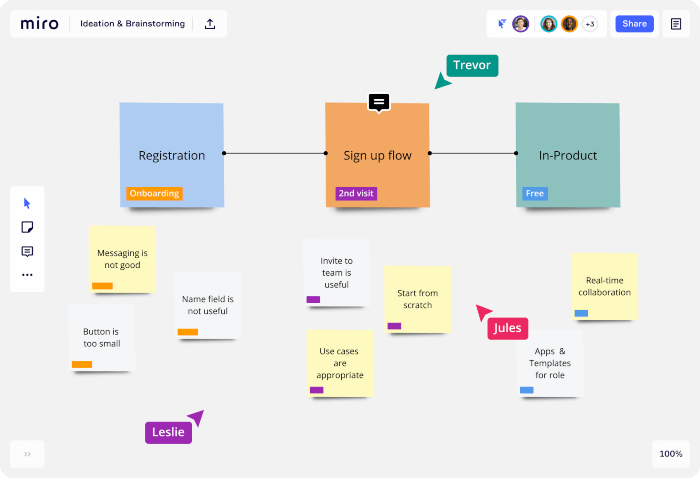 Miro is an online collaborative whiteboard platform. It helps you and your team to build and develop ideas, brainstorm, and explain complex processes and systems with visual mapping and diagramming.
Notable Miro features:
Infinitely zoomable canvas
Prebuilt templates
Easy screen sharing and presentations
Multiple communication options for feedback, comments, and reviews
Video conferencing
Why use Miro?
Miro makes team discussions in a remote environment just as effective as if the whole team was on-site. You can collaborate both in real-time and asynchronously, plan projects from all angles, and create centralized hubs of information to keep everyone in the loop.
Available for: iOS, Android, Mac, Windows, Google Chrome, Firefox, Safar, Opera, Edge
Best online whiteboard for brainstorming – MURAL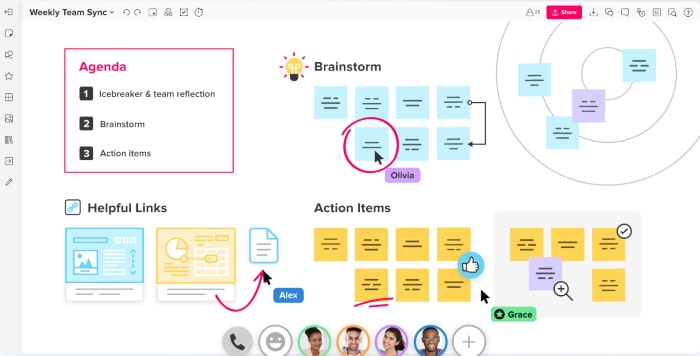 MURAL is a platform for teams to collaborate visually and problem-solve faster with an easy-to-use digital canvas. It has a wide variety of features that make brainstorming and coming up with fresh ideas easier.
Notable MURAL features:
Add images, gifs, sticky notes, and text
Drawing
Summon feature to make sure everyone is looking at the same content at the same time
Text chat
Ability to guide participants with instructions and hiding/revealing of next steps
Why use MURAL?
With MURAL, everyone can contribute and share their input, so the team solves a problem as fast as possible. It has powerful facilitation features, guided methods, and the option to customize your session experience to fit your needs.
Available for: iOS, Android, Mac, Windows, Google Chrome, Firefox, Edge, Safari
Best online whiteboard for remote workers – Bluescape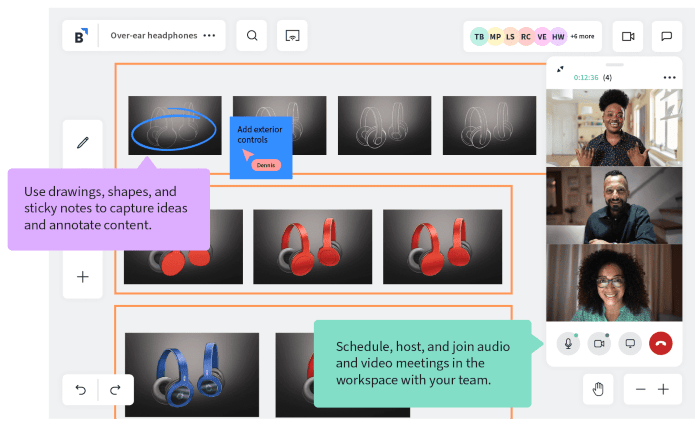 Bluescape is a virtual collaboration platform that brings your meetings and visions to life. You can collaborate either in real-time or asynchronously: no matter where you are and in what timezone you're in, you can discuss and create in one visual, persistent space, where ideas are captured and preserved.
Notable Bluescape features:
Infinite canvas
Video conferencing
Full-screen presentations with the ability to add annotations
Upload videos and sync playback
Connect physical rooms and remote participants
Why use Bluescape?
Bluescape is a tool that lets you improve collaboration across distributed teams. It lets you brainstorm and refine concepts on a collaborative whiteboard, share feedback, present, and do everything else your remote team might need to collaborate and crush your goals.
Available for: iOS, Android, Google Chrome, Firefox, Edge, Safari
✉️ What are your favorite online collaboration tools? What tools does your team use the most? Let us know at blogfeedback@clockify.me to be featured in this or future posts.