16 best Chrome extensions for productivity in 2022
For years now, Google Chrome has dominated the global market share. In fact, according to a Statista research, Chrome accounts for 66.6 % of global usage, as of December 2021. If you're reading this — chances are you're using Chrome to do so.
On the other hand, what some people may not know is that you can utilize Chrome's web store to make your day more efficient and productive, simply by installing an extension.
We've taken it upon ourselves to find some of the best Chrome extensions that can increase your productivity levels, whether you're a student, a full-time employee, or a freelancer.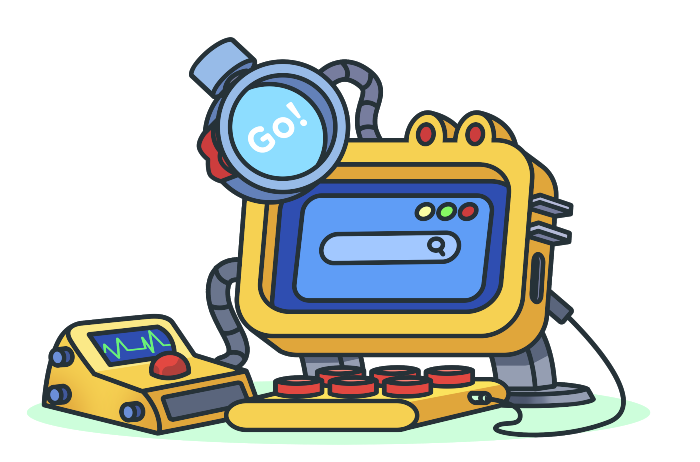 A list of the best 16 Chrome extensions in 2022
Here's a breakdown of the extensions that we'll cover in-depth in the following paragraphs:
Clockify
Google Keep
Grammarly
Todoist
Adblock
Hypercontext
LastPass
Noisli
Infinity
Nimbus
Clickup
Blocksite
Forest
Tab Suspender
StayFocusd
Vimium
Clockify — for tracking time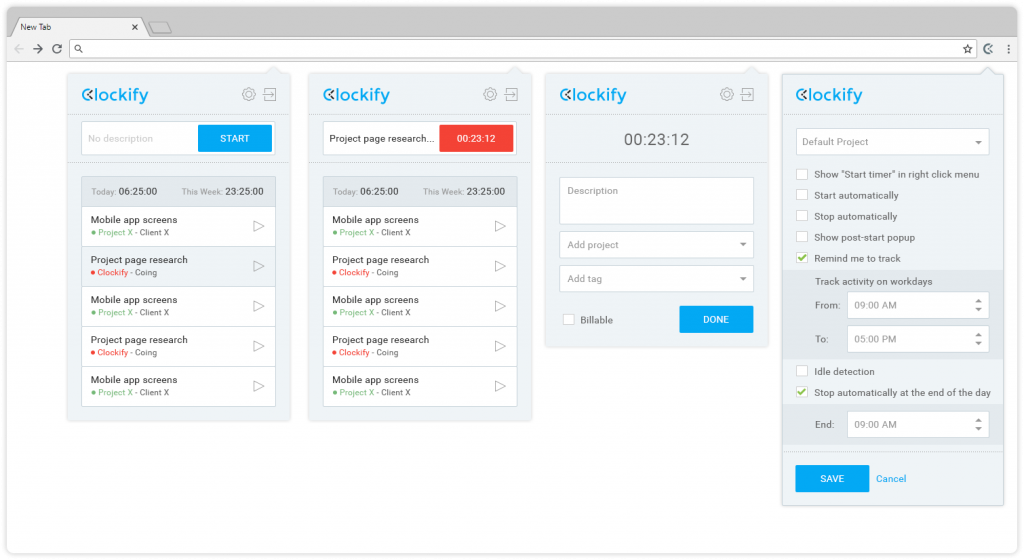 🔹 What is Clockify?
Clockify is a time-tracking app that allows you to accurately track your activity across apps and the web with a single click at the start of the day. To make matters even easier, the extension further simplifies the process.
There's no need to open the Clockify app or go to the website — simply start the timer at the extensions bar and get started with your day.
🔹 Why use Clockify?
Aside from tracking time, Clockify lets you:
Organize time entries,
Input descriptions,
Sort time entries by projects/tasks,
Analyze your day, and
Export the results in PDF.
Furthermore, Clockify's basic plan is absolutely free for an unlimited number of users, but you can get access to extra features for a relatively low monthly price if you upgrade to advanced plans.
🔹 Clockify's highlight feature:
If you're struggling with staying productive, you can use the Pomodoro timer to set intervals for working/studying and taking breaks. Also, you can eradicate laziness by activating features such as idle detection or alerts for specific tasks.
💡 Clockify Pro Tip
If you want to learn how to enhance your productivity even further, take a look at our student and freelance productivity guides: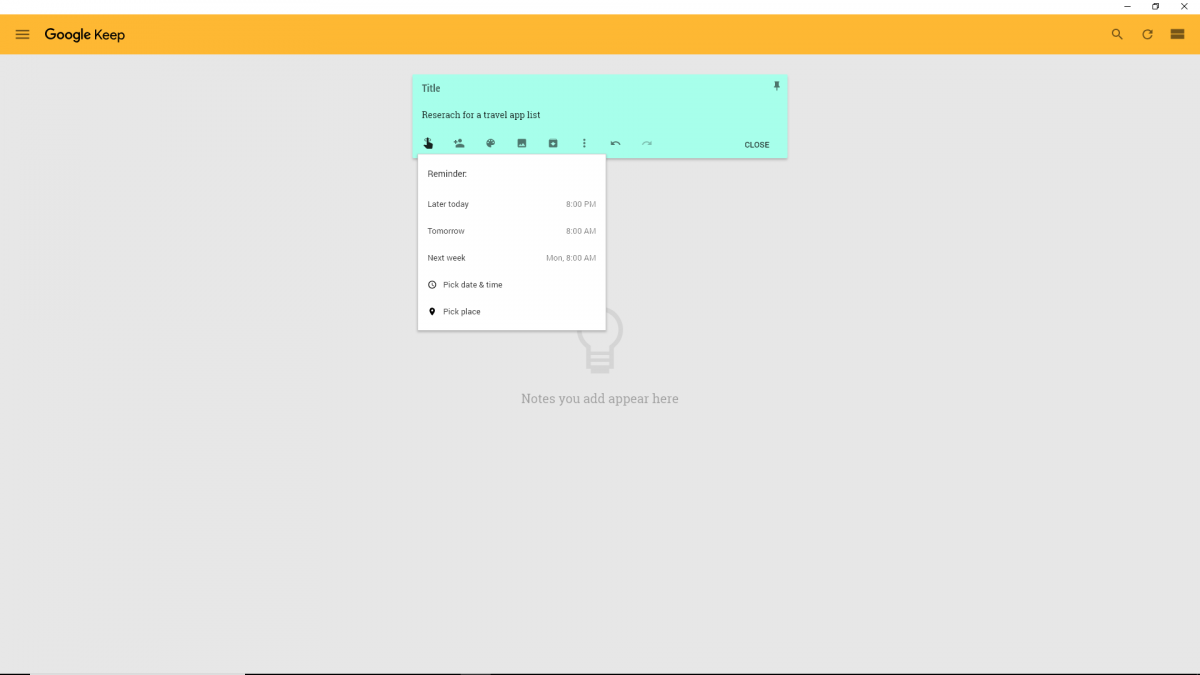 🔹 What is Google Keep?
Google Keep is an excellent Chrome extension for keeping all your data neatly organized. Its primary function is to help you take notes and create to-do lists, but you can also save images and pages and then add notes to them.
Moreover, you can even take notes by making voice memos that are later transcribed.
🔹 Why use Google Keep?
If you often keep a large number of notes and you're constantly shifting between tasks, Google Keep's color-coding system will surely be of help to you — find what you need at any time.
Furthermore, all your data can be synchronized across devices, if you have the app installed.
🔹 Google Keep's highlight feature:
The extension lets you set up location-based reminders for your notes and lists. Say you have to do some on-location research for a travel app — just make a list of all the details you should keep an eye on, and set a location-based reminder so that Google Keep pulls up your list as soon as you get to the location.
Grammarly — for grammar and spell-checking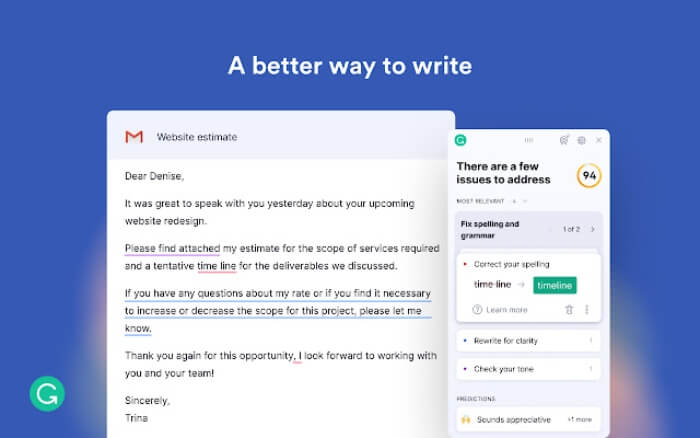 🔹 What is Grammarly?
Every student in the modern era has either heard about or used Grammarly at some point. It is a software that possesses the ultimate grammar knowledge, combined with:
Spell-checking capabilities,
Advanced suggestions,
Clarity corrections, and
Style adjustments.
The extension follows you on most sites that have text fields and it'll start running as soon as you start typing.
🔹 Why use Grammarly?
Grammarly is an excellent accessory for everyone — students, teachers, reporters, and even office workers. It can significantly cut your typing time, affect your overall writing performance, and leave you worry-free when you have to send an important email.
🔹 Grammarly's highlight feature:
If you're writing an important text and you need it to be absolutely perfect, Grammarly has a "Plagiarism" section that cross-references your text to thousands of other web pages to find identical sentences or phrases. It's a handy feature for reporters, writers, and, of course, students.
💡 Clockify Pro Tip
If you have that one important exam coming up and you know there's no way you can 100% prepare for it, you should try some of the best Chrome extensions for students. They won't pass the exam for you, but they'll surely help you make a step toward that goal.
Todoist — for task management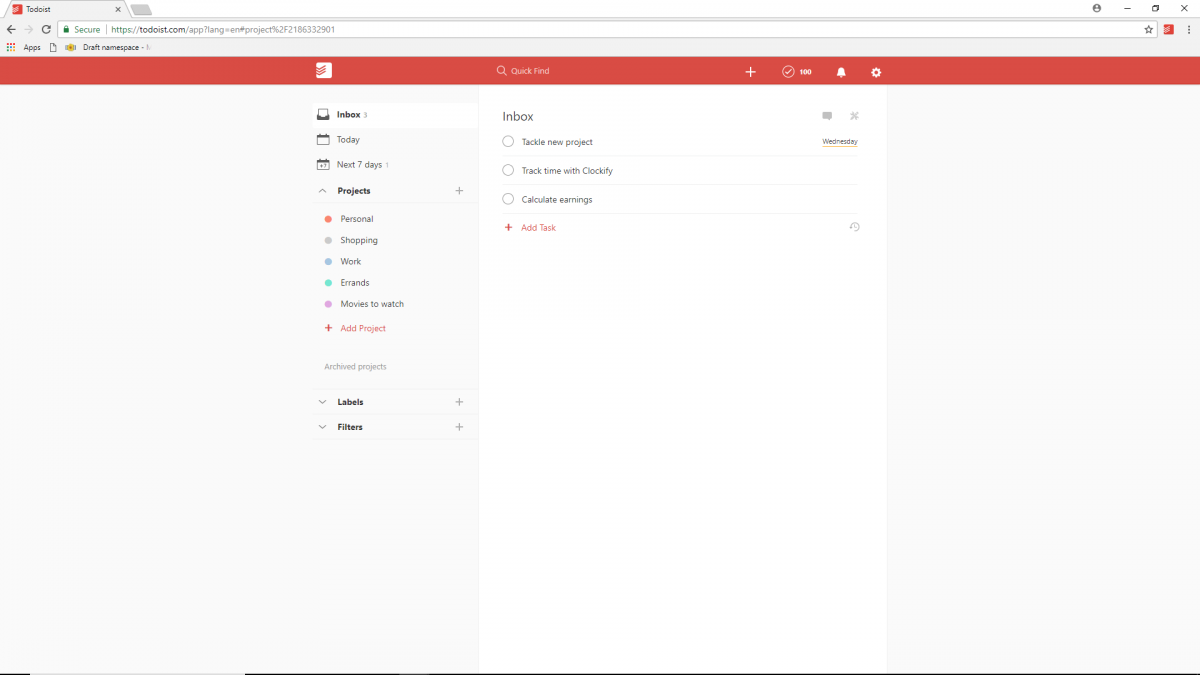 🔹 What is Todoist?
The Todoist Chrome extension is a simple, but useful task manager. It allows you to keep track of your projects and manage all your tasks by organizing and delegating them directly from your Chrome.
With Todoist, you'll never again worry about missing deadlines — add due dates, set up reminders, and build productive habits with Todoist's recurring-date option.
🔹 Why use Todoist?
To fully utilize every second of your time, you can color-code your projects, create sub-groups and sub-projects, and really micromanage your daily workload.
Moreover, you can use the extension to collaborate with other people — prioritize projects and delegate tasks to your co-workers in an easy and straightforward way.
🔹 Todoist's highlight feature:
If you're battling with tons of emails on a daily basis, you can integrate Todoist into your personal or work account.
Then, you can forward emails directly into Todoist and label them as "tasks" or "comments", which can further be accessed through the extension. This is a clean way to centralize your workspace and fully utilize Todoist's features in a simple way.
AdBlock — for blocking ads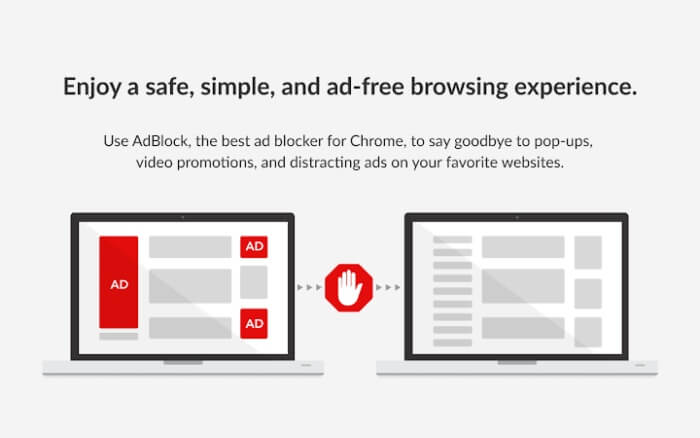 🔹 What is AdBlock?
If your daily assignments require you to do a bit of online research, you know how frustrating it can be to find what you're looking for, only to be ambushed by a bunch of ads and sponsored videos.
That's where AdBlock comes to the rescue.
The name speaks for itself — this extension runs in the background and blocks out all the annoying ads and pop-ups that welcome you when you visit websites such as YouTube or Facebook. It'll do it automatically and you don't have to click anything — just let it do its job.
🔹 Why use AdBlock?
Aside from helping you focus on your work, AdBlock will also keep you safe by recognizing and blocking out malware and malicious pages.
🔹 AdBlock's highlight feature:
AdBlock lets you substitute blocked pages with pictures of your choosing. Moreover, you can customize your experience with AdBlock by choosing some beautiful themes.
Hypercontext — for business collaboration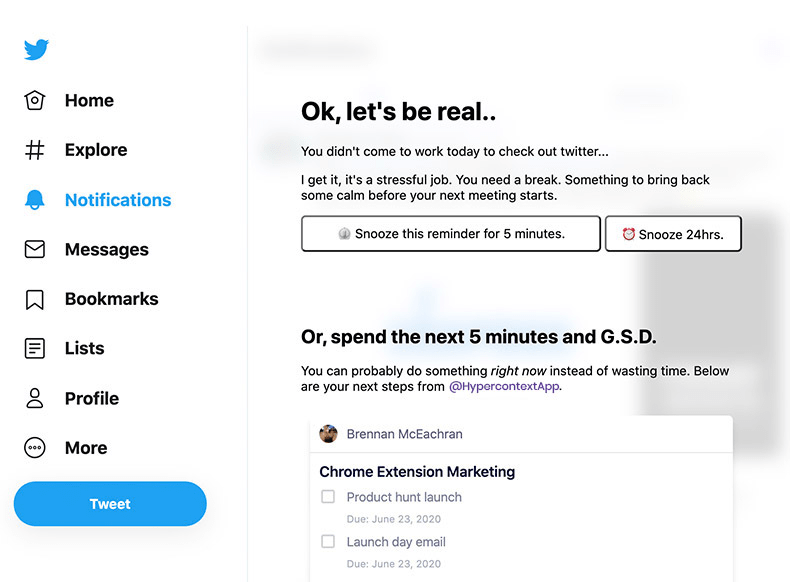 🔹 What is Hypercontext?
Hypercontext is a software solution that empowers over 100,000 managers and their teams to be high-performing by combining:
Quarterly priorities,
Weekly meetings, and
Engagement measures.
🔹 Why use Hypercontext?
With Hypercontext, you're able to:
Build collaborative meeting agendas for one-on-one, team, and cross-functional meetings,
Access hundreds of conversation starters, and
Hold everyone accountable for sharing feedback at every single meeting.
With the freemium chrome extension, you can add to your meeting agenda from any tab, manage your agendas and steps through Google Calendar, and use your agenda directly in Google Meet.
🔹Hypercontext's highlight feature:
The extension comes with an optional GSD feature that stops you from getting distracted on social media and prompts you to focus on preparing for your next meeting instead.
LastPass — for managing passwords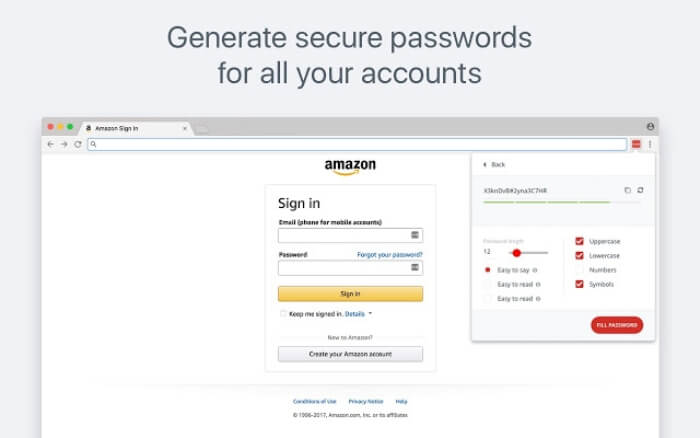 🔹 What is LastPass?
Most of us save all our passwords on our Google accounts. But what happens when you forget the password to Google?
That's where LastPass steps in.
Aside from keeping track of all your passwords across the web, you can use LastPass to save data such as insurance card credentials, passport information, forms, and addresses.
🔹 Why use LastPass?
LastPass' software excels at monitoring and securing your data, protecting you from malware, and it even sends you alerts if your saved information is at risk from third parties.
Also, it generates strong passwords and sends you suggestions on how to improve existing ones.
🔹 LastPass' highlight feature:
You'll manage all your passwords with a single master password for LastPass. Also, you'll never worry about safety as long as you set up multi-factor authentication.
Noisli — for work/study relaxation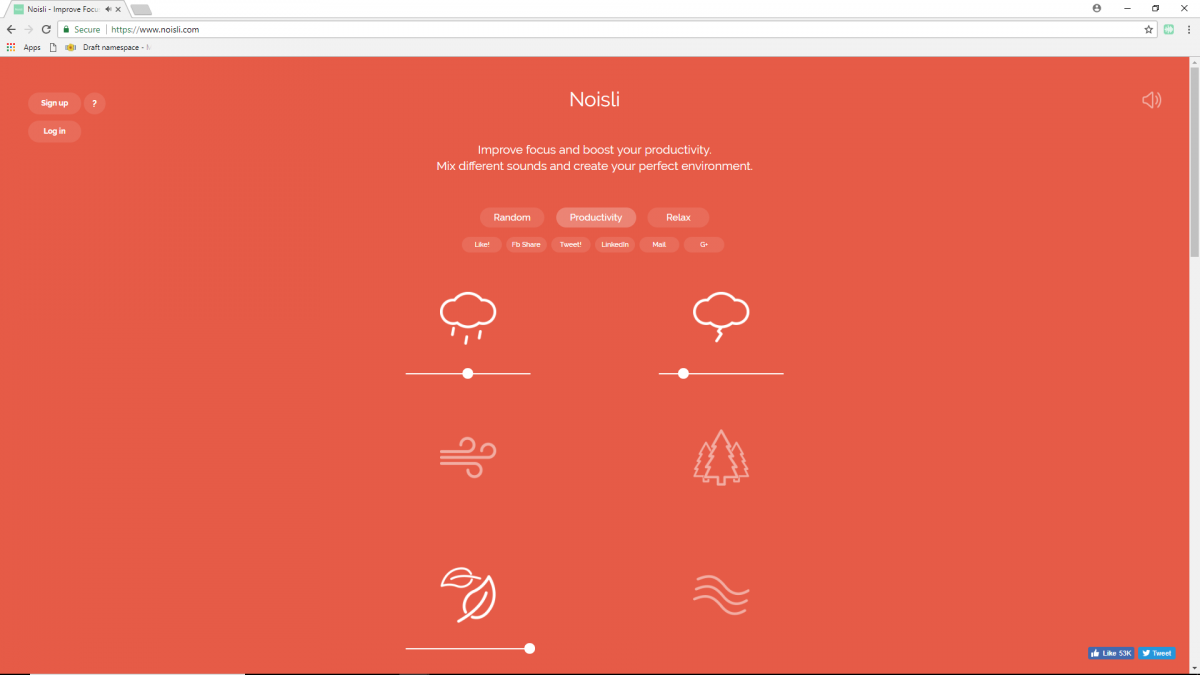 🔹 What is Noisli?
Noisli is one of those Chrome extensions specifically designed to boost your productivity.
To focus better on the task at hand, you just have to choose the sound combo you find most inspiring.
This can be the sound of:
A falling rain,
A storm,
Coffee shop chatter,
Wood noises,
Fire crackling,
White noise,
Wind, and
Crickets, and more.
The list of sounds is really extensive, and you can combine whatever number of sounds you want.
🔹 Why use Noisli?
Noisli is especially useful if you're working in an open office where the background noises are likely to distract you. Just switch on the extension, choose a sound combination you want, and put your headphones on.
Furthermore, Noisli lets you divide your work sessions into blocks, therefore helping prevent burnout and helping you finish your tasks in time.
🔹 Noisli's highlight feature:
Business and Pro users will get access to timers that work hand-in-hand with built-in sounds. In essence, you can schedule the duration of each background sound, when it will start/end, and how gently you want the sound to stop at the end of each time block.
Infinity — for new tab customization
🔹 What is Infinity?
Infinity is an excellent extension for everyone that juggles a lot of web pages, documents, and sheets on a daily basis. In essence, it lets you customize a new Chrome tab and add everything you can think of — from personalized icons and dynamic wallpapers to reminders, notes, and to-do lists.
🔹 Why use Infinity?
It seems relatively simple, but its beauty lies in the small things that will let you increase your efficiency. For example, let's say you have a ton of work spreadsheets and docs that you use every day and there's no clear way to tell them apart by simply looking at them.
Infinity lets you add them to a new tab, create customized icons with different colors, and access them within milliseconds.
Furthermore, it renders other apps obsolete — forget about Notepad, Reminder, Calendar, and sifting through an endless list of your favorite websites.
🔹 Infinity's highlight feature:
Infinity has a database that contains over 35,000 HD wallpapers that you can choose from. You can even pick 365 wallpapers and set them to change every day in a year.
Nimbus — for screenshots and screen video recording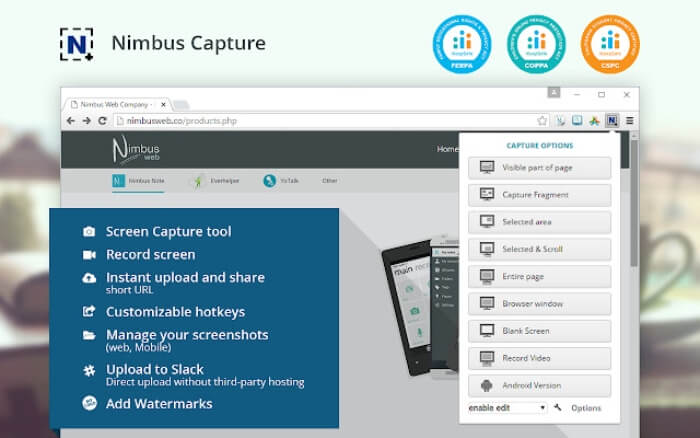 🔹 What is Nimbus?
Nimbus is the perfect solution for all of you that spend a lot of time browsing the web, researching, and gathering information. This app lets you capture screenshots and screencasts — video and webcam bits.
Even though most operating systems have an integrated screenshot tool, Nimbus is designed to meet all your needs. It lets you:
Trim and crop,
Edit and annotate,
Convert videos into MP4 or GIF,
Share the results online, and
Customize videos — resolution and refresh rate.
🔹 Why use Nimbus?
Aside from its editing prowess, Nimbus also integrates with many popular apps, such as Google Drive, Dropbox, YouTube Premium, and Google Classroom — these integrations let you instantly post and share your results.
🔹 Nimbus' highlight feature:
Since Nimbus has a lot of different features, you can enter the settings and set keyboard shortcuts to make the entire process even faster — they can be quite handy in the screencast editing process.
ClickUp — for task management, note-taking, and overall productivity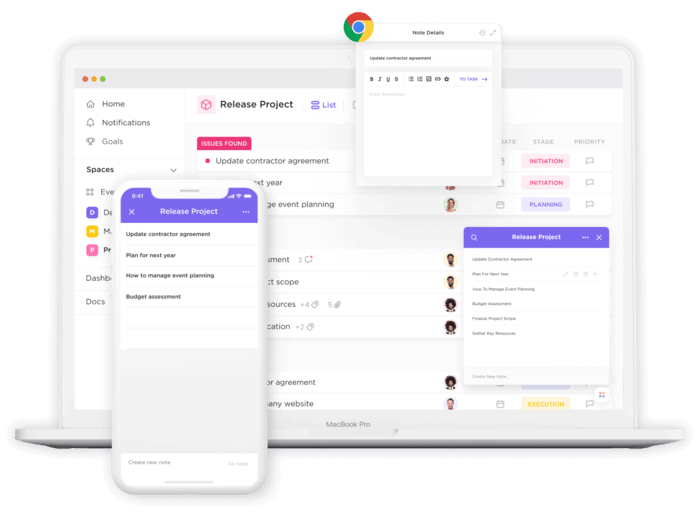 🔷 What is ClickUp?
ClickUp is an all-in-one productivity app designed to manage everything — from your daily to-dos to complex projects, even your business' entire workflow. Teams of any size and across industries rely on ClickUp for its powerful customization abilities and feature-rich experience to optimize processes, manage tasks, and collaborate smarter, no matter what project style you use.
ClickUp also packs six of its most dynamic tools into its free Chrome Extension, accessible from virtually anywhere with one simple click. With this extension, you can easily create a new task or save a website to a task, track time, capture and annotate screenshots, attach emails to tasks, or use the Notepad to take unlimited notes directly in your Chrome browser.
🔷 Why use ClickUp?
One of the greatest benefits of ClickUp's Chrome Extension is that it's directly connected to your Workspace — meaning every action you take with the extension is automatically added to the platform in real-time. Whether you're taking notes, editing screenshots, or creating tasks, ClickUp's Chrome Extension will boost productivity by eliminating the need to open, close, or click between tabs as you work.
🔷 ClickUp's highlight features:
Efficiency is at the core of every ClickUp feature — and the ease of creating tasks from ClickUp's Chrome Extension will change the way you organize action items in any project. Add screenshots, hyperlinks, rich text editing, and more to Chrome Extension tasks for instant context and details when you return to your Workspace. Plus, you can set a default location for every new task to make organization in your platform a breeze.
BlockSite — for blocking distractions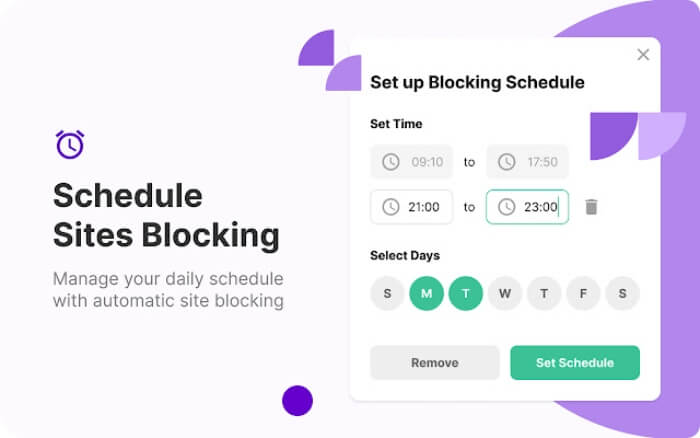 🔹 What is BlockSite?
As the name suggests, BlockSite blocks all unwanted sites that distract you and disrupt your productivity.
You can customize your lists to include all tedious websites, as well as some of your favorites that you don't want to be available to you during your work shift.
🔹 Why use BlockSite?
BlockSite has become appealing to many users due to its "scheduling" feature that lets you set up specific time intervals when you wish for certain websites to be blocked. For example, you can use this feature to plan out your breaks during the day, when you'll be able to access websites such as Instagram, Facebook, Twitter, etc.
🔹 BlockSite's highlight feature:
Similar to Clockify, BlockSite can also help you control your schedule via the Pomodoro technique timer — plan out your day, divide it into timeblocks, and set appropriate breaks so you don't get too caught up in your work.
Forest — for staying focused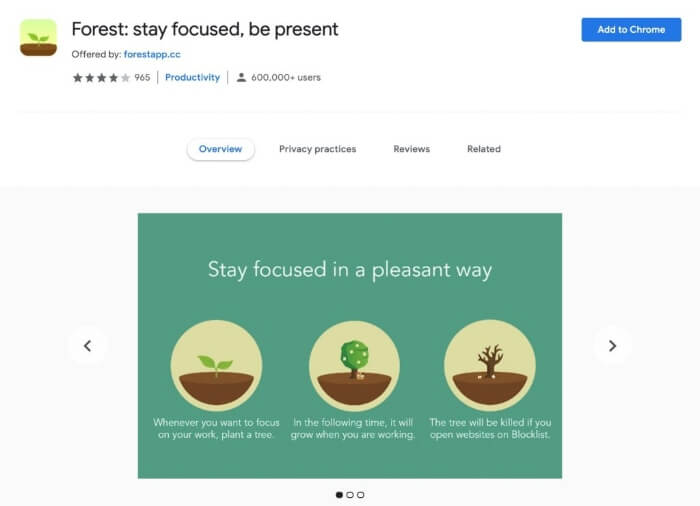 🔹 What is Forest?
Forest is a unique application — it can be argued that it's a combination of a productivity app and a mobile game. The gist is simple — set up a timer for a specific task, plant a tree, and watch it grow.
Once you complete the task, the tree will be added to the forest — a visual representation of all your completed tasks.
🔹 Why use Forest?
If you try to bend the rules of nature and cheat the app, your tree will wither and you'll be left with naked branches in your forest. But, if you add your friends and rush to get achievements, the competitive spirit of the app will help you increase productivity in a fun way.
🔹 Forest's highlight feature:
Aside from planting virtual trees, Forest often organizes various initiatives — Trees for the Future— where you can donate and have real trees planted around the world.
Tab Suspender — for speed and memory boosting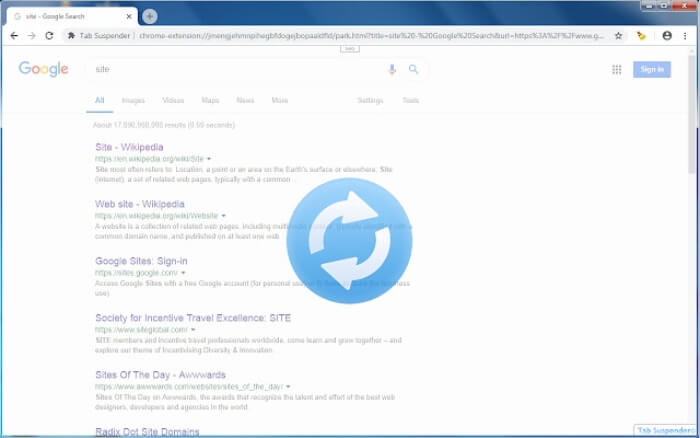 🔹What is Tab Suspender?
Most of us have been forced to turn to dual-monitor setups or a PC/laptop mix when working or studying.
Why? Well, there's simply no room to work with all the tabs.
The Tab Suspender extension does exactly that — suspends all inactive tabs and frees up work memory that slows down your Chrome. Then, once you open the tab, it'll revert back to "active status" and start running in the memory log again.
🔹 Why use Tab Suspender?
If you prefer working on a laptop, suspending tabs will significantly boost your battery life and prevent overheating.
🔹 Tab Suspender's highlight feature:
Aside from suspending tabs, this extension can also automatically close inactive tabs. Set the parameters, exclude the most important tabs, and let it do its job.
StayFocusd — for online time restriction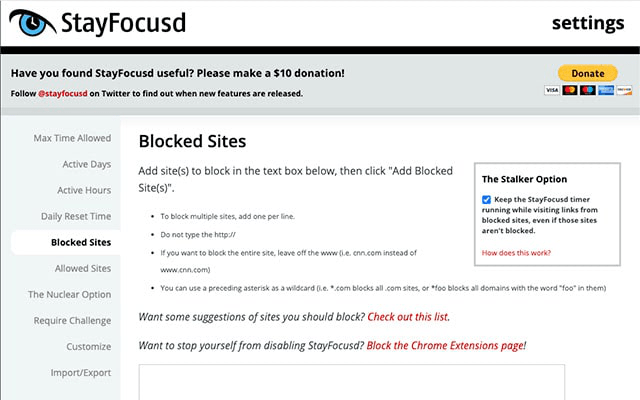 🔹 What is StayFocusd?
If you lack the willpower to stay away from YouTube, Reddit, Facebook, and other time-consuming websites on your own, StayFocusd is the choice for you.
This extension will help you avoid online distractions by restricting the time you're allowed to spend on them.
🔹 Why use StayFocusd?
Say you want to restrict the time you spend daily on Facebook to 10 minutes. Just add Facebook to your list of blocked sites, choose 10 minutes, and shift attention to your daily work.
You'll probably check Facebook occasionally, but you can spend only a total of 10 minutes on it a day. Once your 10 minutes are up, you won't be able to access Facebook, or any other blocked website until the next day.
You also won't be able to change the settings to give yourself more minutes on a website once your time on it has expired, so your willpower won't be tempted.
🔹 StayFocusd's highlight feature:
Another great feature of this extension is the Nuclear Option. Here, you can set the number of hours or days in which you want to be completely restricted from entering certain sites. And, once you turn on this option, there isn't a way you can turn it off, until the time you've entered has expired.
Vimium — for optimizing shortcuts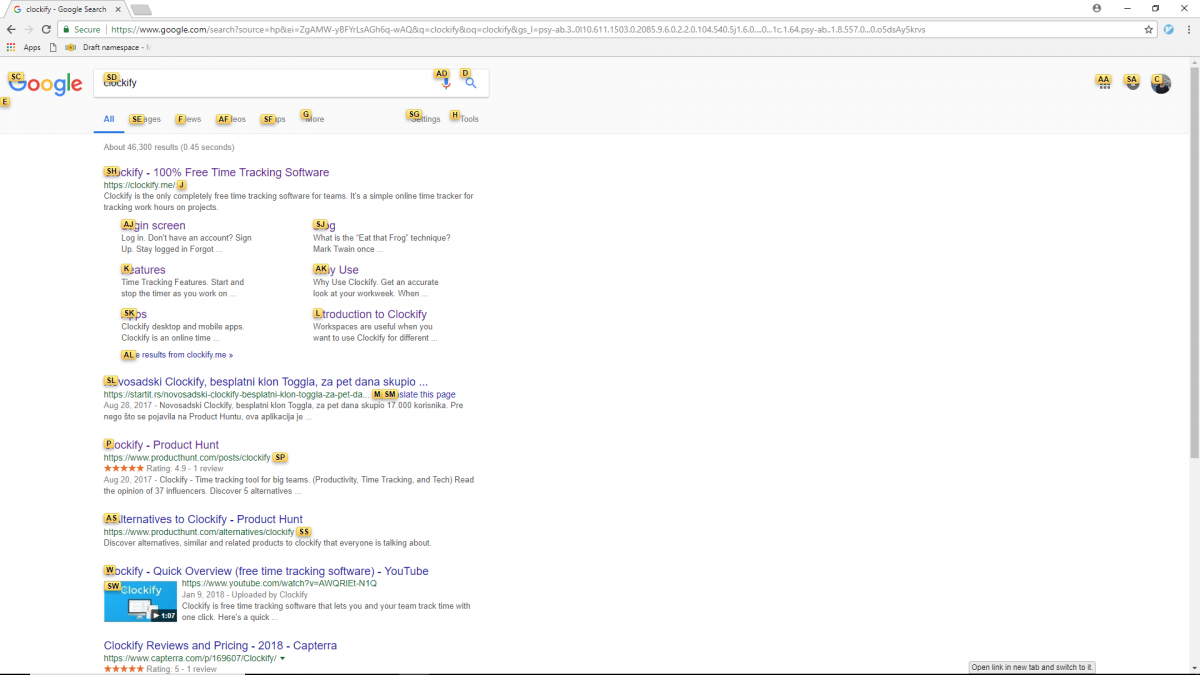 🔹 What is Vimium?
Vimium is a Chrome extension that enables you to use the keyboard to navigate all your online work.
By default, you can use "J" and "K" to scroll down and up your Chrome page. You can also use "Shift+F" to indicate that you want to follow a link, so Vimium will show you all the links you can click on that page, and the letters you should type in to open these links in new tabs.
You can also easily open google searches, bookmarks, and history by typing "O".
🔹Why use Vimium?
In essence, once you install Vimium, you'll no longer have to bother with the mouse, as all internet content will be just a keyboard shortcut away.
🔹 Vimium's highlight feature:
Aside from its many shortcuts, Vimium also supports command repetition — if you want to close multiple tabs, pressing multiple "x's" will keep closing the tabs.
Closing words
If you ever got bored enough to browse through Chrome's web store, you've probably noticed that there are simply too many extensions to choose from.
It is a bit annoying, especially if you don't know what you're looking for, but look at it from the bright side.
You don't need to spend money on life coaches and gurus to help you become productive — install some of the best Chrome extensions and they'll do most of the work for free.
💡 Clockify Pro Tip
There are various techniques that you can use to become more productive, so don't rely solely on software or browser extensions — here are some tips:
✉️ If you like our selection of Chrome's extensions for productivity, we'd appreciate it if we could get some feedback from you about the extensions you use on a daily basis. Let us know at blogfeedback@clockify.me and we may include your choices in our future posts.