Our user Ruth, who is self-employed executive assistant and bookkeeping accountant, had this to say about Clockify in her review on Capterra:
"I work part-time for a client working as his executive assistant and his bookkeeper. I was getting myself in a mess just using a timesheet created in MS Excel and when I discovered Clockify I was over the moon with joy."
Timesheet apps are a better alternative to Timesheets created in MS Excel for a number of reasons – for starters, they're a faster and less costly solution to storing your work hours.
They're also more accurate and more systematic because you'll have all your data automatically calculated according to tested formulas, and then stored in a secure place.
But there's more to it than that.
To get a full grasp on the advantages of timesheet apps over Excel or printed timesheets, let's see how Excel timesheets work and how timesheet apps work – and how the disadvantages of Excel timesheets highlight the advantages of using a timesheet app to store and calculate your work hours.
*️⃣ We read and appreciate every Clockify comment sent our way – sometimes, we even feel inspired to share user's ideas on how they use Clockify and expand on their ideas for others to replicate.
In this blog post series, you'll learn why and how people use our free time tracker Clockify to the best of their benefit, and how you can too.
What is tracking work hours in a timesheet created in MS Excel?
Tracking work hours in a timesheet created in MS Excel is a form of manual data input that includes:
Adding your work hours
Adding your personal employee information
Calculating your total work hours and any other additional data requested
For the purpose of tracking work hours in a timesheet created in MS Excel, you can use:  
Timesheet templates – you can fill them out in Excel or print and then fill them out with a pen. You'll then need to calculate your work hours manually.
Excel timesheets with formulas  – you can fill them out in Excel. You define the formulas you need to use in order to calculate total work hours – then, you add your work hours, and watch the totals be calculated automatically.
First, here's how you use a Timesheet template (1) where you have to do everything manually:
Add your work hours in an Excel timesheet 
The work hours data you typically need to add (marked here with **red) includes the time when you:
🕢 Arrived to work (e.g. 7:30 a.m.)
🕛 Started your lunch break (e.g. 12 a.m.)
🕐 Ended your lunch break (e.g. 1 p.m.)
🕓 Left work for the day (e.g. 4 p.m.)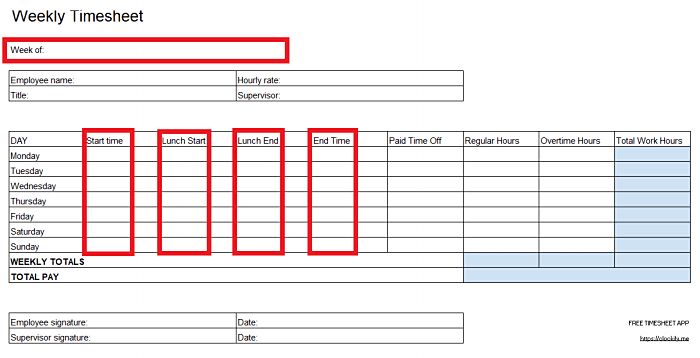 You also need to define the time period covered by the timesheet – whether it's today's date or the date range for a week, two weeks, or month.
There are various types of timesheet templates based on the time period covered: this includes daily timesheets, weekly timesheets, bi-weekly timesheets, etc.
Add your personal information
This is to mark that the timesheet belongs to you.
The personal information you typically need to add (marked here with **green) include:
🔹 Your first and last name
🔹 Your title at the company
🔹 Your rate per hour
🔹 The first and last name of your supervisor (i.e. the person in charge of approving your timesheets)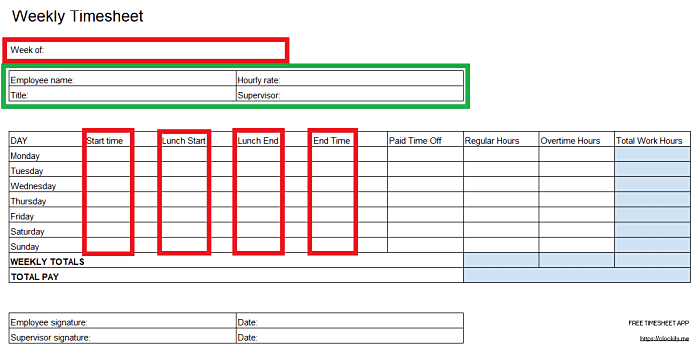 This is just the basic minimum required – some timesheets may ask for your employee ID and other similar personal information.
Calculate your work hour totals
Your work hour totals (marked here with **blue) typically include your:
🔹 total regular work hours for that day (e.g. 8 hours)
🔹 total overtime hours for that day (e.g. 2 hours after the regular 8 hours)
🔹 total hours worked for that day (8 hours + 2 hours = 10 hours)
🔹 total work hours for that week (all total hours worked per day combined)
🔹 total pay for that week (total number of hours worked times your hourly pay – chances are you'll have an enhanced hourly rate for your overtime hours, e.g. 1.5 times higher than your regular hourly rate)
You'll need to make these total calculations manually.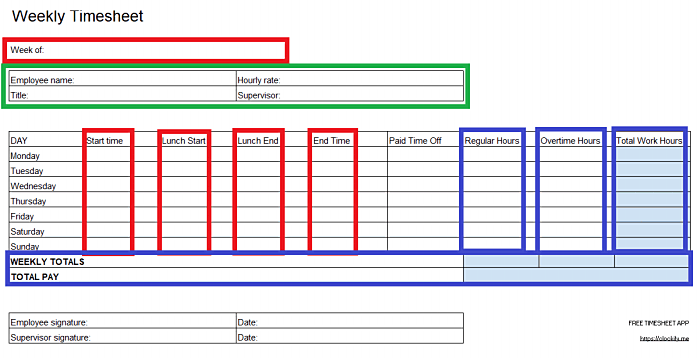 Depending on the type of the timesheet in Excel you're filling out, you may need to make bi-weekly, semi-monthly, or monthly calculations for your total work hours.
Add additional data
Most timesheets may ask you to add other information to your timesheets (marked here with **yellow), such as
🔹 Vacation time
🔹 Sick leave
🔹 Time off (if vacations and sick leave are paid, they're often marked simply as "Paid Time Off")
You may use this additional data for additional calculations your company finds important enough to document.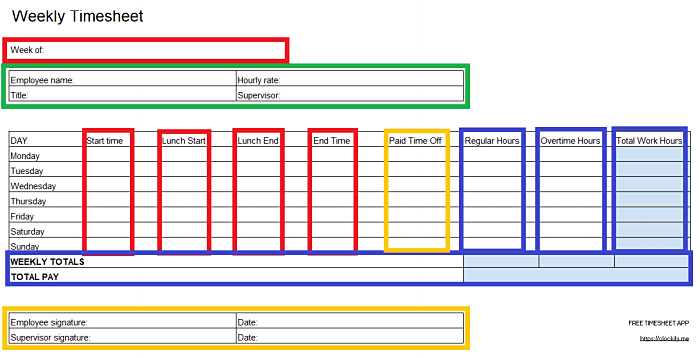 In the end, once you've filled out your timesheet, you may be required to print it out and sign it.
The person in charge of managing timesheets will need to sign it as well, to indicate that the timesheet has been approved for further processing.
Using an automatic Excel timesheet with formulas…
In an Excel timesheet with formulas (2), the data requested from you is the same as in Timesheet Templates – the difference is that the Excel system makes the total calculations for you.
But, you have to define the formulas first.


Typically, it's your manager or timesheet supervisor who defines the formulas.
However, if you're a freelancer, you can define the formulas yourself.
An Excel timesheet with formulas takes more time to create, and may involve several various formulas you or your supervisor will need to add – but, these formulas cut the time it takes to fill out the timesheets when compared to the timesheet templates you need to calculate manually.
What are the drawbacks of Excel timesheet templates?
As you've probably noticed, managing time in an Excel timesheet takes time – and a lot of it.
And that's just the first entry in the list of drawbacks that come with entering time in an Excel timesheet – no matter whether it's an Excel timesheet template where you calculate everything manually or an automatic Excel timesheet with formulas, you'll likely notice the following problems:
❌  It's time-consuming to enter time in Excel
It takes too much time to add and calculate everything, every day, every week, or every month.
❌ The more information you need to add, the more time it will take
Each new parameter you add in the mix builds up with the others and takes away more of your time.
❌ It's easy to make a mistake 
You can make a mistake either while adding your data or calculating your work hours. It will also be more complicated to carry out the calculations correctly if there's more data to work with.
❌ It's easy to make a mistake while defining the formulas in an automatic Excel timesheet 
If you make a mistake in defining your excel formulas once, all the data you add after that will be calculated wrong.
❌ It's easy to make a mistake while adding your work hours in an automatic Excel timesheet
If you add the wrong numbers in the wrong columns, you'll get erroneous timesheets, despite defining the formulas correctly.
❌ You may accidentally delete something in one click 
You may delete a cell, a line within a cell, a formula, or the entire spreadsheet. And, you'll need extra time to restore what you've deleted.
❌ It's more difficult to document and store your working hours
It's easy to misplace printed timesheets – and all you need is to misplace one to bring your company into trouble. Which brings us to the next drawback.
❌ You may bring the legality of your business into question 
Problems with timesheets bring problems with payroll, which cause mistakes with employee payment. Which may, in turn, bring you into problems with the government.
❌ Excel is not a flexible and efficient solution you can use for hundreds of team members
The more people you have in your team, the more difficult it gets and the more likely you are to make a mistake.
❌ It is the more expensive solution to tracking and managing employee work hours
Time is money, and managing employee time in Excel takes time. In addition, perhaps you'll even need to hire someone new just to manage completed Excel timesheets and prepare them for payroll.
---
Having these drawbacks in mind, it's best that you consider using an alternative to the outdated and unreliable practice of filling out and printing timesheet templates in Excel.
And this is where a timesheet app comes into the picture.
What is a timesheet app? 
Timesheet apps work as an automatic Excel timesheet with formulas, i.e. a timesheet calculator – only they are much faster, with completely accurate total time results each time you log time.
Here's what it looks like entering a timesheet with our free timesheet app Clockify:
1. Create an account
You can do that in a couple of clicks, here.
2. Enable the Timesheet 
Once you log in to the app, you can enable timesheets if you:
Go to the Workplace page within the app
Select your desired Workplace and enter Settings
Turn the Timesheet option in settings to "On"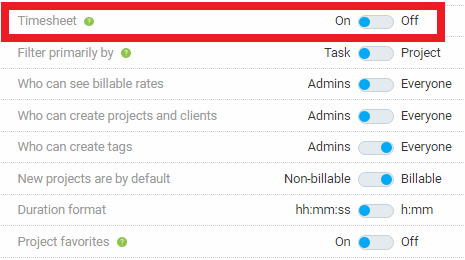 You'll then be able to enter the Timesheet page and add the time you spent on different projects and different tasks.
3. Add your work hours
Simply add the minutes and hours you've spent working on various tasks and projects at work.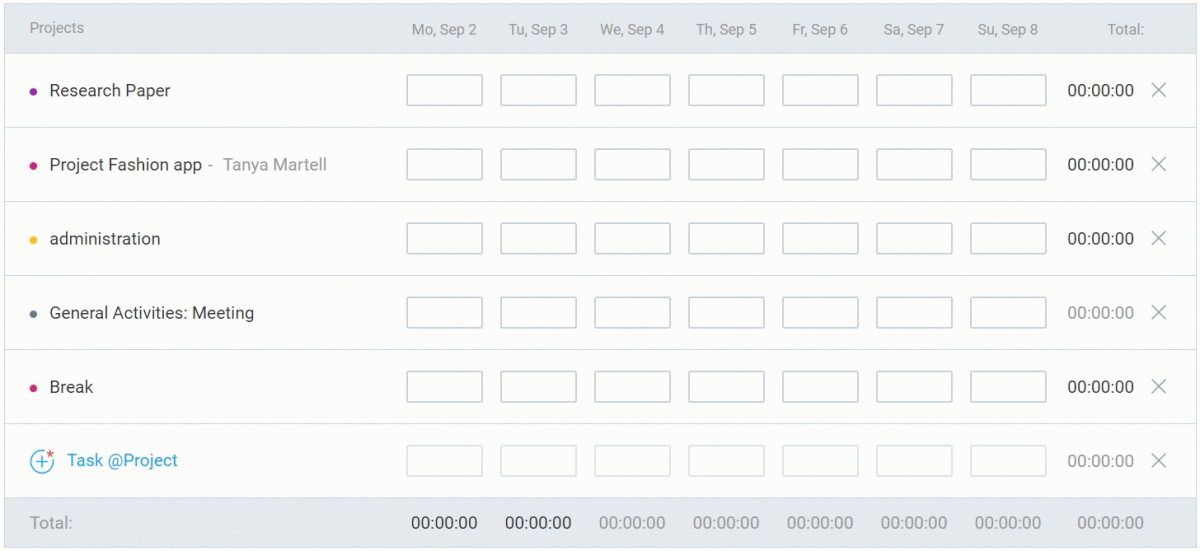 Every minute you add per timesheet entry will be automatically added to your total work hours for that day.
It's that simple.
4. Make the most of the timesheet app
These are the basics – but, there are more great timesheet features you can find in Clockify.
🔹 You can create several different projects and add several project-based tasks you want to add time for in your timesheet – as much as you need, including separate projects for "Sick Leave", "Paid Time Off", etc.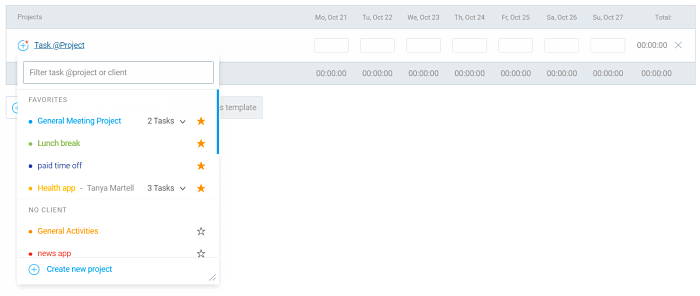 🔹 You can add as many rows as you need.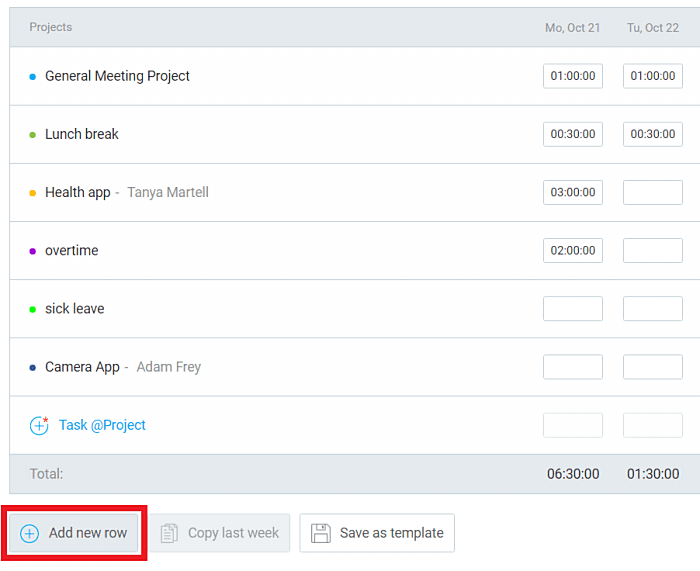 🔹 You can save the current layout with projects and tasks you added time for as a template you can later reuse time and time again. Or you can simply copy the timesheet layout of the previous work week.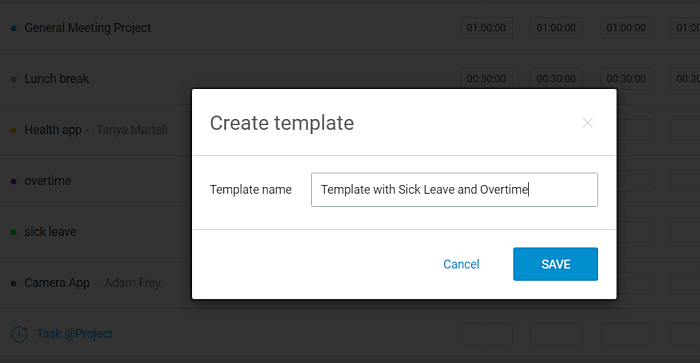 🔹 You can view your teammates' timesheets – and even add time for your team members when they're unable to.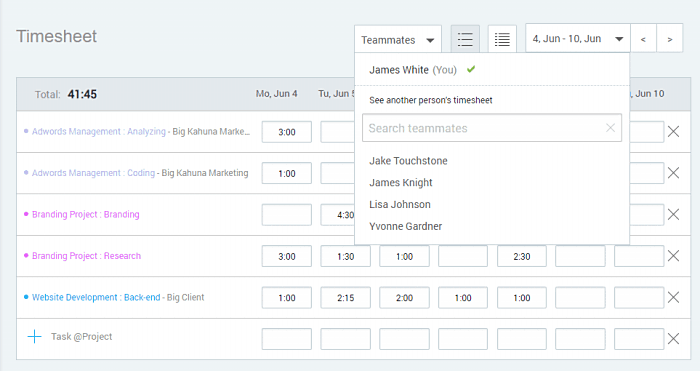 🔹 You can define your hourly rates and then have the billable work time you add calculated as your earnings – which you can then view in the Reports section of the app.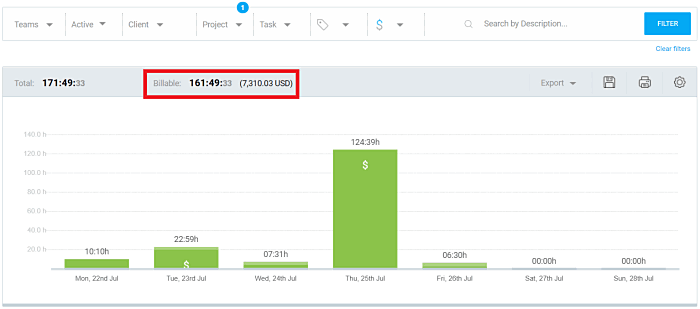 What's most important, you can always rest assured that your data is correct, organized, and secure.
Why is the Clockify timesheet app the better alternative to entering time in an Excel Timesheet?
There are several crucial benefits that highlight Clockify, as a free timesheet app, as a better alternative to manually filling out timesheets in Excel.
✅ It's fast and easy to add time 
You add your hours and define your hourly rates, and watch the app perform the calculations automatically, based on precisely tested and 100% accurate formulas.
✅  You'll cut the costs of your business 
Clockify is a free timesheet app for an unlimited number of users, so you won't have to hire anyone to compile said timesheets, as you'll have all data stored in one place.
✅  You'll make fewer mistakes
Unless you add the wrong hours (or the wrong hourly rate) yourself, you won't have to worry that your total work hours or earnings will be calculated wrong.
✅ You'll be able to create visual reports of your timesheet time 
You'll be able to filter these Reports by project, task, teammate, and other parameters.
✅ You'll make sure your data is always correct
You'll be certain that you're compliant with business rules and regulations.
✅ You'll be able to export these Reports in PDF, CVS, and Excel
– In case you're eager on viewing your timesheet time in Excel format, you'll be able to do so.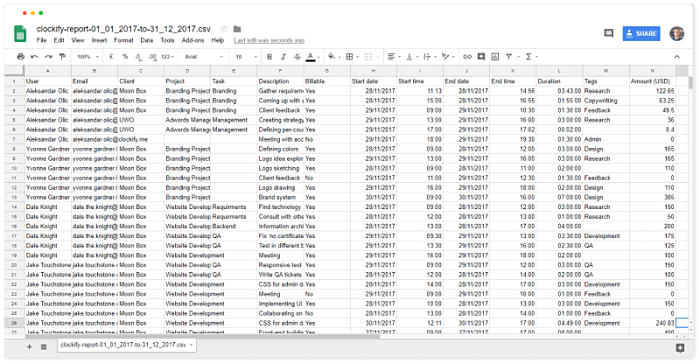 ✅ You'll be able to track the cost of your project
You'll also be able to work on minimizing project costs in the future, by maximizing the time you spend on priority tasks and minimizing the time you waste.
✅  You'll be able to calculate everything automatically 
This includes the basic work hours calculations, but also your earnings and the total time added per custom time period.
✅ You'll be able to calculate all your time off separately
You can create separate projects for "Vacations", "Sick Leave", "Lunch break" and then add time for them in your timesheet and have their totals calculated separately.
✅ You don't need to add your personal information each time you want to enter time 
The account you've created stores this information and associates it with all the timesheets you create.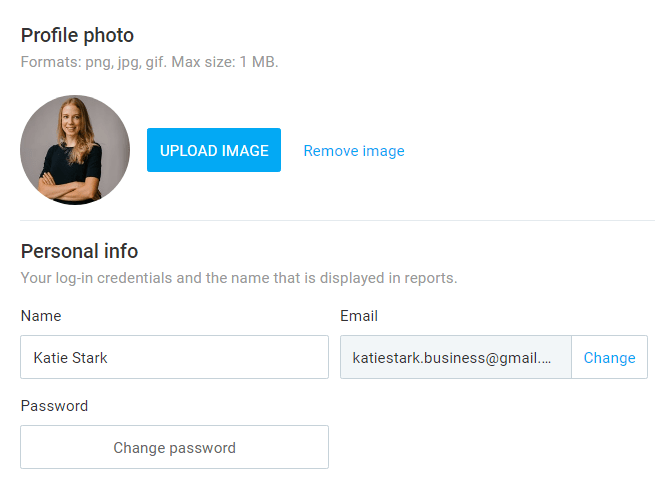 ✅ The timesheet supervisor doesn't have to sign each timesheet to mark it as approved
You can set the timesheets to automatically lock after a certain time period, say at the end of each month, to indicate that the timesheets have been approved. Alternatively, you can lock them manually before a certain date.
✅ You can print out the timesheet Reports
In case you want to store the timesheet data in paper form.
✅ You can view all your timesheets in one place
You can browse weeks and weeks of previous timesheets, from this week, back to the week when you first created the account. You can also view the data you add in your timesheet across Clockify devices.
✅You can use the Time Tracker page to streamline your timesheet data further
All the time you add in your Timesheet view appears on your Time Tracker page as well – here, you can set the exact start and end time for your tasks, add tags, mark time as billable or not, and make quick edits to time added.

✅ An entire team can securely store their timesheets in one place
You can invite an unlimited number of team members and have them fill out their timesheets in one workspace.
In conclusion…
Entering work hours in a timesheet created in MS Excel you can later store on your laptop or print out can only take you so far.
In the long run, this method of keeping work hours data is slow, costly, complicated and prone to various errors that can bring your business into jeopardy if given enough time.
On the other hand, a timesheet app is always a quicker, more elegant, and infinitely faster alternative.
By using our free Clockify timesheet app, you'll cut your business costs, streamline your company's payment process, as well as ensure all your work hours data is secured, correct, and synchronized across devices.