Extra features extend Clockify's core functionality, giving you more power and control over who can do what.
You can enable extra features by subscribing to one of our monthly plans. The prices for Plus and Premium plans are flat and per workspace (it doesn't matter how many users you have). Enterprise and Server plans are charged per seat.
Before you upgrade, make sure you're logged in to the workspace where you want to have the extra features. If you have more than one workspace, you will have extra features available only in the workspace you decided to upgrade.
Free #
$0 forever
Unlimited users, projects, and reports
Access to all core features
App and integrations
24/7 email and chat support
Plus #
$9.99 (USD) per month (flat fee)
All FREE features (unlimited users, projects, and reports)
Lock timesheets – Prevent people from adding or editing past time entries
Time rounding – Round durations so reports look cleaner
Time audit – Find entries that are too short/long or are missing a project/task
Required fields – Make some fields mandatory when tracking time
Targets and timesheet reminders – Remind people to log their time if they didn't fill out their minimum number of hours
Branded reports – Export reports with your company's logo
Hide time from users – Control who can see what time entries in your workspace
Premium #
$29.99 (USD) per month (flat fee)
All the features in the PLUS plan
Add time for others – See your team members' timesheets and add time for them
Project templates – Quickly create similar projects with the same task structure
Alerts - Get notified when a project goes over the estimated time
Hide pages - Only to admins can see Team, Reports, and Projects pages
Automatic lock - Lock date gets updated every day, week, or month
Bulk edit projects and reports - Update multiple projects and time entries in reports at once
Enterprise #
$9.99 (USD) per user seat per month
All the features in the PREMIUM plan
Phone support - Schedule a live call with our team
Custom subdomain - Move workspace to custom subdomain and let new users join automatically.
Custom fields - Add additional information to time entries
Single sign-on - Manager access and login credentials using your SSO (LDAP, SAML, OAuth)
Manage user accounts - Manage and access your users' accounts by logging-in as them
Labor cost and profit - Compare what you charge clients vs what you pay your team
Time approval - Submit timesheets for official approval
Server (self-hosted) #
Starting from $1,000 (USD) per month, billed annually
ALL features and updates
Host on your own servers (total privacy)
Unlimited enterprise workspaces
Personal installation assistance
Single Sign-On (including LDAP and others)
Priority support and live assistance
Encryption at rest
Free trial #
You can try out all the Enterprise features (except for SSO, Custom subdomain and Control user account) for free for 7 days, no credit card required.
To activate the free trial, log in to your Clockify account and click this link OR click on the Upgrade button in the Topbar and then Activate the free trial on the top right corner.
The free trial is available only in workspaces which never had extra features activated. If you wish to try out the Enterprise features but don't see the free trial link, you can create a new workspace and activate the free trial there.
After 7 days, the trial will automatically expire.
User seats (Enterprise) #
User seats represent the number of active users you can have in your workspace.
When first subscribing to the Enterprise plan, the price will automatically be calculated for the number of existing active users in your workspace (invited users count as active). And you can purchase additional user seats if you plan on inviting more users after.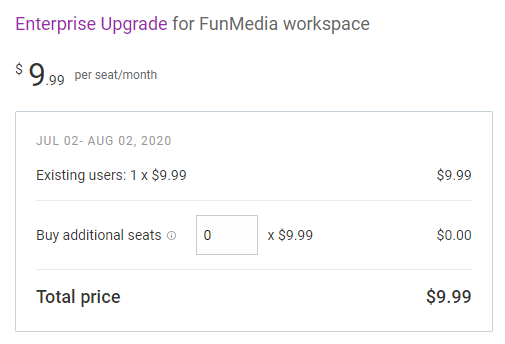 Every time you invite someone to your workspace (or they automatically join), they take up one user seat. If there are no available user seats left, you won't be able to invite users and they won't be able to join your workspace.
Note: You will be charged each billing cycle for the total number of user seats you have. This means you can have more user seats than actual users in the workspace and you will be charged for all user seats regardless if they are all used.
Adding and removing user seats #
Only owner/admins of the workspace can manage subscriptions and add or remove user seats.
If you've used all available user seats in your workspace, you can add more users by purchasing additional user seats from the Subscription section in the left sidebar.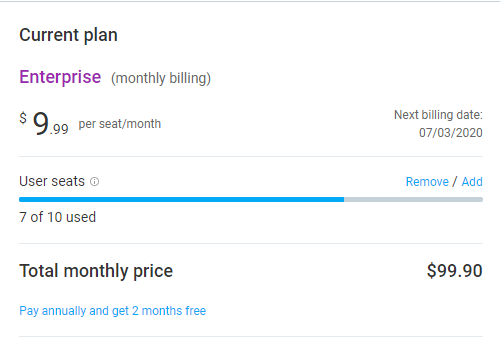 The progress bar in the Subscription section provides information on the number of used vs purchased user seats. This progress bar is also shown on the Team page which you use to invite users, set them as inactive, or delete them.
If there are available user seats in the workspace, the bar will be blue, if there are no available seats left, the bar will be red.
Additional user seats can be purchased anytime by selecting the Add option.
The option to remove user seats will only be shown if you have more available user seats than used ones. In other words, only unused user seats can be removed.
By selecting Remove or Add option, you will get the pop-up where you specify the number of user seats to add/remove.

There are no refunds for removed user seats.
If a subdomain has the auto-join option enabled, new users will be able to join only if there are available seats.
In case all seats are occupied, users trying to auto-join will get a message that there are no seats available and to contact their admin to purchase more seats. Owner/admins will receive an email notifying them that someone is trying to join their workspace but there are no user seats available.
To help you proactively manage your account, Clockify will also notify owner/admins when 90% or more of user seats are used up and instructions on how to purchase more.
Payment process #
Once you enter your credit card and click Pay, you'll be immediately charged and get access to the extra features.
The subscription cost is in USD.
Payment is tied to the workspace. If you have multiple workspaces, you can choose which ones you want to pay for.
The payment is done securely through Stripe. We don't store any credit card information.
Your subscription is automatically renewed each month so you don't have to worry about forgetting to renew the subscription and thus disabling some features (like locking timesheets).
We generally don't offer refunds, unless there was some system error. In that case, contact our support at support@clockify.me so we can sort things out.
Failed payments #
If you've had a valid subscription, but for some reason a payment fails, you'll get a two weeks grace period (payment overdue).
During the grace period, you can go to your Subscription section and update your payment information, and our payment processor will try to perform the payment again.
Once the grace period ends, you'll be downgraded to the free plan (you won't lose any data, only access to the extra features).
Annual payment #
In addition to monthly billing, you can also pay annually. If you pay annually, you get 2 months for free.
You can switch to annual billing at any time from your Subscription section (the link for annual payment appears on the left side, beneath your current plan).
Once you switch from monthly to annual billing, you'll be immediately charged a prorated price (ie. annual price minus the remaining calculation from your current plan).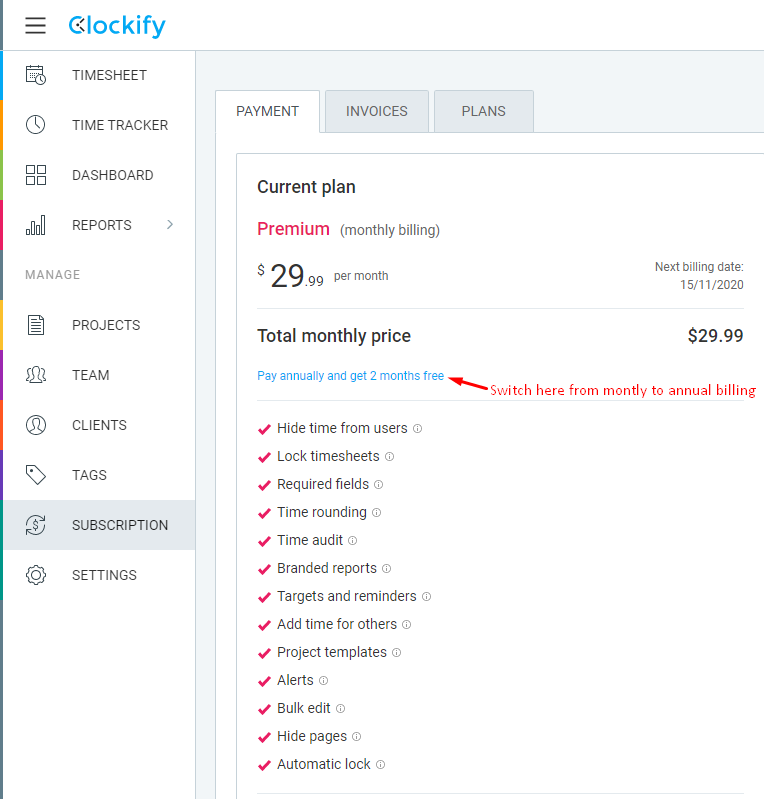 If you're trying to switch from the monthly to annual subscription from your phone or tablet and you don't see the link in the Subscription section, go to the Upgrade page and you'll see the annual billing link next to the monthly.
Downloading invoices #
You can get all your invoices by clicking on the Subscription button in the sidebar and then switching to the Invoices tab. There, you'll see Past Billing statements where you can download your invoices.
You can update your invoice information at any time. Once you update invoice information, all the invoices will be updated automatically.
Upgrading to a higher plan #
Click on the Subscription button in the sidebar
Switch to the Plans tab
Choose the billing cycle (monthly/annual)
Confirm upgrade
When upgrading, you'll be immediately charged a prorated price of the new plan for the current billing month.
If you're upgrading from Free, Plus, or Premium plan to Enterprise plan note that Enterprise plan is charged per seat. You will be charged a prorated price of $9.99/per seat and immediately get access to Enterprise features.
Downgrading to a lower plan #
Click on the Subscription button in the sidebar
Switch to the Plans tab
Click the Downgrade button below the plan you'd like to have, and confirm
Once the current subscription ends, new subscription of the lower will start (it's the same if you're switching from annual to a monthly plan)
If you're on the Enterprise plan, you need to cancel your subscription first and then upgrade to another plan from the upgrade page.
Canceling (from paid to free) #
You can cancel your subscription in just a few seconds any time you want:
Click the Subscription button in the sidebar
Scroll to the bottom of the page
Click "Cancel subscription" in the bottom right corner, provide feedback, and confirm your decision
Once you cancel:
No further charges will be made
You'll still be able to download all your previous invoices
You'll be able to continue using the extra features until the end of the paid period
After the paid period ends, you'll be downgraded to the Free plan
Upgrade/downgrade doesn't affect data, only access to extra features (data is retained forever unless you decide to delete the workspace or your account)