Free time tracker for agencies
The only truly free time tracker for agencies. Track billable hours and calculate project profitability based on your hourly rates.
Why track time with Clockify
Everything you need from agency management software
Track billable and non-billable time
Employees can track time using an online timer, or enter how much they've worked manually. You can maximize your revenue and bill clients for every work minute by making sure you log every call, e-mail, and meeting.
Learn more about: Work hours tracker | Timesheet app
Manage projects and monitor progress
Create tasks and assign people to them so they can track time against them. Estimate how long each task should take and visually check progress. If a project goes over budget, Clockify can send you an alert.
Track project profitability
Reports break down all the tracked time and group it by project and client. There you can see how much of the tracked time is billable, plus see how much you've earned that week or month based on your hourly rates. You can also export data or share a link with your client.
Learn more about: Calculating payroll | Calculating billable hours
How time tracking for agencies work
Step 2
Set up projects
Create projects, categorize them by clients, and create tasks on projects. Then, all your employees have to do is choose a project/task (and provide a brief optional description of what they're doing) and start the timer.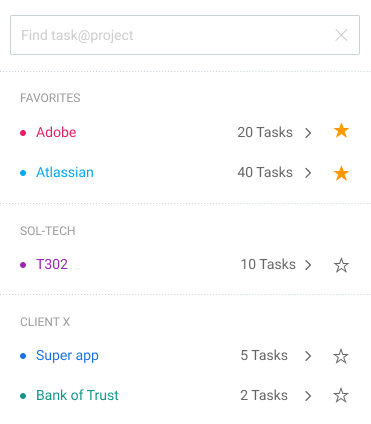 Step 3
Invite team
You can have an unlimited number of users for free.
Step 4
Track time
Your team can track time using a timer or enter their time manually. They can track time in the browser, or via desktop and mobile app. Desktop apps come with useful features like reminders, idle detection, and more.
Step 5
Track time inside other apps
Install Chrome or Firefox extension and a timer button will appear in your favorite web apps so you can track time more easily (Trello, Asana, Todoist, etc.).



Step 6
Set hourly rates
Set hourly rate for each employee and project. All your team has to do is to track time, make sure time entries are marked as billable, and Clockify will automatically calculate the billable amount in reports.
Step 7
Export reports
In the web version, you can run a report and break down time tracking data however you need. When the time comes, export the report as PDF, Excel, or CSV, or share a link to the report with your client.
Download PDF samples: Summary • Detailed • Weekly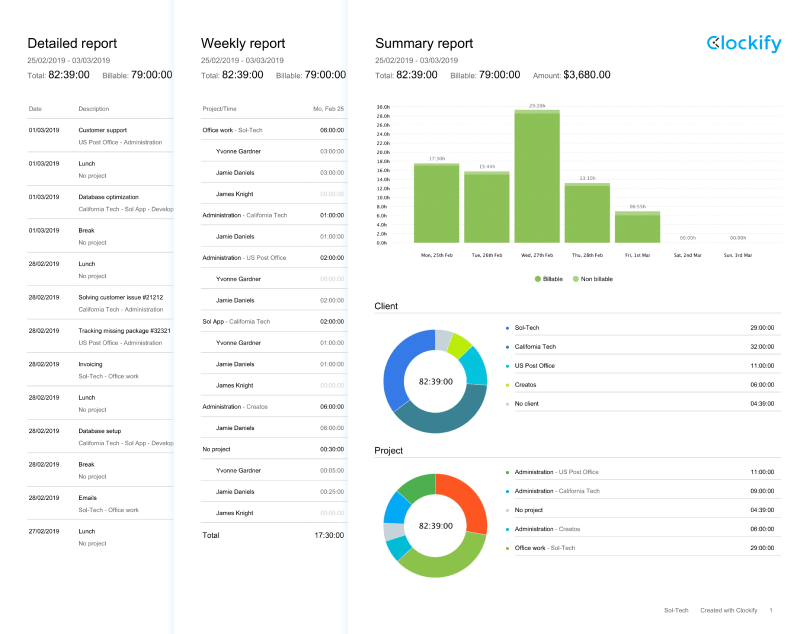 Step 8
Get more features
All the core features are free and everything is unlimited. If you need more, you can upgrade your account for a flat monthly fee and get extra features designed to help you better run your business (like locking timesheets, time tracking reminders, rounding, private time entries, project templates, and more).
Perfect for all types of agencies
Digital agencies • Creative agencies • Web design agencies • BPO / Outsourcing agencies • Software / Web programming agencies • Virtual assistant agencies • Social media marketing agencies (SMM) • Search engine optimization agencies (SEO) • Recruiting agencies
Clockify has everything we need, without costing a fortune
We used to spend $500 each month on a time tracker just so everyone could log their time. That was too much. So, we created Clockify. It has everything teams and companies really need, without costing a fortune

Nenad Milanovic, CEO at COING Inc